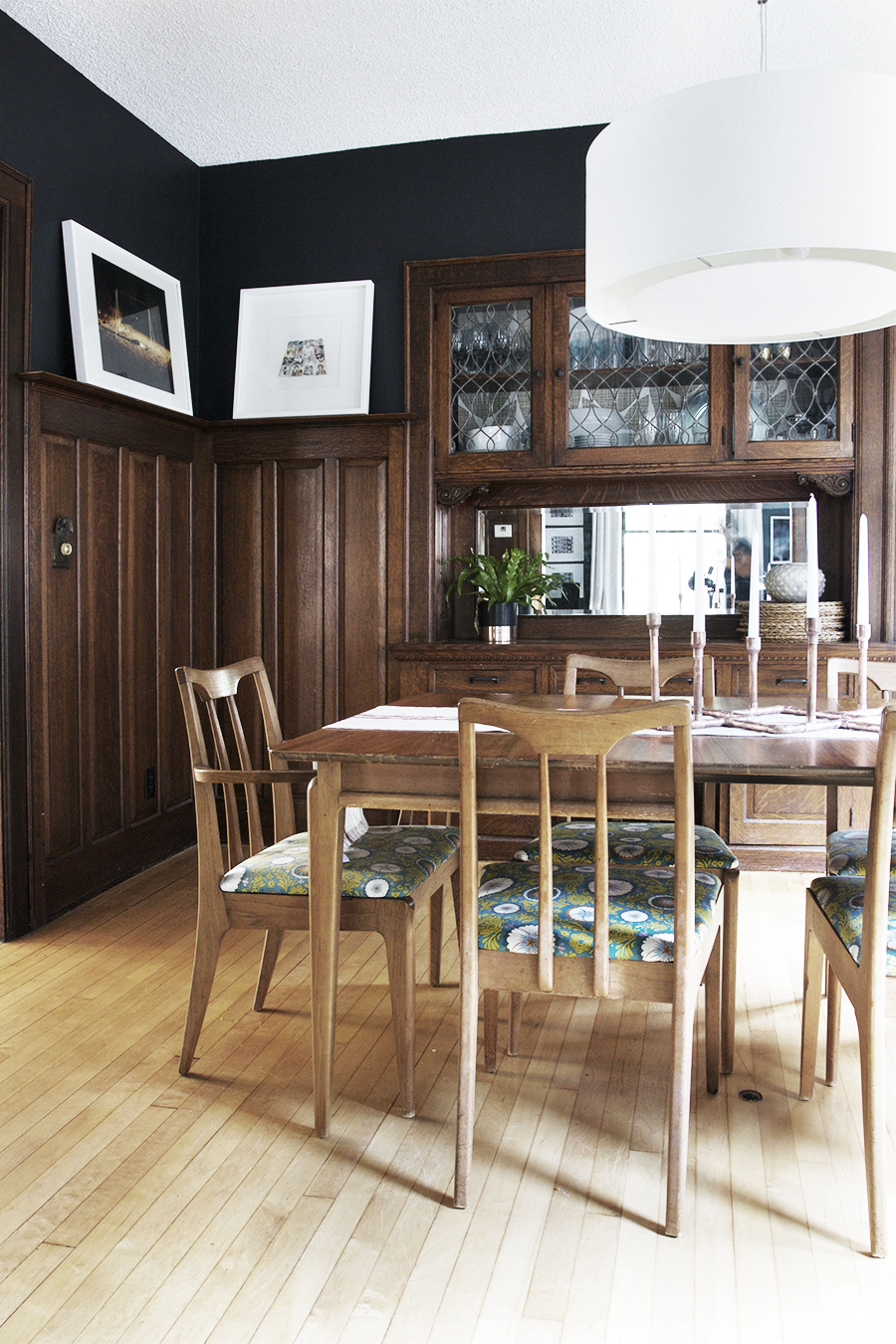 Hey my friends! As promised, I painted the DR and I am super happy with the way it turned out! I wish I would've done it long ago, but sometimes it just takes time to realize what is best for a space. It started to click for me after I began to understand what a dramatic change dark paint in the entry way has made, I should've probably realized it sooner considering our living room is v dark and I have always loved it. I think I was holding out hope that I could pull off bright and airy, and possibly white everything. Dark however can be dramatic and light plays so nicely with it, dare I say it can be nearly as friendly to light as white walls can. I don't think the room looks any smaller either, if anything it's larger because now it feels unified with the living room, it feels like two defined spaces sharing one larger space.
Can I just take a sec to say how much decorating my home has been a process, a really enjoyable process. I can't expect everything to come together perfectly all at once, it just takes time for all those ideas and concepts to stew.
Try not to pay attention to all the details, because there is still lots more to do in the dining room (these are just some hasty snaps). I am going to reupholster the dining chairs in a white fabric (I think). I also might have ordered a rug that is on sale, I just wanted to see what it looks like in the space, if it's a grand slam, I'll keep it, otherwise it will be returned. I'll share once it comes in! I don't have the budget right now to replace the curtain rods and curtains to match those in the living room, so I just painted them brass-ish with this metallic spray paint, and I think it turned out pretty well considering it was a $5 fix.
I'm also playing around with the idea of painting the living room one shade darker. It's hard to tell in these photos because of the time of day, but the sun coming in through the south windows (the big bay in the dining room and the window behind the sofa in the living room) in the afternoon really brightens the teal color and makes it seem more saturated (which I am not in to). I'd like the paint color to be darker and more muted, and if I can find the perfect shade of paint, I don't think it will effect the dark moody morning and evening vibe that I love so much.