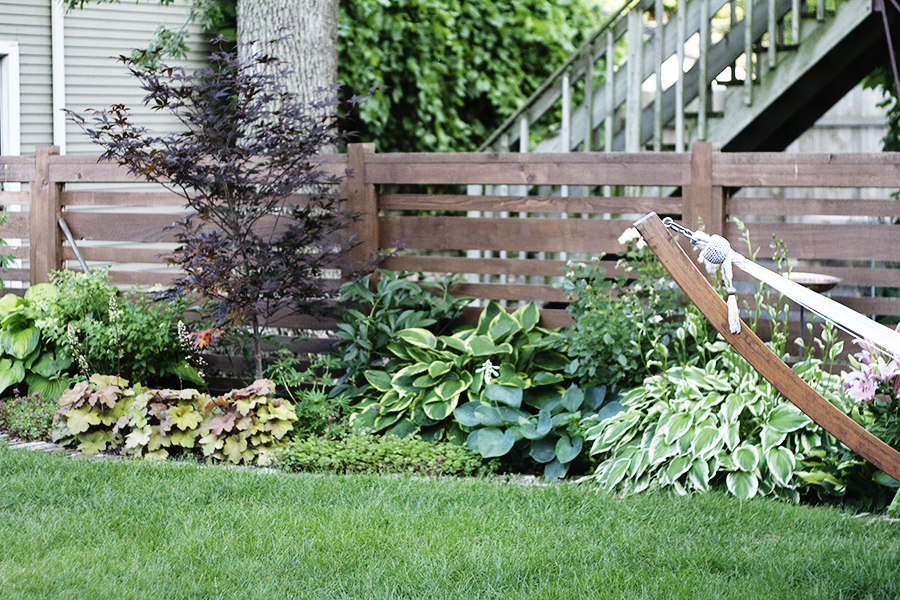 Hello buddies. Long time no see! I unintentionally took a little break last week. There was lots going on around here, I was madly spring cleaning and didn't have anytime for the internets. I'm feeling refreshed and ready to be back typing away this week though.
I wanted to continue to share what I've got growing in my flower beds, last time I went through in detail what grows in my sunny border garden. Today I'm talking about the partially sun/shade perimeter garden. This garden is shaded by our neighbors elm tree for much of the day, receiving the most sunlight in the mornings and late afternoon. It's been a work in progress, but we're getting there!
The "bump out" (aka the curvy part of the garden) has gone through the most changes since being planted about 8 seasons ago. For a long time I just stuck plants in this spot and used it as an incubator so to speak. After a season or two, the plants would usually find a new home somewhere else in the garden. Originally the bleeding heart was the centerpiece of this garden, until I tried to split the bleeding heart moving half of it over to the sun garden. The bleeding heart then shriveled up and died while the other part of it lived on and remains happy in the sunnier garden.
Since the bleeding heart was all dead and stuff, I bought a small hydrangea bush to put in the center of the garden. It worked well there for a little while until I needed to have a Japanese Maple in the yard and this "bump out" seemed like the perfect way to highlight such a pretty tree. The hydrangea moved off to the side, and the maple was now the star of the show. The bummer is, the Maple had fought a battle with some sort of fungus and is half dead. I'm hoping that after the winter freeze the fungus might be destroyed and the tree can make it through this coming summer. If it turns out to be a lost cause, I think I'd try and replace it with a pagoda dogwood. I think I've officially dug up this garden and rearranged it about 5 times and I don't doubt there could be more times in the future.
Anyways, here's what's successfully living there now: