What. Up. I thought this post might come in handy if you're anything like me and you're right on the edge of spring, you can't contain yourself, and you need to just do something outside already! That being said, forgive the fact that there is barely any green going on in these pics – it's coming!
We recently replaced our Nicaraguan hammock. I had received it as a mother's day prez two years ago and I have loved it. We were really good about bringing the hammock in when it rained the first year, but the second year we kind of let it all go to hell, and by that I mean we just didn't give any effs when it came to leaving it out in the weather – our bad. Lots of times when you leave a cotton rope hammock out in the rain it's gonna get mildewed and that's just what ours did. I tried to clean it with a brush and a gentle detergent warm water mixture which helped, but I should've probably been giving it a gentle washing every so often, rather than when it reached the point of no return. Lesson learnt.
So, I ordered the exact same 'mock again (on sale now for 25% off plus use code PATIO10 today for an addish 10% + free shipping), but I promised I would take better care of it. I determined that I needed to do a better job of getting it to a safe and covered place before rain storms. Our old setup was a pain and require a bit of work to get the hammock on and off the stand, I needed to make a new system that was easier. I am also promising to wash my hammock once (at least before I put it away in winter) or twice a season to stay on top of mildew. And lastly, or maybe firstly, I could weather proof it with some Scotchgard outdoor potion to help water bead off and not get absorbed into the fibers of the hammock, thus preventing mildew.
*Funny side note: my mom's maiden names is Miels (pronounced 'mills') and her married last name is Deuhs (pronounced 'dews' and she always thought it was very funny to threaten combining last names and having us all be called the "MielsDeuhs" – see why I'm so funny?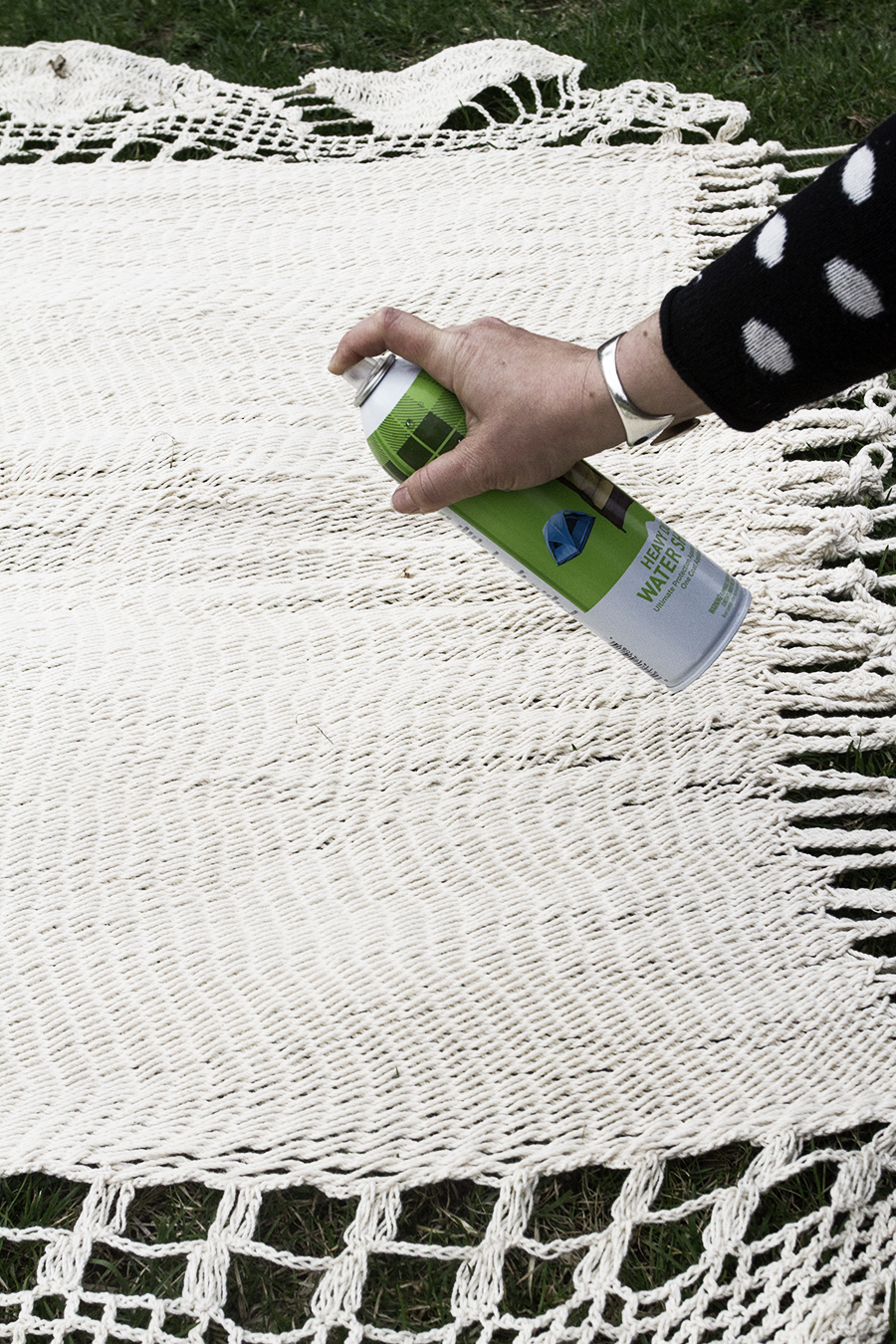 I read on the internets that Scotchgarding your hammock was a good thing to do, as well as one of the easiest things to do to ensure longevity of yer hammock. Why had I not thought of this before, I dunno. I gave each side a thorough but light coat of spray, while waiting for it to dry between applications. It was ready to repel water within an afternoon, and am looking forward to seeing if there is a noticeable difference between this method and my zero fucks given method of previous years.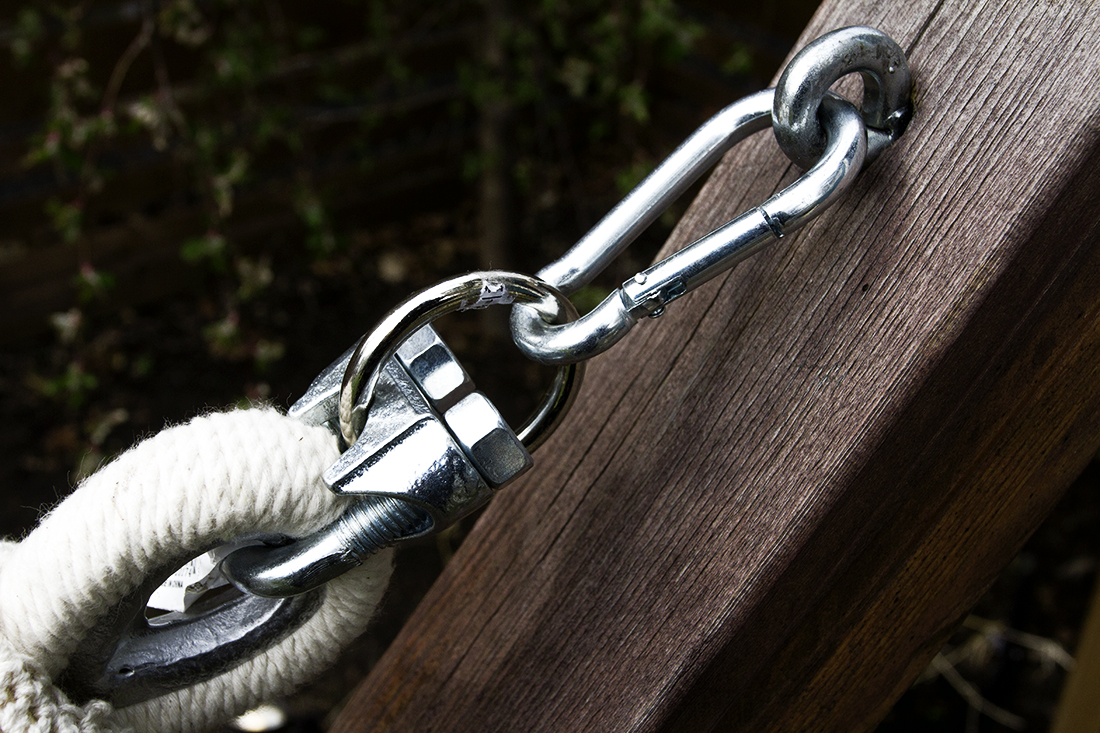 The second thing I did was come up with a new system to hang my hammock on the stand. I used a wire rope clip to wrap around the hammock loop and sandwiched a metal ring between the rope clip and the hammock. I could then use a carabiner to easily attach and detach the hammock from the hammock stand. Wins!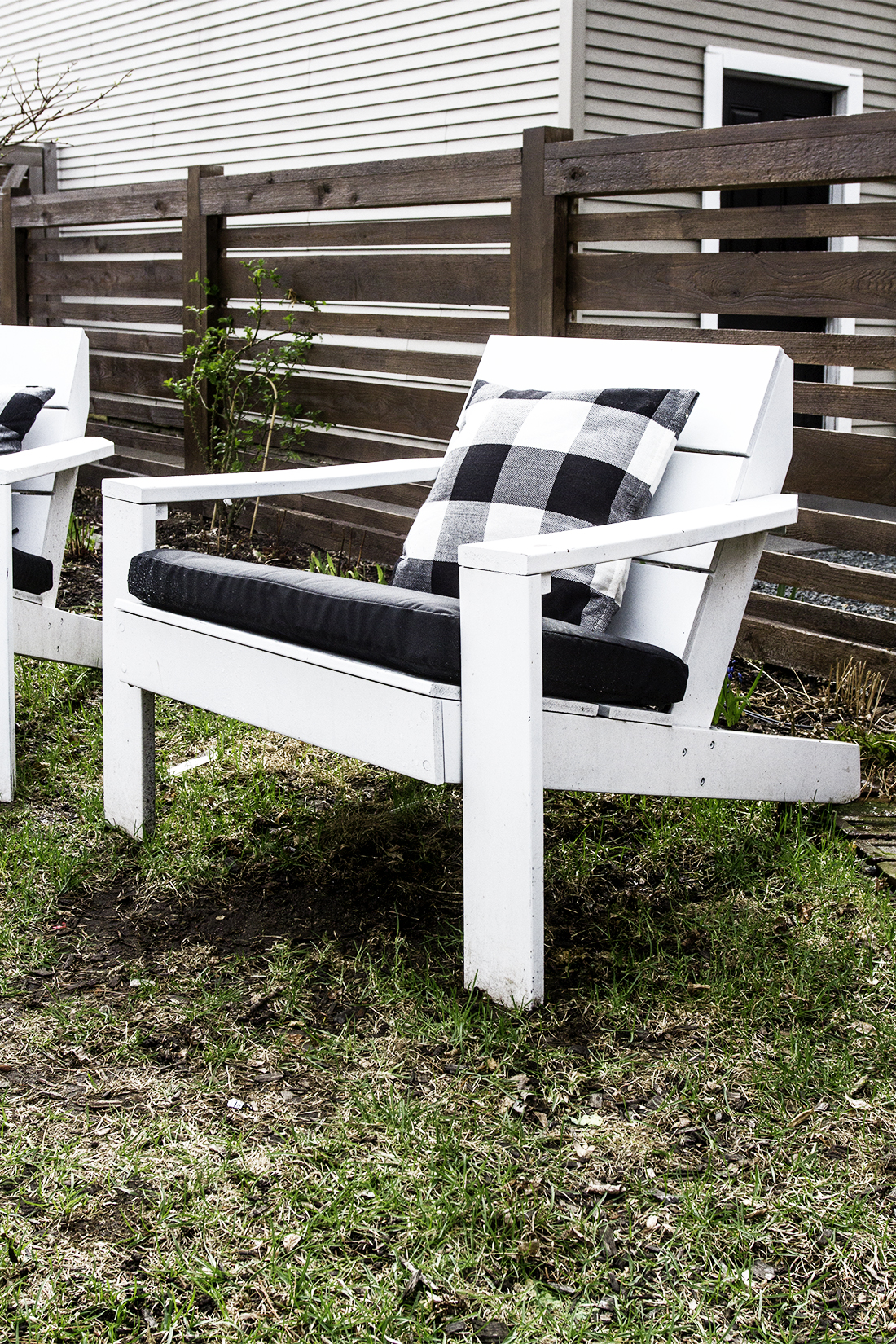 While I was at it, I decided that instead of spending big bucks on outdoor pillows, that I'd just reuse some of the pillow from my "collection." Yeah, so I have a pile of pillows that aren't cool enough for my house anymore, and I keep them up in the attic. I did a round up of 20″ foam pillows (no down pillows outdoors please) and then I ordered a bunch of these really cute buffalo checked pillow cases at Amazon for $6.99 a piece! Even if they only last the season they are totally worth it at that price. I ordered up a bunch of the checked pillows and a set of solid black faux linen covers, and I went to town on them with some heavy duty Scotchgard. Fingers crossed, but I think this is a pretty smart idea.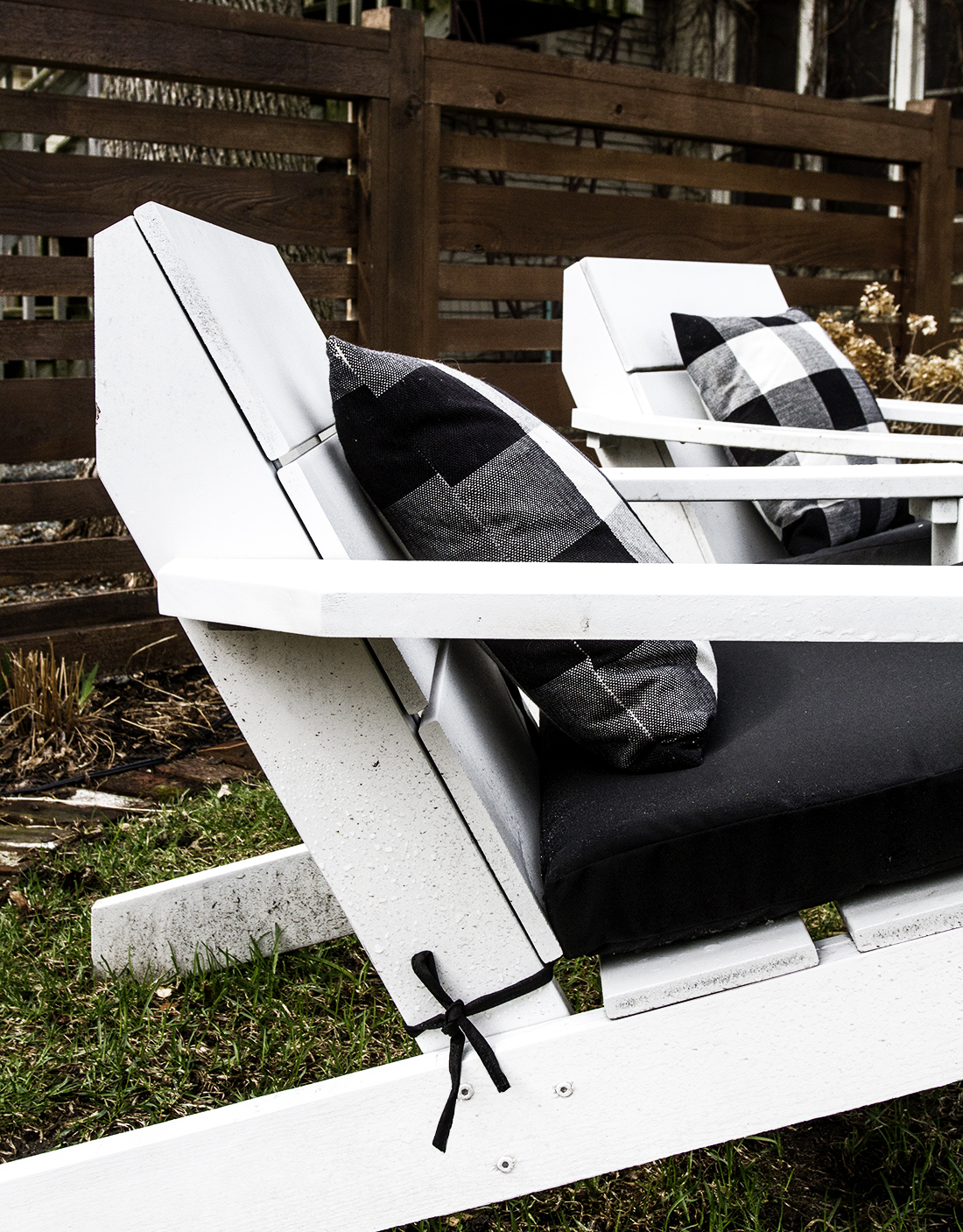 I also gave our Adirondacks some love. If you remember, I bought these from target a few years back – they are called bryant and they have a new version that's equally as cool if you're interested. The chairs came brown (now they come in white) and I painted them white with my fav rustoleum universal satin white spray paint. They've held up really well! Every season I have to spray the arms because there are always a few chipped spots due to all the cocktail wear and tear etc. I keep the chairs outside year round though, and I'm super happy with how they've handled the elements thus far.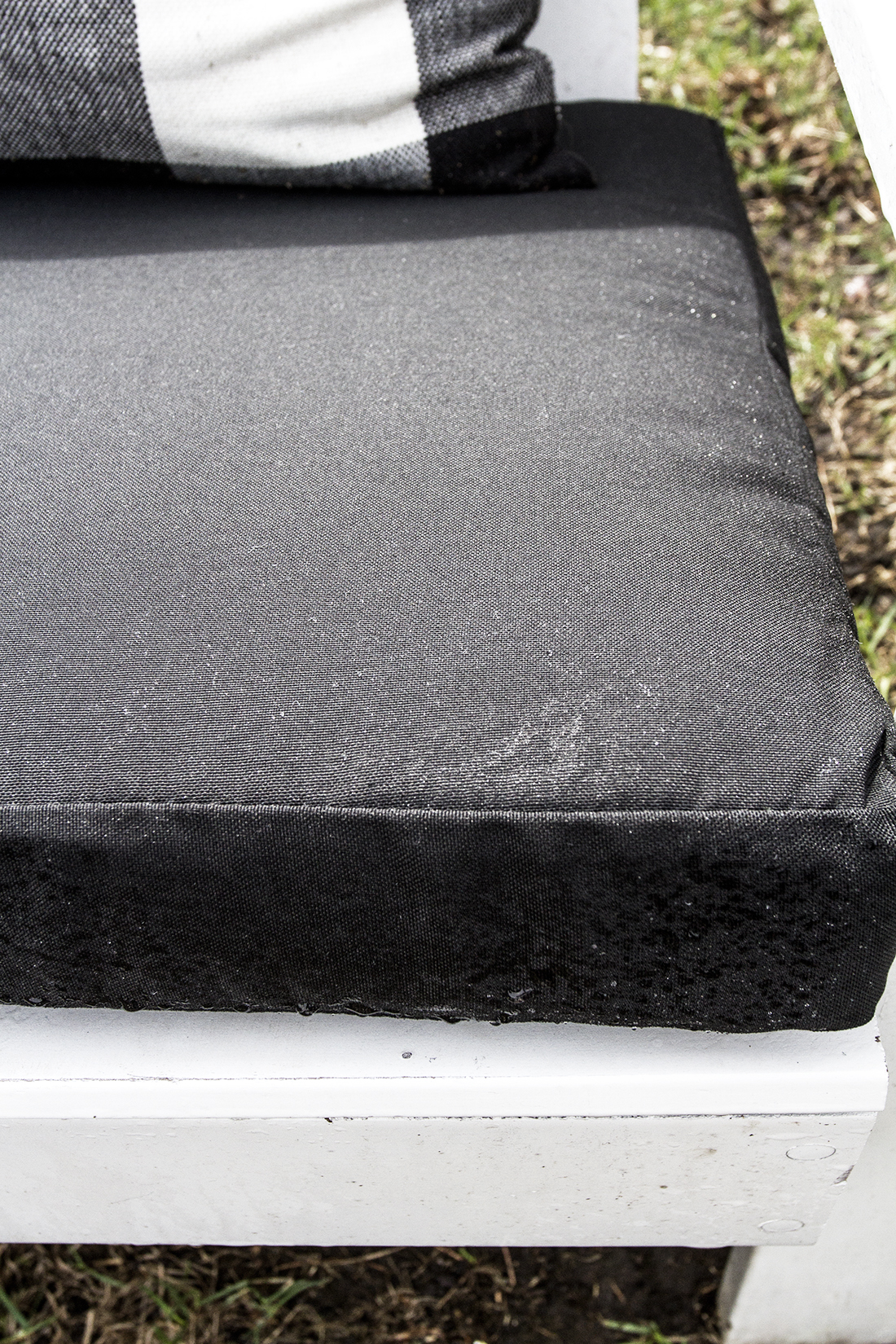 They haven't handled my friends as well, and at about 4am during our annual holiday party, a 200lb friend might have tipped over and taken out a chair on his way down. I was able to repair the chair earlier this spring and you can't even tell the difference. As a reward for saving the fam some money (since we didn't have to buy a new set of chairs), I purchased two sunbrella custom cushions from wayfair and now the chairs really look polished, right? The cushions were a pretty good deal for custom too! I was able to use a 20% off coupon and got the pair for $60 bones. I'm super into the cushioned look!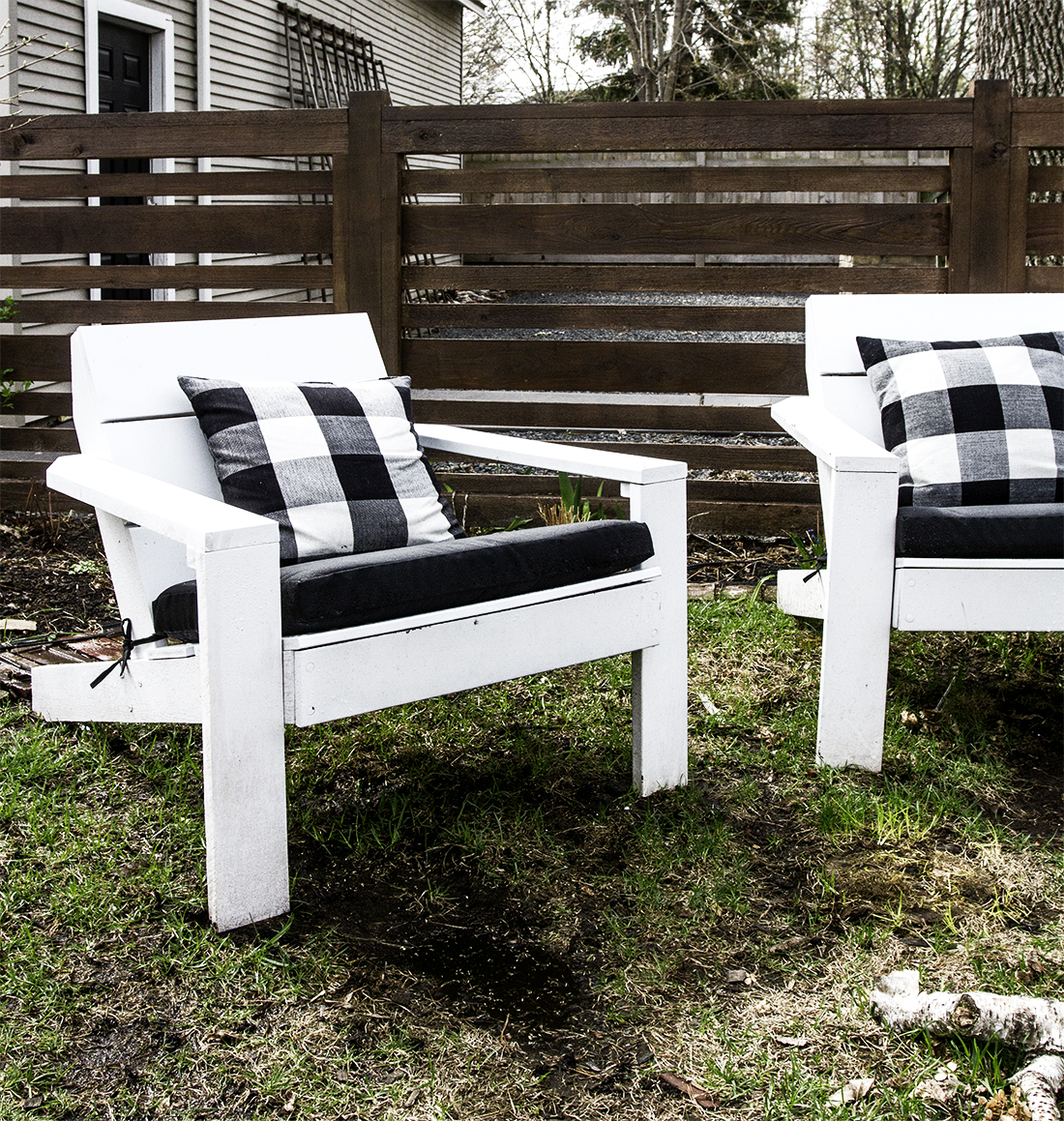 This post was not sponsored but affiliate links are used :)