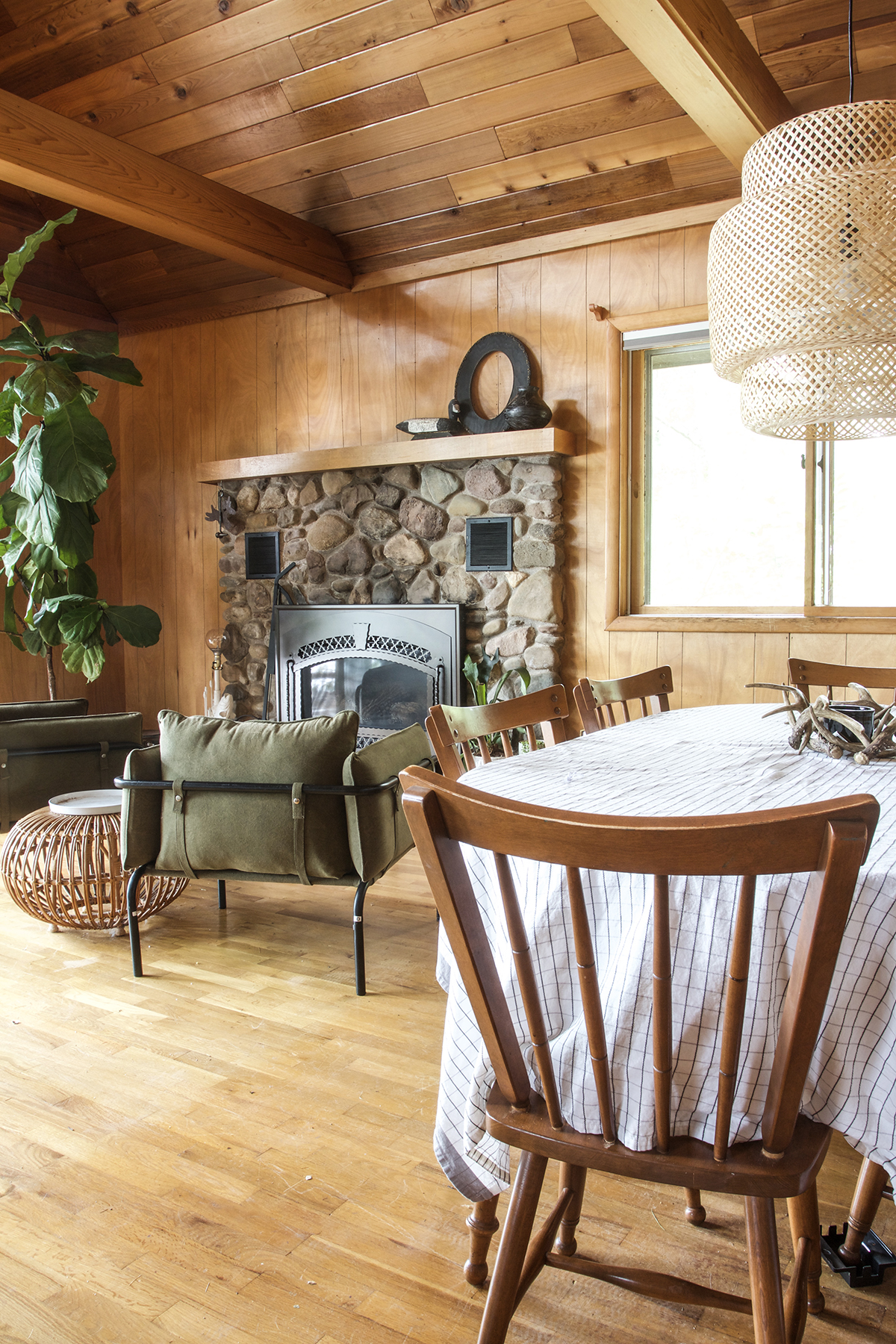 Guys! I guess I just took a month of from the blog, whoopsiee. Normally I would feel guilty about that sort of thing, but I don't, cause I had good reason. I shared with you guys that we were about to buy a cabin two hours from MPLS (aka the Twin Cities) in the heart of western Wisconsin (aka West Wisco). The weeks leading up to the closing were intense to say the least. Emotions were high, and Jeff and I were trying our hardest to keep cool and calm. I think we did a pretty good job of that, but purchasing property of any kind is always such a high stress situation. I was also hoarding a bunch of stuff to bring up to the cabin and making final arrangements. So many little details had to be ironed out, there was just no time for blogging.
Besides just moving a bunch of our stuff a long distance, there was tons of work to get at. Let's start with the furniture. The place came fully furnished, it had been a rental for the last 10 years or so years, and the furniture was just a part of the deal. Unfortunately we had no use for about 3/4 of what we had inherited and it needed to be moved out before we could move in. We had a bunch of days of good weather, and we moved every piece of furniture out into the driveway before we then donated what we could and brought the remainder to the dump. In a mad rush we tore up the carpet which had been harboring a majority of that highly disgusting musty cabin smell. You know that stink that's so abrasive that it makes you seriously regret your decision for a minute or two?
We had the carpet up in no time we estimate around an hour, and were more than happily surprised by the condition of the wood floors underneath. We knew that there were wood floors, but we had no idea what was in store for us as far as their condition goes. We lucked out big time, all these floors need is a good cleaning (still needs to be done) and they will be good to go. What a find!
Between pulling up staples we built a sofa, cleaned, built 2 sets of bunk beds, wrestled mattresses, replaced bedding, sweated our balls off, built some chairs, built some more chairs, assembled a patio table, hung party lights, cleaned out closets, moved old sofas and chairs to the basement for the kids, de-leafed the bottom of a lake, built a trampoline, inflated a relaxation station for swimming, got a DEHUMIDIFIER (!) running full time in the basement, bought a pontoon, tipped a pontoon on the HWY, had a few windows replaced, and are just now READY to take a load off and really sit back and enjoy the space for the rest of the summer before we start attacking our ever-growing list of future projects.
See! This is why I had no time to pop in on the blog. Now that we're pretty much settled I would love to take projects a little bit slower and share with you as we go. Whew. Also, what's up with my blog, it looks crazy r n! I'll have to find time to figure out what is UP!?!
Here are a few more photos, I'm including the MLS photo of the furnished living room, the living room sans furniture but w/ carpet, and the living room as it sits today. We actually only bought a few pieces of new furniture for the space. Ikea was having a sofa sale at the end of the spring and we decided to just go for it, and ordered the Soderhamn. I love it! I think all sofas should probably be these. It's so cozy and it looks kidna fancy for an Ikea sofa. It's designed to be very modular, can have the arms removed (which we did) and the "look" can easily be customized with the addition of pillows. It's like they left extra space for you to throw your own cushions in there to make it perfect, just for ya. I made the army canvas pillows myself from some military surplus laundry bags, I love them, they are soft and cozy. Not pictured is the Saarinen-style womb chair that I purchased brand new from craigslist. Someone in my neighborhood had ordered this chair from Amazon and was unhappy with the color so I got it for half the list price. The rug is our outdoor patio rug and the coffee table which I built for the patio earlier this summer were rudely stolen from our house. I like the rug outdoor rug in this space, and with wet feet from the lake, I think it will wear well. Like I said, the coffee table was meant for our MPLS patio, but got a little soggy in the rain, it works better here. Next season we'll replace what we stole from home. The camp chairs from Urban Outfitters are exactly what I wanted them to be too – casual cabin, modern, and the color of the army green canvas is too perfect. The fiddle leaf fig and the Albini rattan pouf are both from home, fingers crossed that the fig will be happy here – it's lost a few leaves which is typical of a new location but I'm still a bit worried. The dining table and chairs was one of the only items we held on to from the furniture we inherited with the home, they chairs have a nice profile and the table can be remedied with a tablecloth – for now. In case your curious, I will list sources below, and if you have any other questions, bring 'em.
Thanks for all your nice comments, both here and on my instagram over the last few weeks! I am going to respond to each an every one of them.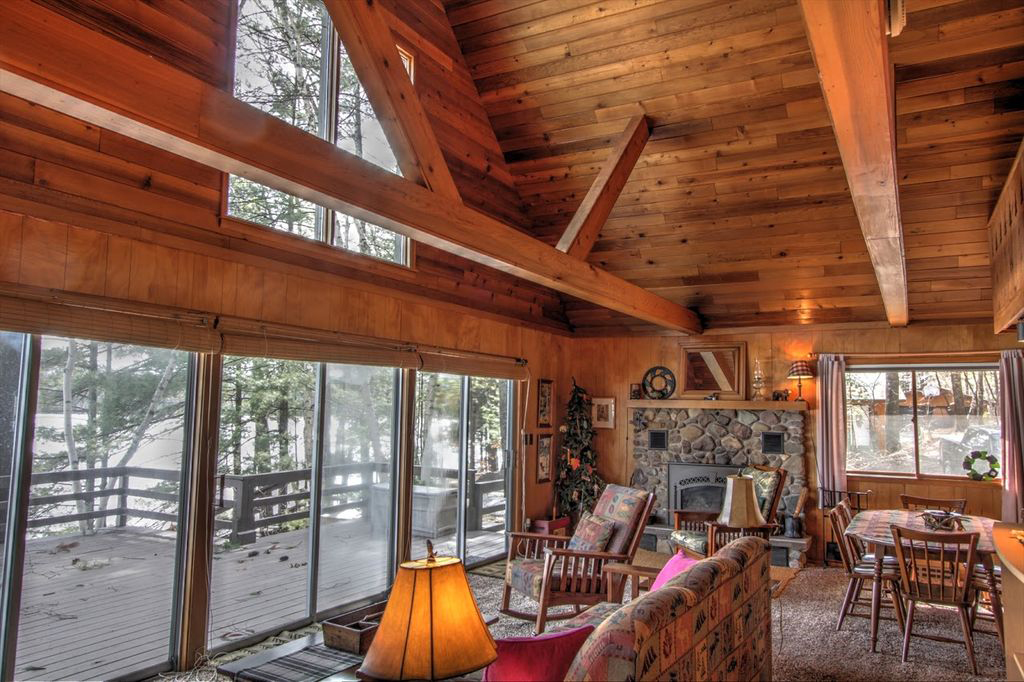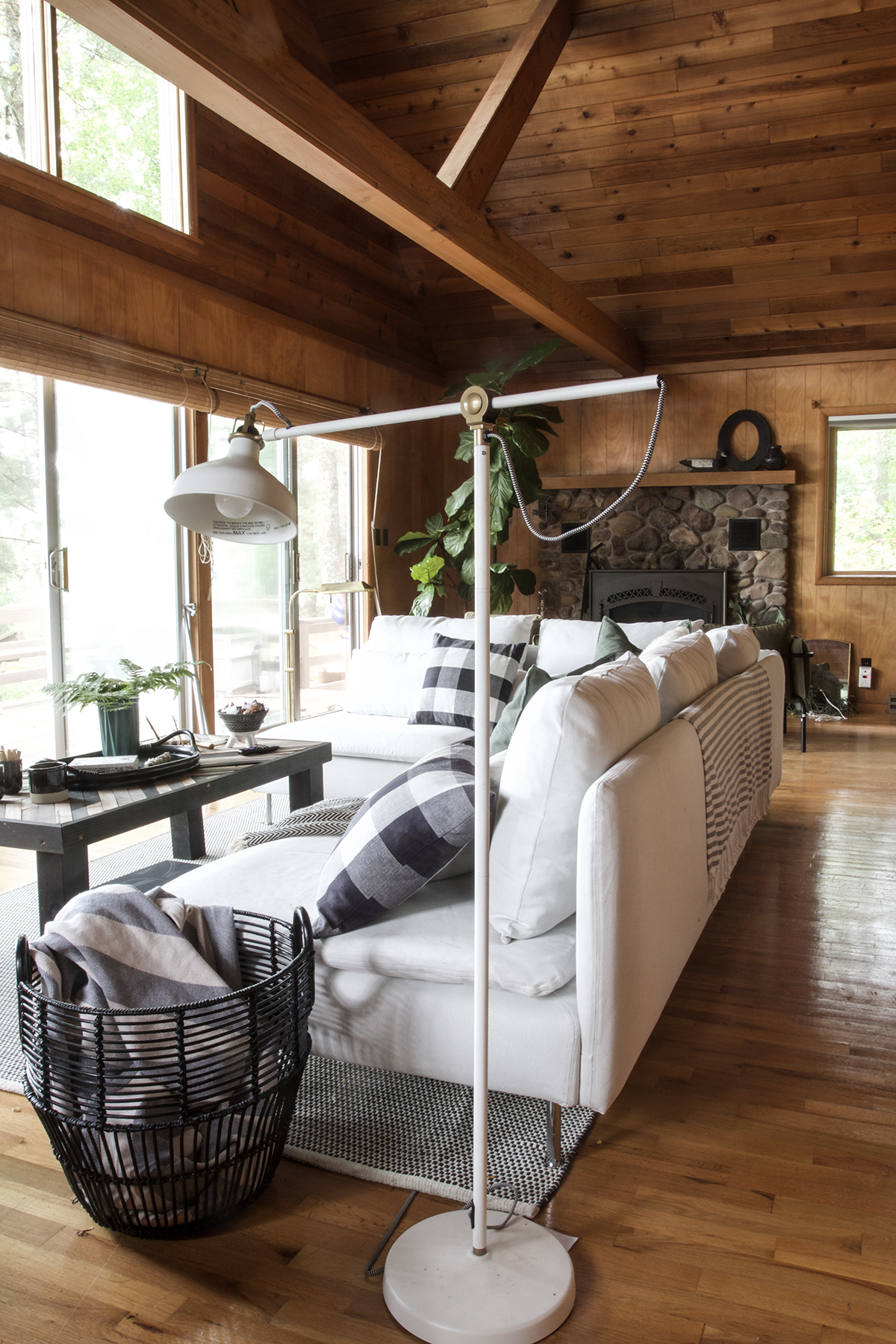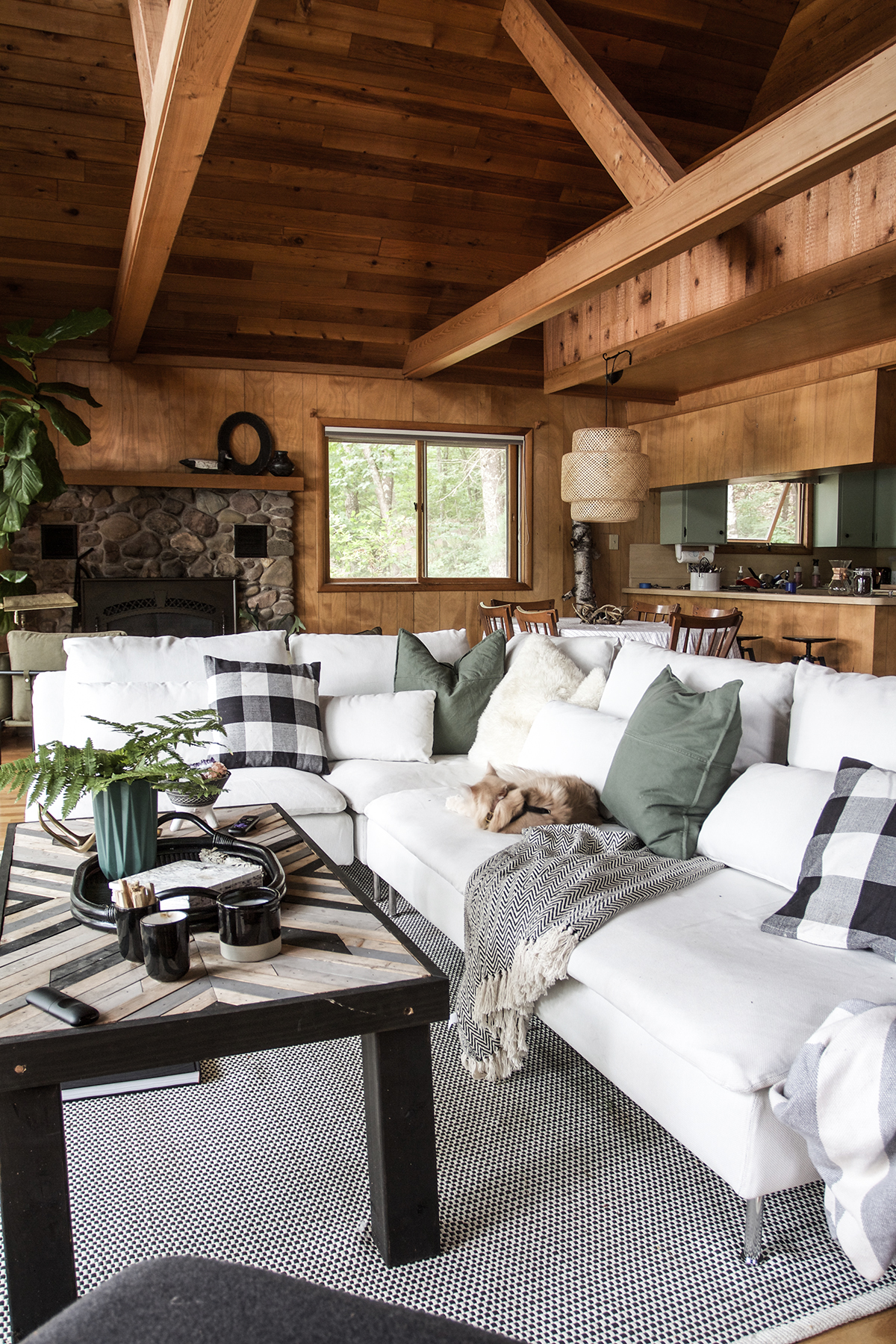 U|O Camp Chairs | Albini Ottoman | Table Cloth | Soderhamn Sofa | Rattan Basket | Green Vase | Rug | Buffalo Check Cushion Covers | Lamp | Chandelier | Tray | Womb Chair