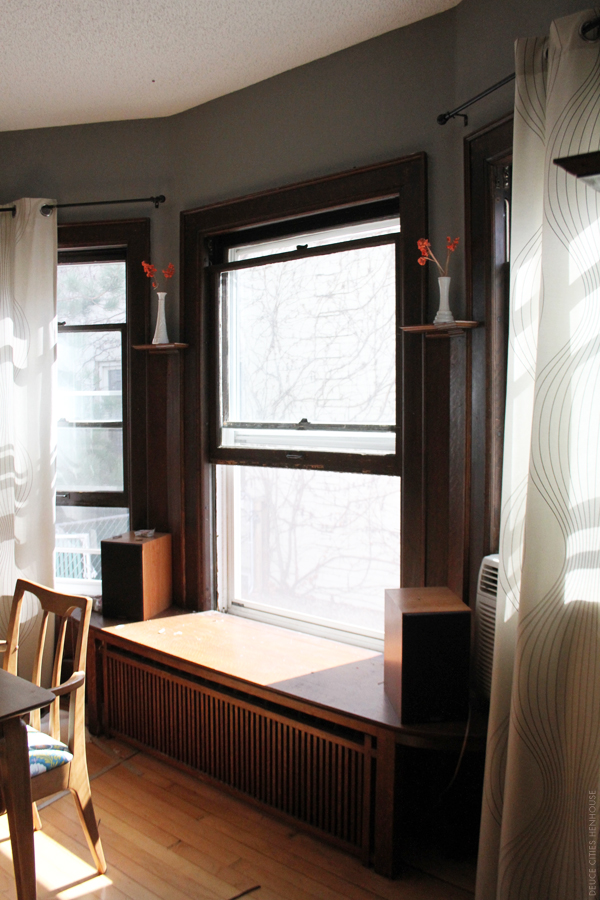 Here it is: the Sash Cord Replacement How-To, only two years in the making.
I don't think I've ever mentioned on the blog how badly I've wanted to repair two windows on the main floor of our house. The first spring we lived here we realized there were two windows without sash cords. I suppose it could be worse considering the age of the house but, unfortunately for us, they are our two largest windows in the house and having them open would really help with the airflow. Oh did I forget to mention not only are they missing sash cords, they don't open at all? Yep, they are painted shut from the outside. Blargh. This project has been on my to-do list since the day we moved in.
…Then I got pregnant, and my huge belly and chronic pain got in the way of any home repairs.
Now it's spring time again, I'm not pregnant, and I can finally take on this project!
*Spoiler alert brahs: The above photo is my dining room window after I fixed it.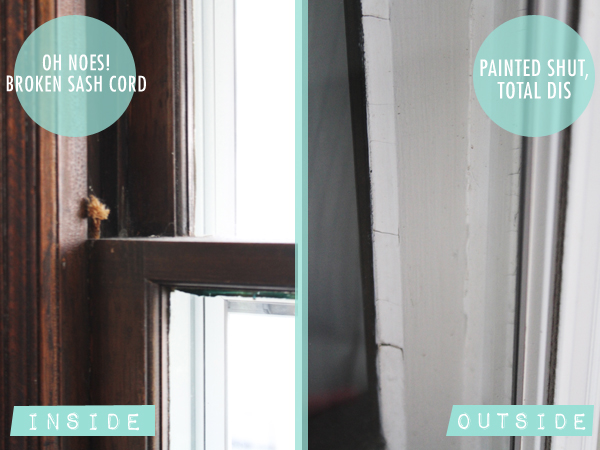 Look at those old crusty broken sash cords and—even worse—the layers of paint that seal these babies shut from the outside. I know not all of you live up here in the Nordic Tundra Land™ so let me explain why this sucks and is so much more complicated to repair. On a lot of old houses, owners have installed newer storm windows on the exterior to keep out the cold and retain the heat. My original windows were painted shut from the outside prior to the newer storm windows being installed, therefore leaving me no way to access the "painted-shut" areas. My windows were being held hostage. But don't worry, cool old windows. Scoops is here to save the day.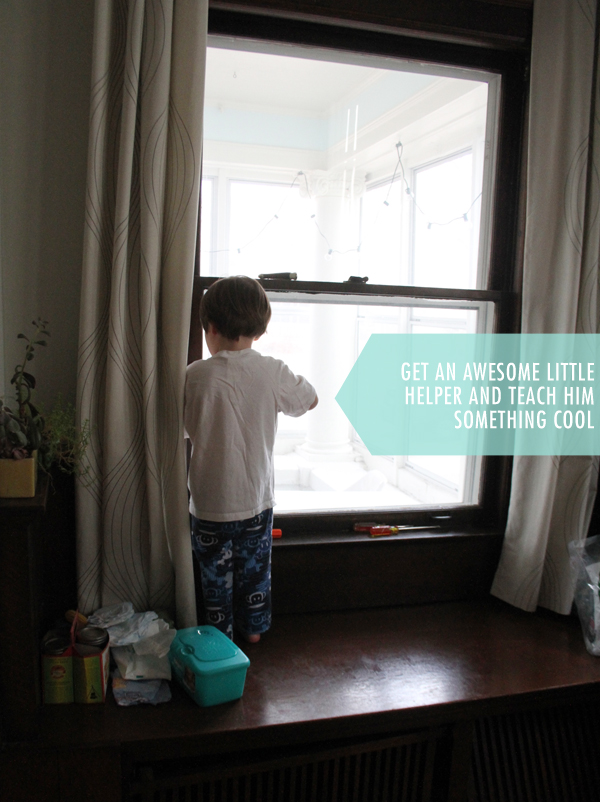 First I got Finn to show me a thing or too. He's really good with his tools.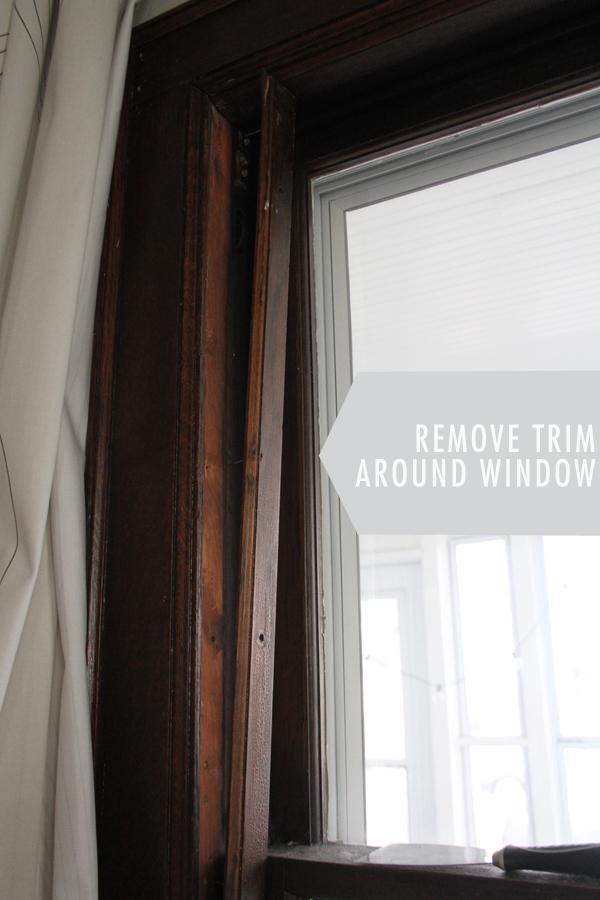 Then I remove the interior trim work. This was pretty easy for us because the trim was screwed in as opposed to nailed, so I just removed the screws and—pop—out they came. The easiest step by far.
Next we remove the lower sash and break the paint seal. This is where it gets real tricky. Our windows have really old metal weather stripping, and I had no idea how to remove it. So I pried loose the weather stripping with a small pry bar. This weather stripping was held in place by two small nails, one on the lower section and one on the upper. Then I used the pry bar to very gently and carefully break the seal on the paint between the upper and lower sashes, then work my way down to separate the paint between the lower sash and exterior trim. Are you still with me?
Finally after about a half an hour of careful prying the sash is free, and the paint seal is broken, Hooray!

Next, we open the secret panel. Every window that uses sash cords has a secret panel. Isn't that cool? We just remove one screw and out it comes. What's revealed to us inside are some humungous sash weights.
This is also the portion of the how-to where I start taking less and less photos because I need both of my hands to get this project done. I apologize in advance, but I'm hoping my 11th grade technical writing skills will come in handy right about now…
Pictured above is how we go fishing for the new sash cord. We use some bakers twine because, duh, we don't have actual string up in here, and weigh it down with a screw. Finn thought this was the coolest part. I lowered down the screw and then he would tell me when he spotted it.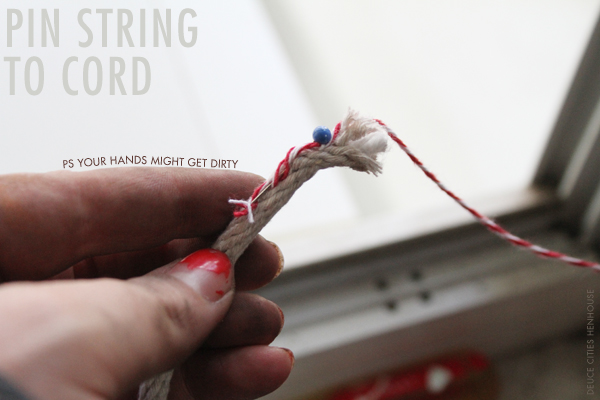 After our pretty little baker's twine comes through we attach it to the new sash cord with a pin, because I sew and I don't have an actually fishing hook. We hoist our new sash cord up and out it comes at the top.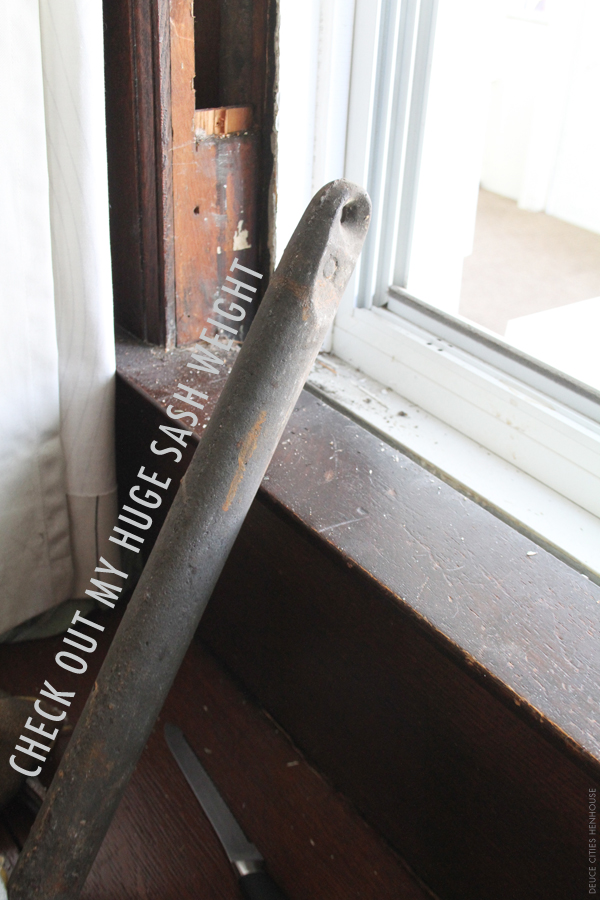 I had no ideas these things were so huge and heavy, but I suppose if you have a huge window you need a huge weight.
We attach the cord to the weight with an overhand knot. Wait, you aren't a sailor and you don't know how to tie knots. Here is a link to a nice little image that will help you figure it out.
We are photo-free from this point on so bare with me.
This is the part where we measure the length of the sash cord, tie another knot and attach it to the lower sash. This will be easy for you, but was hard for me because we have that dumb weather stripping I mentioned earlier. It was a two person, four handed job, so make sure you got a buddy.
This Old House has a great video on how to do this whole process. I watched it about a dozen times before I dove in. You should check it too.
After all that hubbub you will have a new functioning awesome window to enjoy. Yeaya!