Dark Blue & Yellow Door
Hello, My name is Alison Allen and I am crazy with a capital "C". I just spent a lot of time hanging out with photoshop and pretending what my house may or may not look like after this summer's paint job.
Below (and above) you will find 3 potential paint and door options, take a look and tell me what you think. I'd love to hear your opinions, as I am driving myself insane.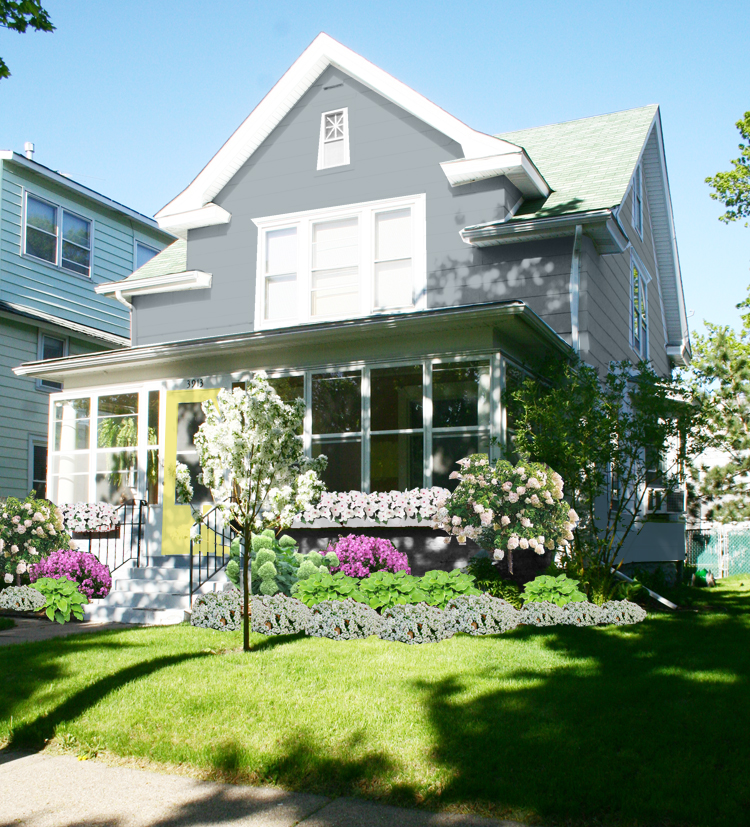 Grey & Yellow Door

Light Grey & Red Door
Did you notice that I also photoshopped a new foundation garden into the above images? Just another project I'd like to get underway this summer. What do you think? I need some gardeners out there giving me feedback because I barely know what I am doing.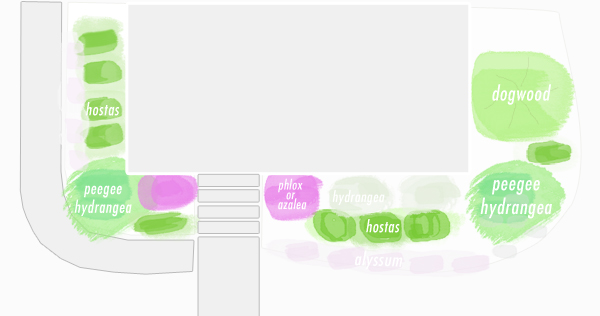 Here's a birds-eye-view of the garden so you can get a feel for the layout.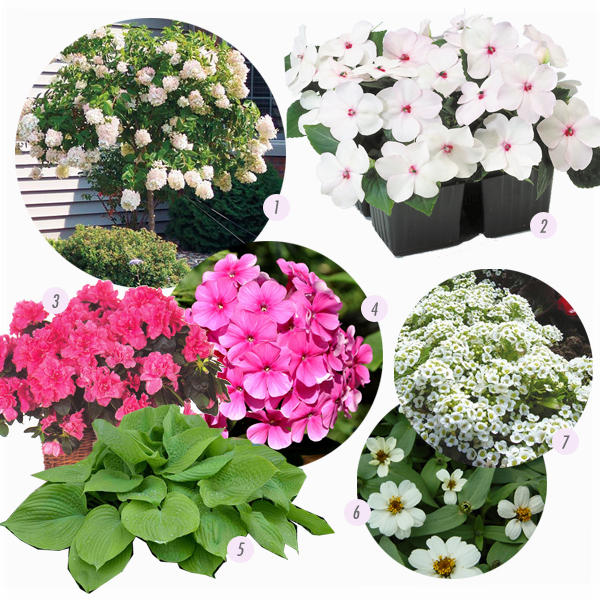 And of course the break down:
1. Peegee Hydrangea – I love the look of these and am dying to have one in my yard but I am worried that they can get too big. I want mine to consistently stay a small size. So what's the deal, do they get to be really big, can I prune them to stay a certain size, or is there a specific variety that would suit my needs?
2. Impatiens with pink center – In the past I've always gotten pretty fancy with my window box, but this year I think I'm gonna keep it simple and just go with white Impatiens.
3. Pink Azaleas – I would like to have some pink out in the front of the house but I am not sure what type of plant would be best for this area, I am debating between Pink Azaleas or Hot Pink Phlox.
4. Hot Pink Phlox – I have pink phlox like this in my backyard and I really like them. They get to be about 18″ tall, which is a nice size. I wouldn't want anything to be much taller. It's either the Phlox or Azaleas, any opinions out there?
5. Hosta – This is the Guacamole variety of Hosta. I would like to find a type that produces big lime green leaves and can handle a little sun. Any suggestions are welcomed.
6. Small Profusion White Zinnia – I'm considering having either Zinnias or Alyssum for the border of the garden. I love both and I'm not sure what would do better out front.
7. Alyssum – Alyssum are awesome border flowers because they grows and fill in so quickly and smell great. What do you think I should do, Alyssum or Zinnia's?
Sorry for being a big baby on this post. I know I can't make up my mind. These are big decisions and I suck at making them. I would really seriously love to hear what you have to say.