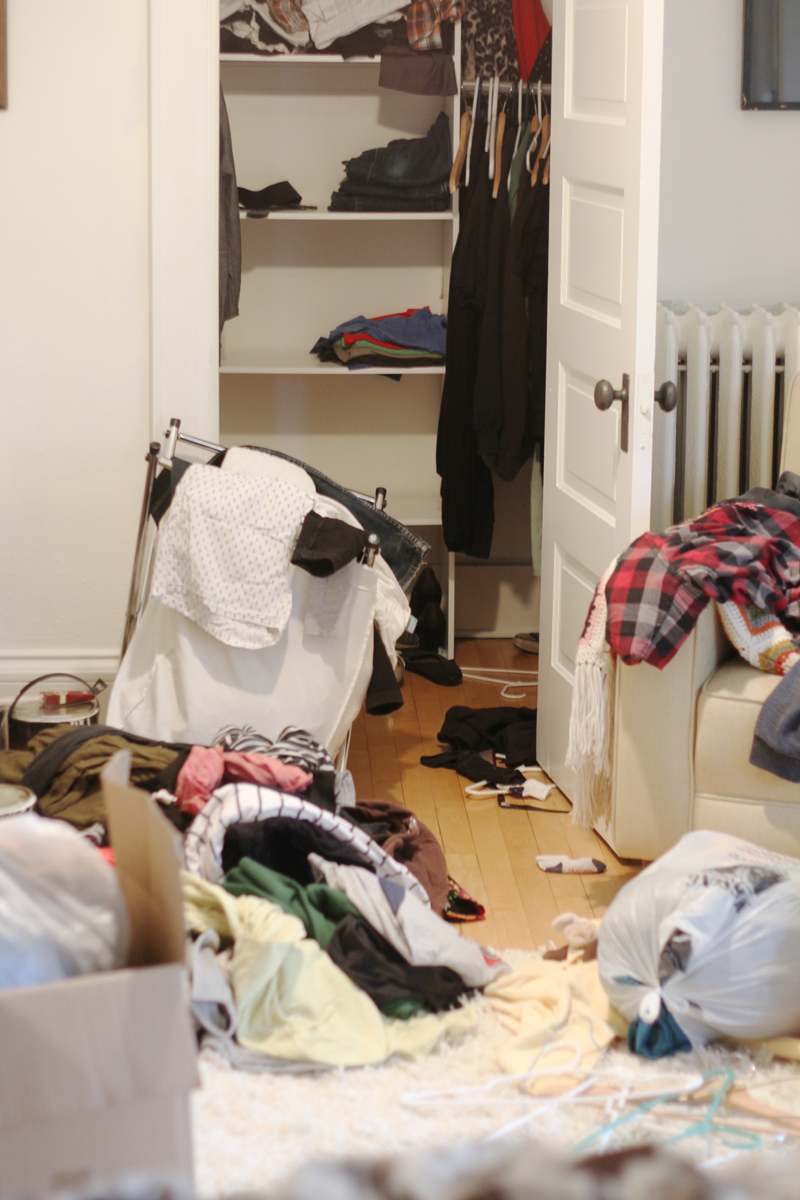 Does this ever happen to you? I went up to my room to find a new shirt because Gus' diaper decided to not work while I was holding him (major boo). Then, as I was searching for a new top to wear something came over me. I started ripping my closet apart.
I've been wanting to go through my closet and purge for awhile, but was just putting it off. I guess I just couldn't stand it anymore. All those old maternity clothes were starting to get on my nerves. In less than ten minutes I filled four bags of clothes to donate, two bags of ratty old clothes to throw away and the rest was what I kept. Now it's time for the hard part… putting it all away.
This is what it looked like after I went through it. Ugh.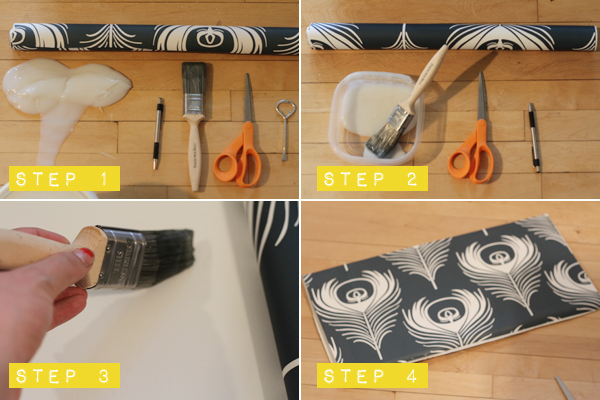 I decided that since I had everything out of my closet that it probably needed a little love. I don't know about you, but Jeff and I are the type of people that don't know how to close our closet door no matter how dirty. Unless company is coming over it's always open. It was time to pretty it up, especially if the rest of the room was getting a makeover. I grabbed a left over roll of feather wallpaper that I had used in the music room and went to town on the closet shelving. I lined each shelf with the paper. It was super easy but just in case you need to know this is what I did.
Step 1. Before you even do anything you should probably be klutzy like me and spill wallpaper paste all over the floor.
Step 2. Clean up your mess and re-take the photo of your supplies. Get your wallpaper, wallpaper paste, paint brush, pencil and scissors or razor.
Step 3. Dip your brush in the wallpaper paste and spread it on the shelf.
Step 4. Cover your shelf with wallpaper and trim the edges with your scissors. Yay!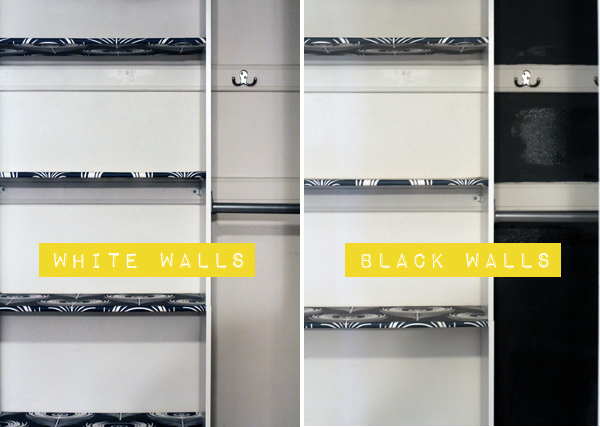 After I finished with the wallpaper I decided that maybe my closet could use some paint. I went and grabbed the can of black paint I had used on the far wall in our bedroom and went to town on the interior wall of the closet. Because the black looks so good on the bedroom wall, (I LOVE the way it sets off all the books on my bookshelf), I figured maybe it could work the same way in the closet against all of my clothes and scarves.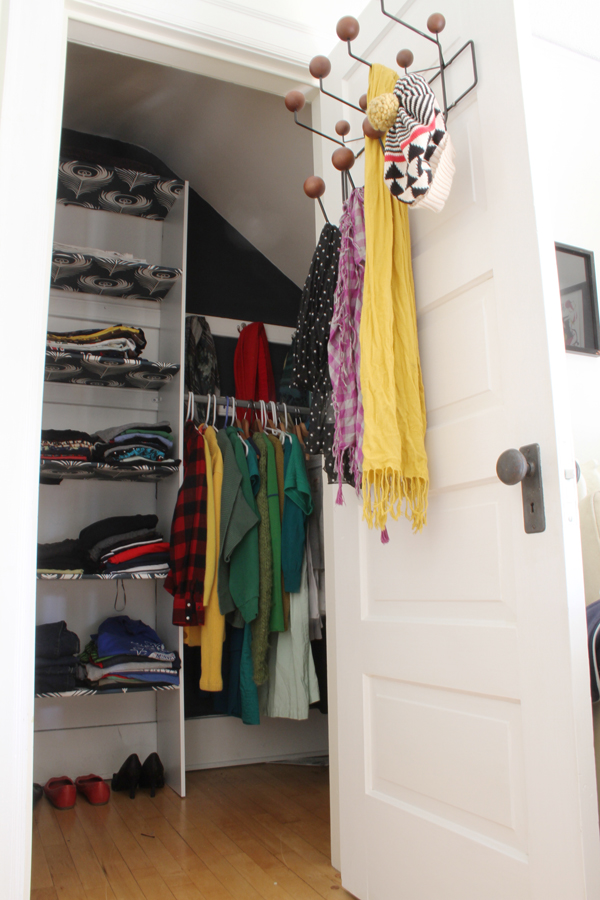 Ta-da! Now for the step that is most easy to avoid, organizing and folding. I actually folded all my clothes and hung up my hangables (except for a few, Get on that Scoops!). I totally colored coded my duds because I can't resist. Trust me, it won't last long.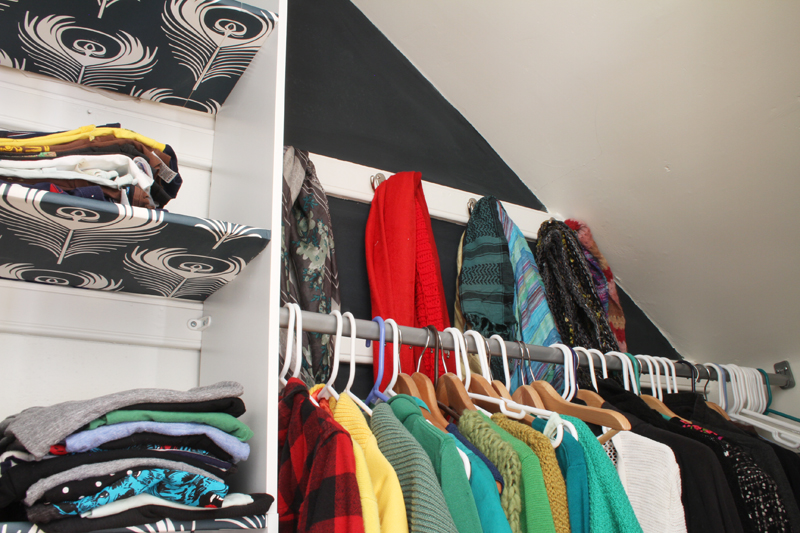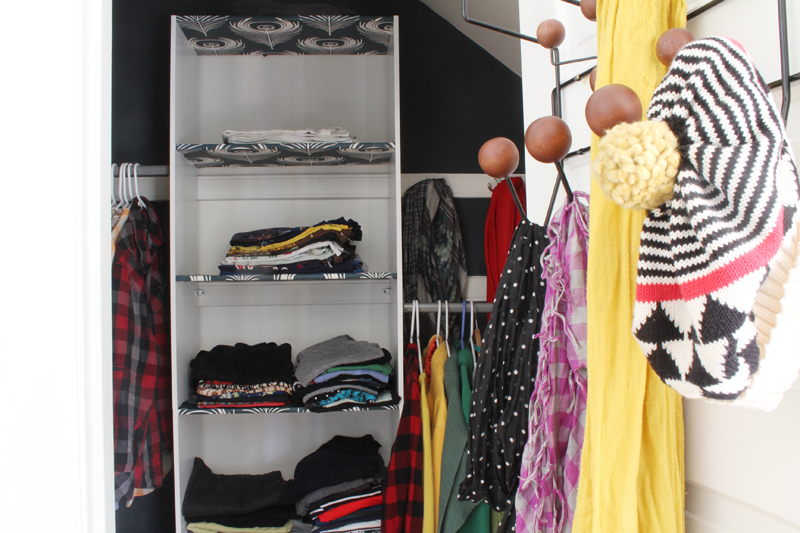 I also finally hung up this knock off Eames style hang-it-all that I've been holding onto for the last few months. I think I found the perfect place for it!
So now, I only have a few things to do before the bedroom is fresh and ready to go.
▼ Paint the window sashes
▼ Add new sash locks and handles to the windows
▼ Furnish with a few more accessories
▼ Paint behind the radiators
▼ Clean
Donzito!