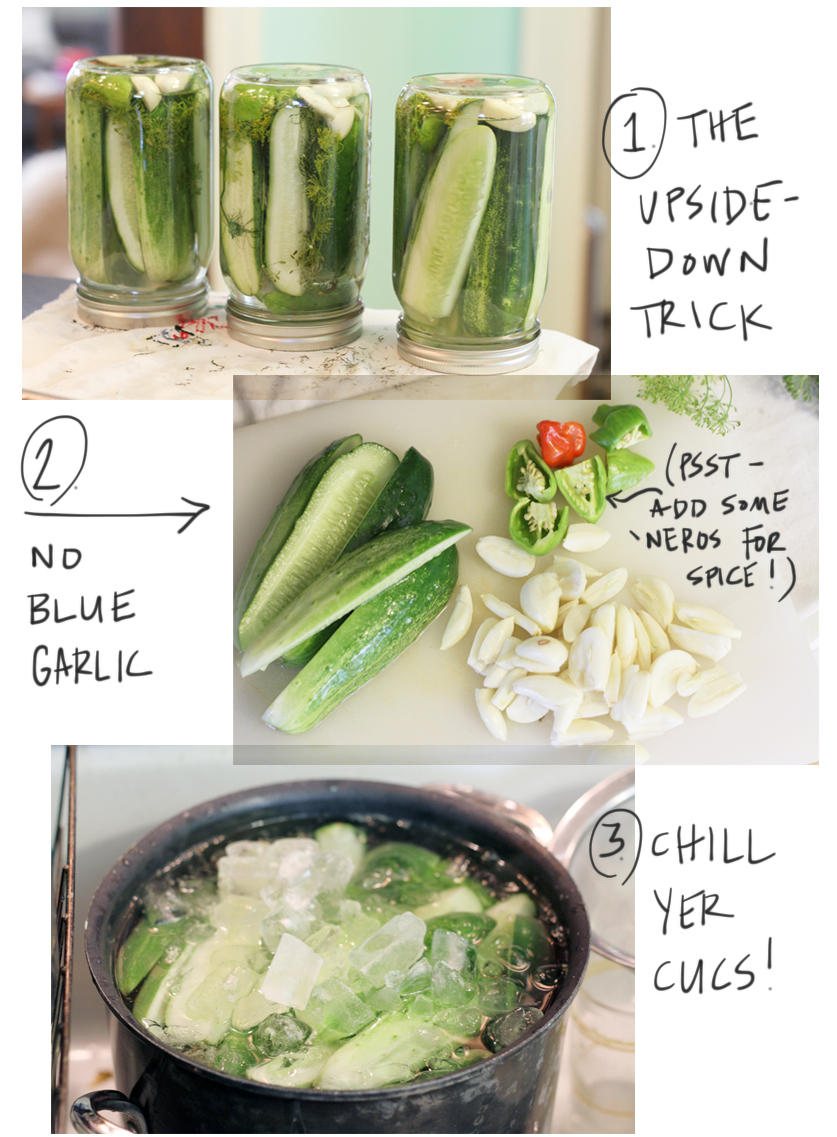 Guys! All I have been doing with my free time (when I'm not spending it being sick) is canning veggies. It all started as a quest to create and can the perfect bloody mary mix and now has moved into pickles, beans, tomatoes and marinara. Every week we get a new CSA box I have to figure out how to can it. I have a whole basement fridge stocked with jars, it's crazy. I feel very proud of my stash and I am excited to share it with my friends in the very near future.
I fer real made the spiciest best pickles in the world! It was mostly a fluke mixed with a little bit o' internet research. I've learned a few tricks for canning pickles and thought I should share them with you.
Once you have poured the hot brine over your cucumbers and have tightened the lid and ring, tip them over and let them rest for 3 minutes to help ensure a tighter seal.
After a night of resting the first batch of garlic dill pickles included blue garlic cloves. I was scared that I had ruined the whole thing and was going to poison my friends. In reality what really happens is that I used fresh young garlic. Fresh garlic reacts with the acid from the vinegar and leaves the garlic with a neon blue hue. Try using dried garlic to prevent the blue or blanch the garlic for 1 minute prior to placing in the jar.
Put your cuc's on ice. This step is crucial if you want your pickles to be crispy. Add your cucumbers to a pot of icey cold water before canning and quartering. Keep them in the ice bath right up until the time you add the brine to your jars.
Hope this helps you make a tasty pickle. Do you have any crucial pickling tips? Feel free to share them in the comments below.