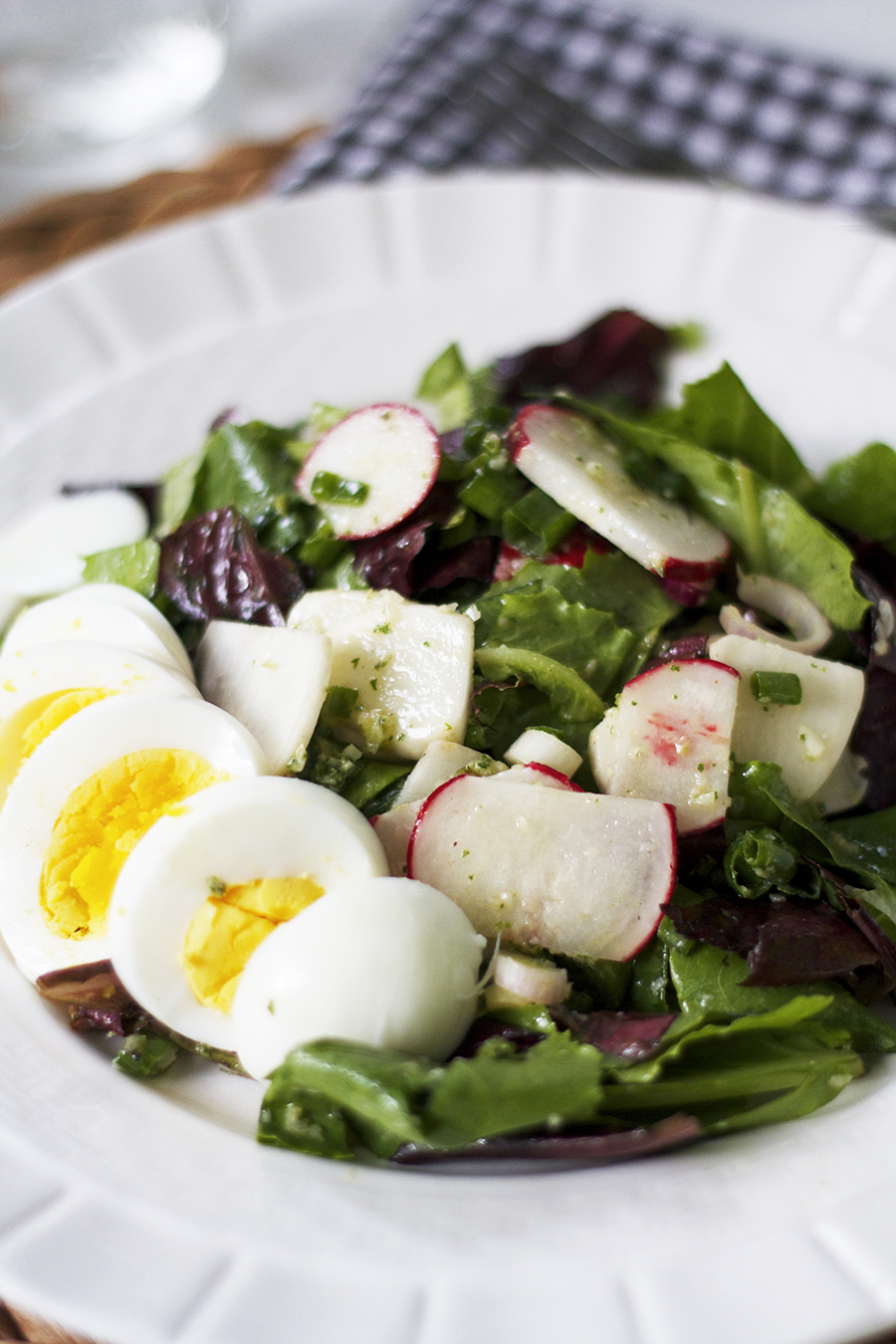 I'm so excited that it's CSA season again! We just received our first box from the South West Wisconsin farm, Driftless Organics, last week. Our fridge is overflowing with greens – I could just sit and stare at it all day. I wouldn't though, that would be crazy, but it is really refreshing to see so many raw veggies in our fridge again.
Subscribing to a CSA (Community Supported Agriculture) has a lot of great benefits. It allows you to support local agriculture and farmers on a first hand basis, you get and opportunity to eat lots of healthy stuff, and it gives exposure to new varieties of veggies that you may have never cooked with or even tried before. The hard part of course is being dedicated to preparing and eating your CSA box, it does take a bit of dedication.
Every season starts with greens so be prepared for a few salad recipes in the coming weeks, this one is a doozy. I could eat radishes all day long in the summer time, so I especially love this recipe. Salad turnips are almost as good as radishes with the a similar but smoother texture and milder flavor. The root vegetables are delicious with the oregano vinaigrette dressing.
Radish & Turnip Salad with Oregano VinaigretteRecipe from Driftless Organics


For Salad:
▼ 1 head chopped butterhead lettuce
▼ 4 salad turnips, sliced
▼ 2 medium rashes, sliced
▼ 2 purple scallions, chopped
▼ 4 hard boiled eggs, sliced (optional)


For Vinaigrette:
▼ 1 tbsp white wine vinegar
▼ 1 1/2 tsp dijon mustard
▼ 3 tsps fresh oregano finely chopped
▼ salt & pepper to taste
▼ 1 green garlic bulb & stalk, minced fine
▼ 4 tbsp olive oil


Mix all ingredients (save the hardboiled eggs) in a large salad bowl. Whisk vinaigrette ingredients together and serve over salad. Lay the eggs over the top of the mixed, dressed salad.