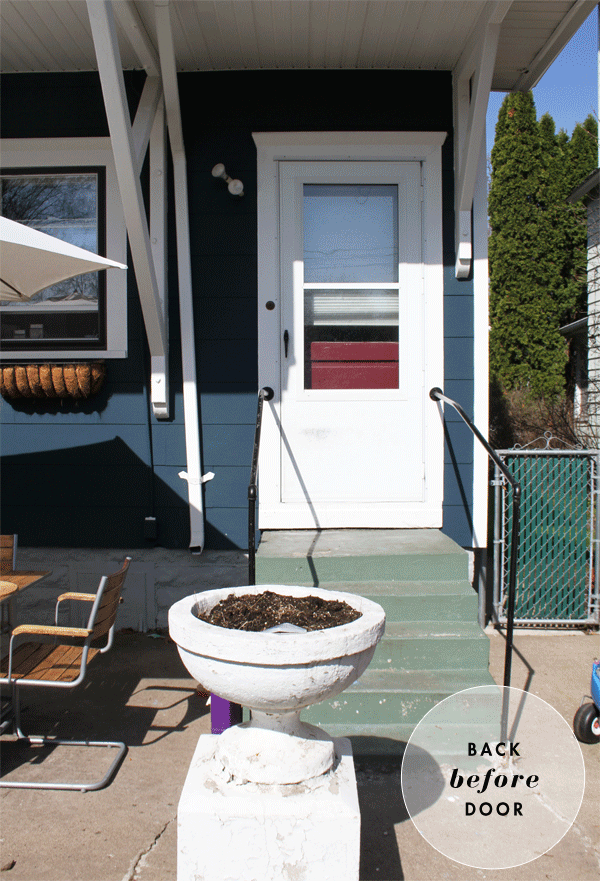 Hey-O! I don't know about you guys, but now that it's finally made it to spring 'round these parts I've been trying to make up for lost time. I've been doing outdoor projects left and right trying to get everything ship shape and ready for spring and summer enjoymentz. I have a whole to-do list of small outdoor projects that need to get done, and I've been checking them off! Feels so good.
I think after tackling the big spring indoor to-do list, I've decided to make an outdoor to-do list chalked full of projects that have been nagging at me forever. Like for example, painting the purple back door gray, and repairing and painting the steps to match the house. I mean dirty green steps are cool and all, but c'mon.
So I've spent the last two afternoons painting doors and steps, hanging new/old house numbers and making the backyard vibes even more righteous then they already were.

The patio and back entrance are getting closer and closer to being super cool. I've tackled the stairs, door and house nums, now I need mother nature to do the rest. I'm still waiting on grass, leaves and plants to make this scene even tyter. I'm confident it won't be long. I also need plants in the window boxes and in the world's most giant planter.
Speaking of that giant planter, what does one do with a giant planter at the base of her steps that's peeling paint and falling apart in a major way? I'm sure it's original to the house, so I don't want to destroy it, but I don't know if I can keep living with it in the state that it's in. Any ideas on the will be welcomed!
Also, did you notice my new white umbrella? I picked it up at target online and I love it because it's big and it tilts. Keeps us in the shade when we need to be shaded!

Progress shot… looking so much nicer already. I know the stairs are light and will get dirty over time, but hey, that's what hoses are for.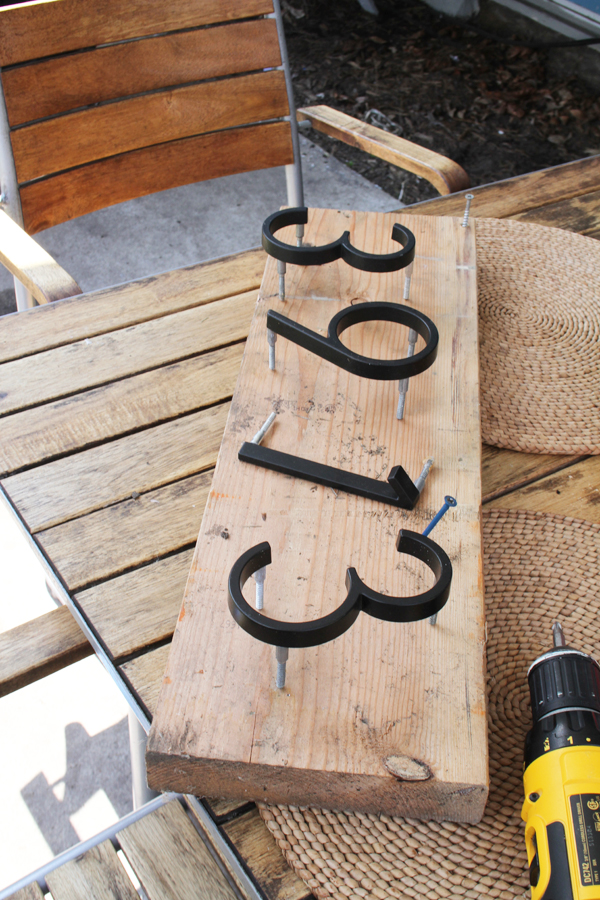 I gotta tell you guys about these house numbers. These were originally on the front of the house, but when we had the house painted last year the frieze was painted dark gray (the same color as the back door now), and the black house numbers did not show from the street, duh me. I had picked up these babies for the front of the house, in pewter at the The Home Depot for fairly inexpensive, I'm talking $6 a piece. After replacing the front house numbers with the new pewter ones, I was left with our old house numbers in black. I figured since I like them so much that I would mount them on a white board and hang them over the door in the back of the house. I know that's kind of a weird thing to do, hang house numbers on the back of your house, but here in MPLS (aka Minneapolis) we have a city full of alley ways, and it's not out of the ordinary to see numbers on the back of a house.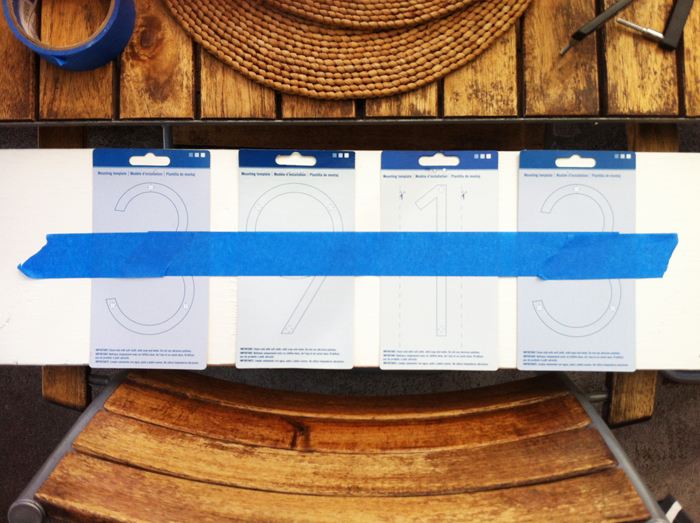 The installations on these numbers couldn't be any simpler either. They include templates that you can line up and arrange and level and space. Then you just have to drill holes and insert your numbers. Voila!
Okay, enough bloggin, back to outside work!