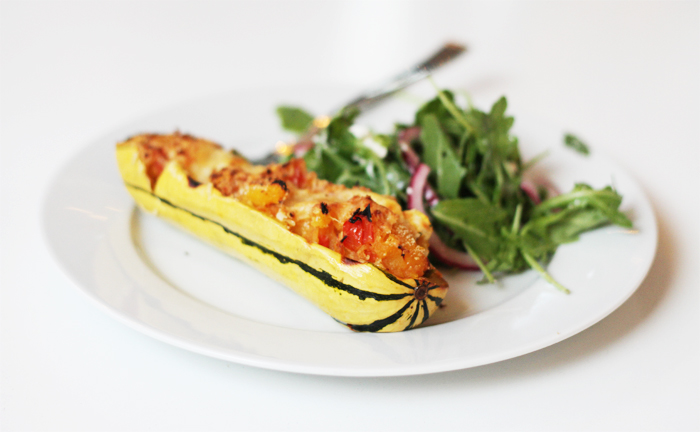 It's the end of CSA season, insert sad face here. I really, really enjoy getting our bi-weekly boxes chalked full of fresh veggies and it's sad to end its regularity. I'm going to do my best to keep stocking the fridge with fruits and veggies throughout the winter. I think it's been really good for our family to have lots of different veggies always available to us, and grocery store produce won't be the same. So begins the winter…
The fall CSA box is always full of tons of tomatoes, peppers and squash, so this meal is pretty fitting for the bounty. Seriously, all of the recipes I've shared with you guys (via driftless organics) have been totally delicious, I'm impressed. This was just another good one; salty and sweet, a little spicy and perfect for a chilly fall night.
I prepared it with my favorite go to salad on the side; arugula, thinly sliced onion, almonds, goat cheese, salt, cracked pepper, lemon and a drizzle of olive oil. This one never gets old.
Poblano & Smoked Gouda Stuffed Delicata SquashRecipe from Driftless Organics


▼ 2 delicata squash
▼ 1 poblano pepper
▼ 2 cloves garlic, unpeeled
▼ olive oil for pan and drizzling
▼ 1 roma tomato
▼ salt and pepper to taste
▼ ½ c. grated smoked gouda cheese
▼ ¼ c. panko bread crumbs


Preheat oven to 375º. Cut Delicata in half lengthwise and scoop out seeds. Place cut side down on an oiled baking sheet with unpeeled garlic cloves, whole polblano pepper and roast for 20-25 minutes, until squash is just tender. Cut Roma in quarters lengthwise, scoop out seeds with finger and drizzle with oil, salt and pepper and place on pan with squash about 10 minutes through baking time.

Remove pan from oven. Carefully scoop most of squash flesh out of the delicatas into a mixing bowl. Squeeze roasted garlic into squash pulp. Carefully pull skin off poblano, remove seeds and stem, and coarsely chop. Add about half of the pepper to squash and taste before adding more (just in case it's spicy). Season to taste with salt and pepper and spoon pulp back into squash shells.

Top with bread crumbs and grated gouda and put back into oven for 10 minutes, until cheese is melted and panko is browned. Serves 2-4.