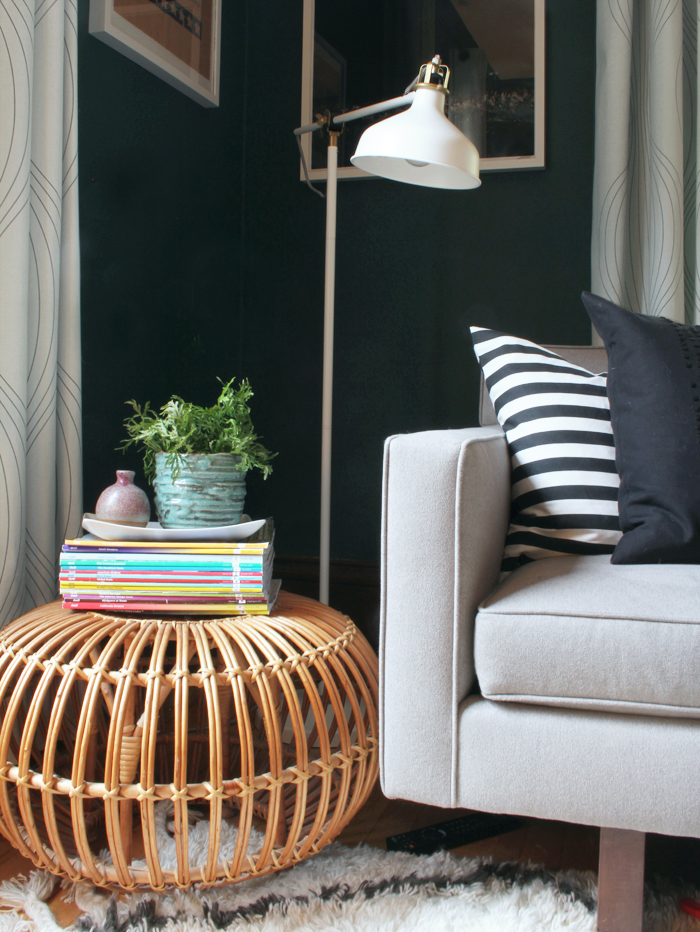 I mentioned that I was really crushing on the Ranarp lamp back when I did a round up of my favorite kitchen lighting options. I loved it from the jump, first seeing it on the swedish ikea blog Livet Hemma. I crossed my fingers hoping that the same line would be coming to North America soon.
Earlier this week when I made a pit stop for some essentials at Ikea, I saw the Ranarp lamp in person, and there was no way I was leaving the store without some version of it.
We've been in desperate need of a lighting solution for the living room forever. Our house is old, and like lots of old houses they were made with no overhead lighting in the living rooms. We have two wall sconces instead, and as you would imagine, they don't give off very much light. We've been living in a cave at night for a long time. I could've easily solved this problem by buying a lamp or two, I mean, that would make sense and all. Lighting is expensive though, and I'm afraid I won't like it 6 months down the road.
I have been imagining that a telescoping floor lamp would be perfect in our living room. We only have one side table, and it already has a bunch of stuff on it, so a table lamp is out of the question. A floor lamp is the right move for our space, and I liked the idea of a task lamp giving focused light in a corner of the room. I've had my eye on the industrial task lamp over at West Elm, and have been hoping that they'll start producing it in some of the color options, like they do in the table lamp version. I'd love to have it in green. That green lamp that doesn't really exist, has been my only lighting prospect, until Ranarp that is.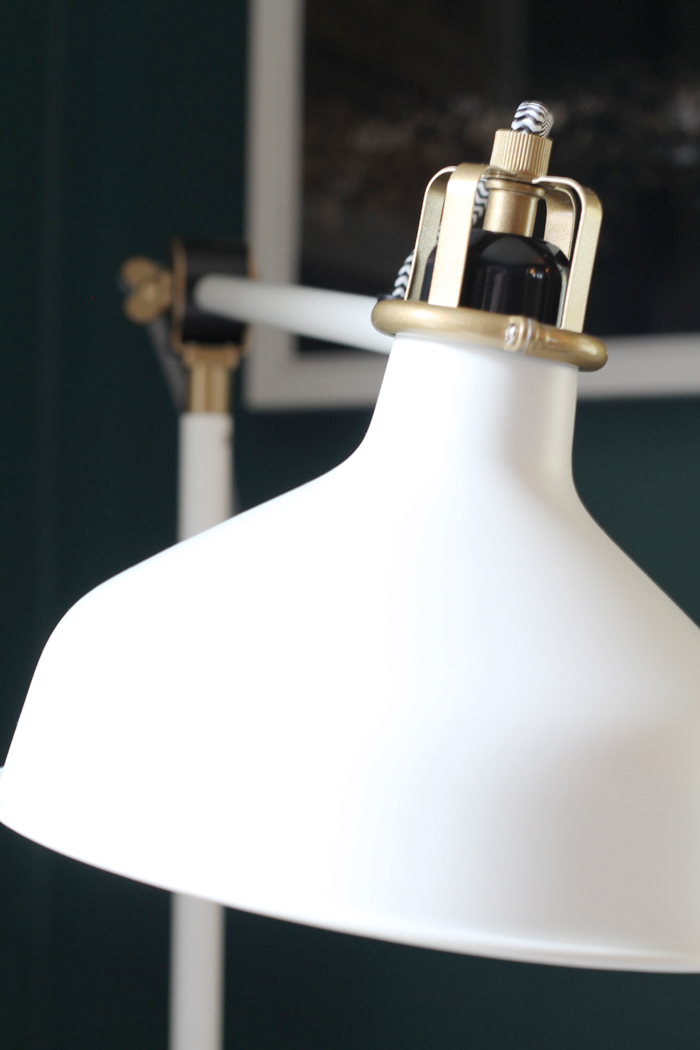 They had me at brass-ish fixtures and braided black and white cord. Okay, so the brash finishes are powder coated, but really, unless you get up close, you can't tell. The rest of the construction is totally solid. I've had lamps from Ikea before that get all wobbly in no time, but this has a nice heavy base and solid metal rod. It's hard for me to imagine this lamp falling to pieces any time soon.
I'm constantly in awe of Ikea, and what they can produce for us masses, how they package it, and make it affordable. I should've been a furniture designer in another life, instead I am a furniture designer admirer. Anyway, I'm sold on this lamp, and for $60 bucks, it's worth every penny. It was hard to resist leaving the store without a set of the ceiling pendants for the boys' room too.