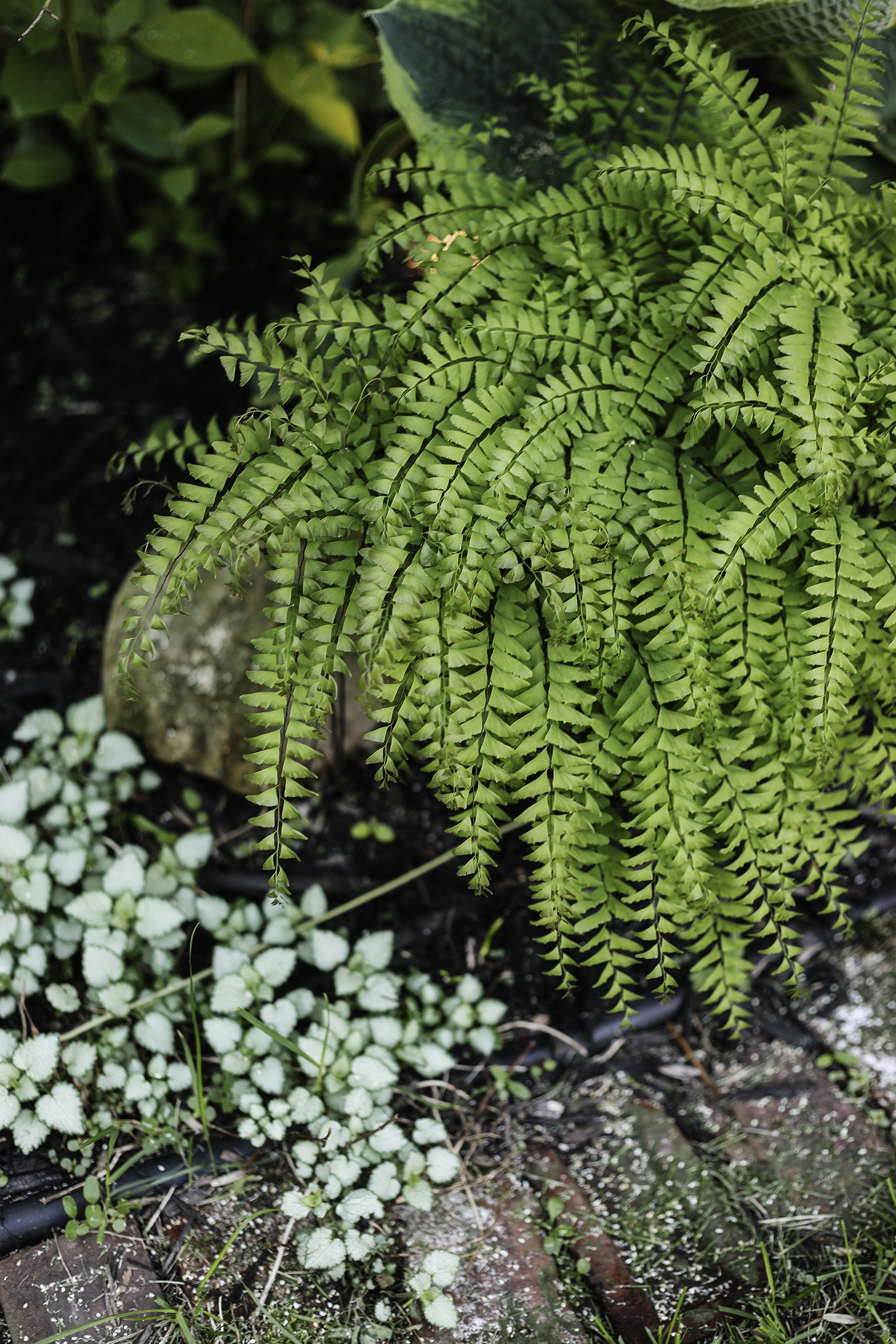 Geez! What is wrong with me! All this summertime business is interrupting my work flow. I took these photos on May 31st, I swear. I love this time of year in the garden because things change so rapidly and quickly and it is so fun to watch and be a part of. If only the weeds didn't want to grow as fast as all my perennials.
If you're new around here, let me get you up to speed. Every summer since 2012 I document the happenings of my garden and post at the end of every month. I just spent the better part of the morning going through my old monthly gardening posts and archiving them for you here if you're interested in seeing the progress. I highlight what's blooming as well as the overall look of the space. It's been a really good way for me to keep track of plants and see the progress and changes in the garden year to year. So let me take you on a little tour.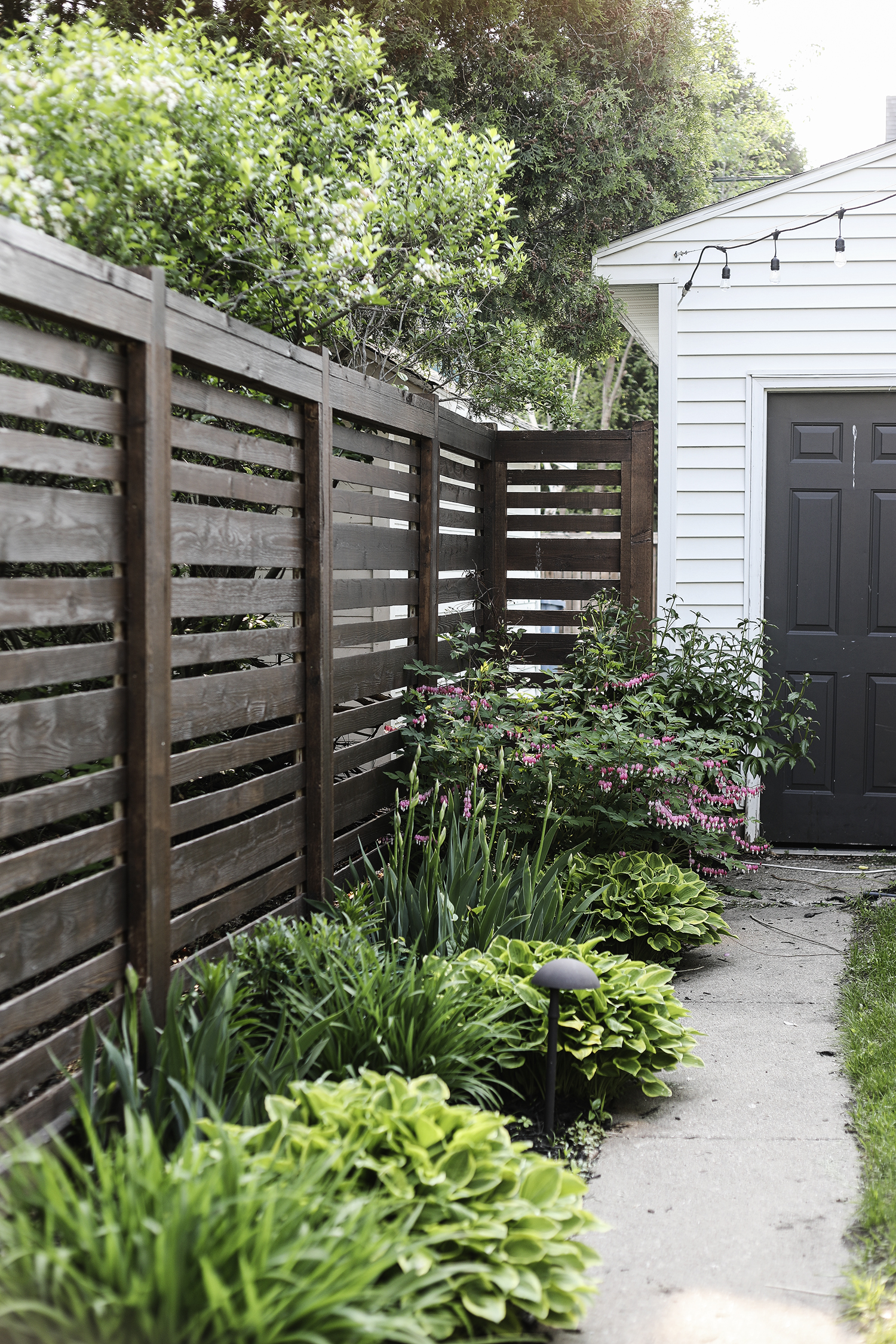 This is the sunniest garden along the path from the house to the garage. At the end of last summer I did an impromptu replanting. The Hosta border had grown too large and was suffocating all the other plants so I decided to remove every other Hosta and replant some of the perennials that were getting squished.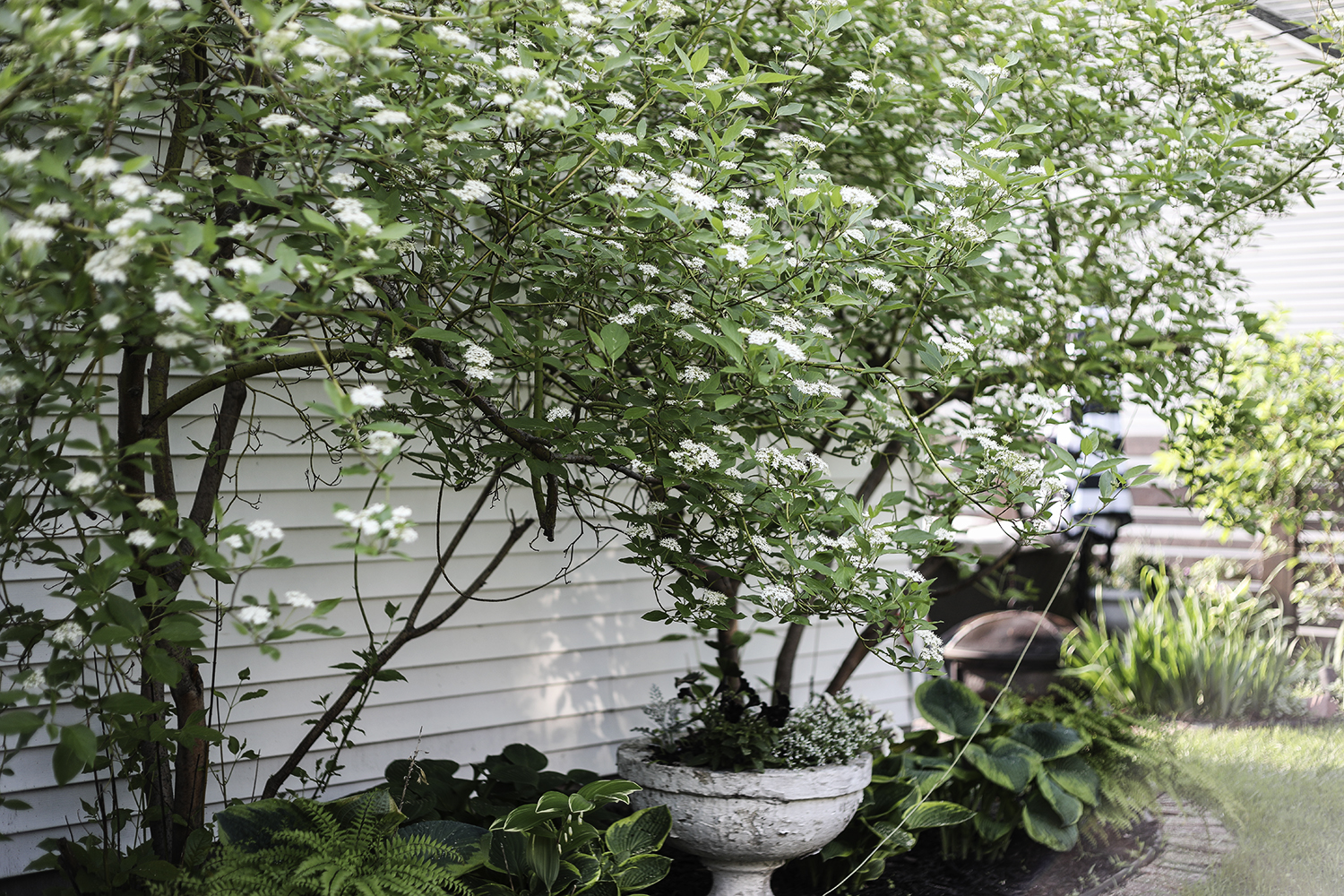 The garden bed by the back of the garage is starting to become my favorite of them all. I love the urn and I can't wait for it to be overflowing with petunias. I can't get enough of all the textures of the pretty Hosta and Maiden Hair Ferns that are tucked around the base of the Dogwoods. These Dogwoods are pruned twice a season to force this more structure tree like shape.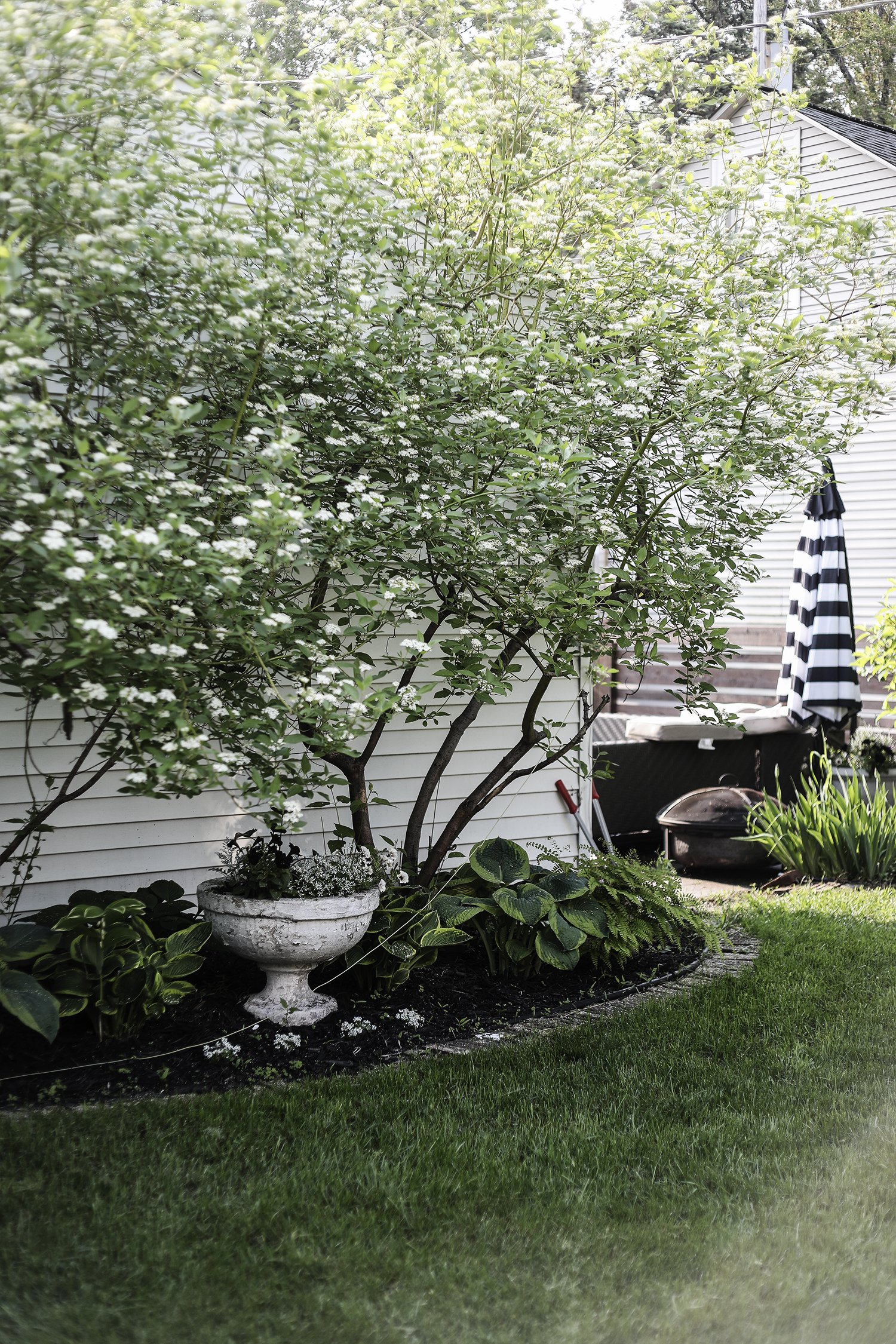 Back in that corner is our patio – I'll share more of that in the June post. It wasn't in tip top shape for me to share in this post.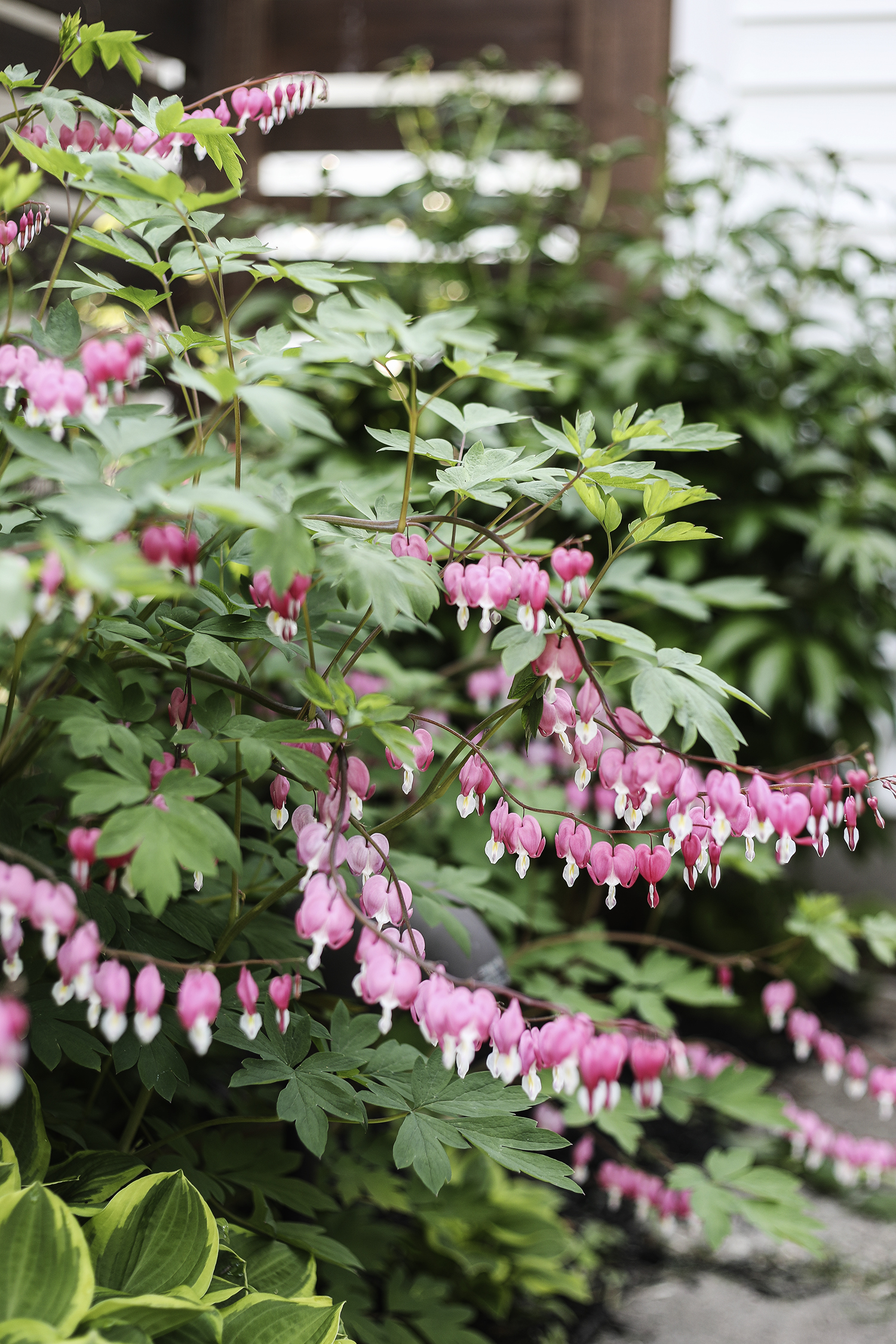 The Bleeding Heart is always the first perennial to pop up in our garden. The kids still get excited to see it.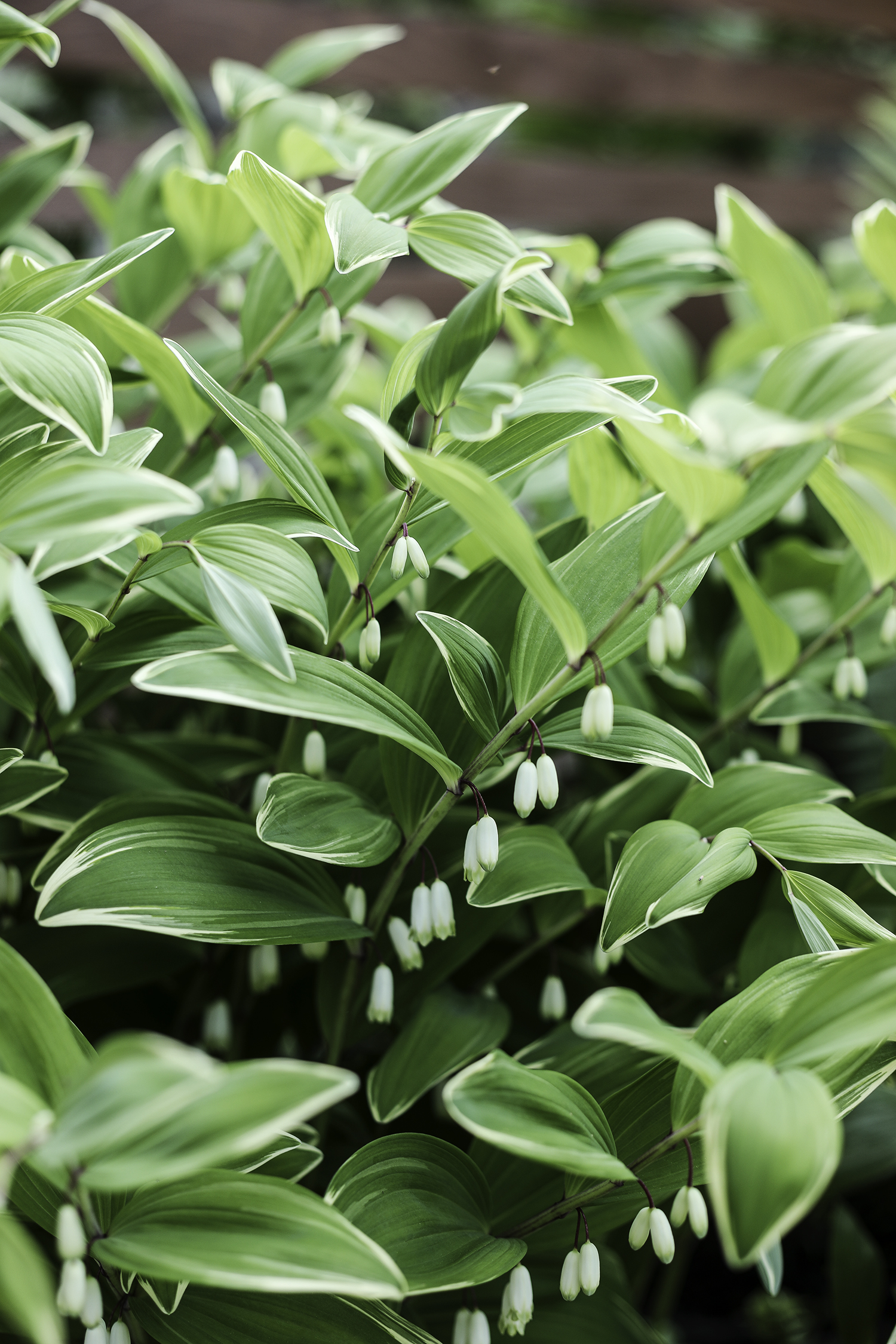 Variegated Solomon's Seal.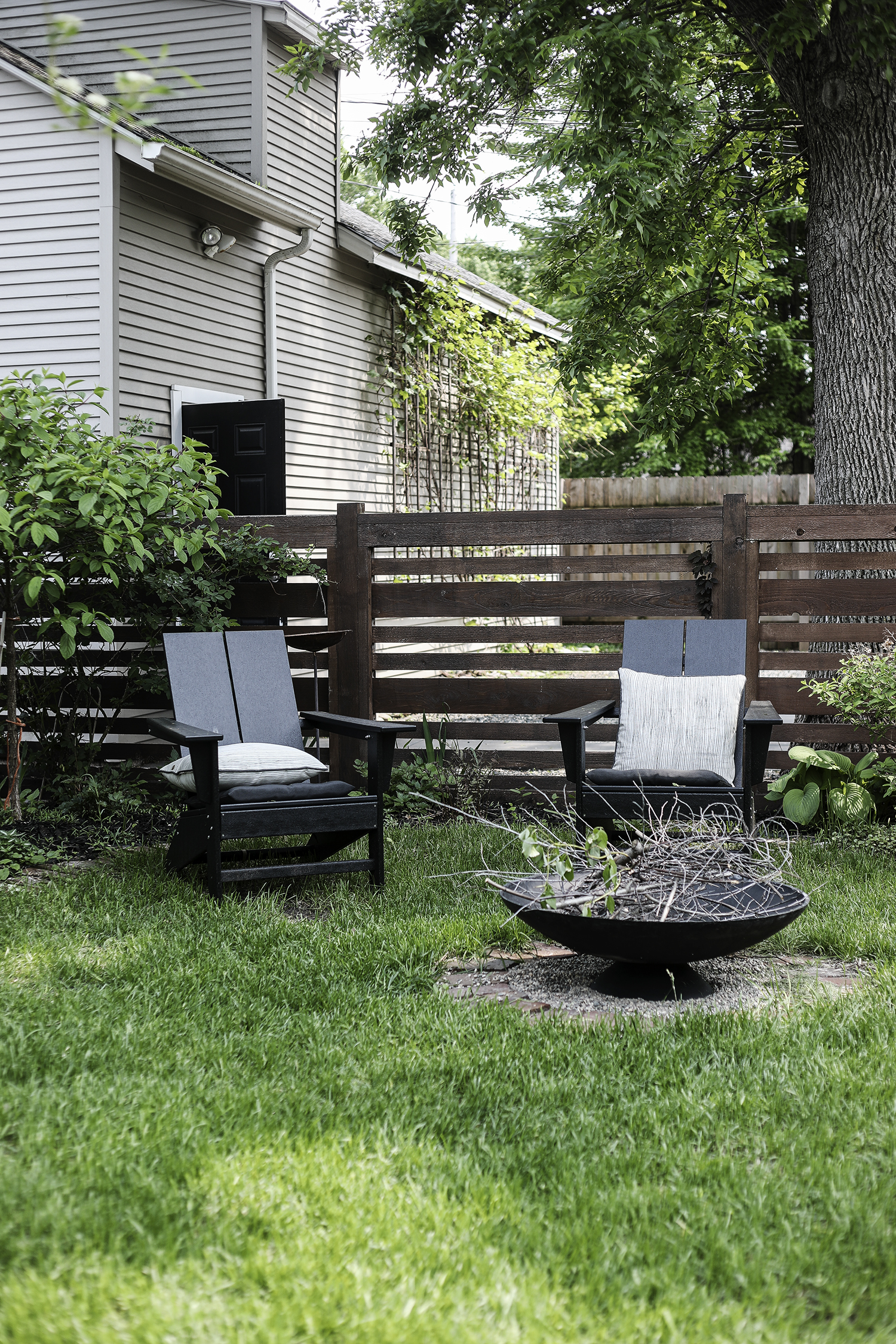 I've been giving the fire pit zone a mini facelift. New clean lined Adirondack chairs and a modern cast iron fire pit. We're still waiting for our first fire. I moved the old chairs to the cabin and they are currently sitting out on our soon to be revealed, "Dock Deck".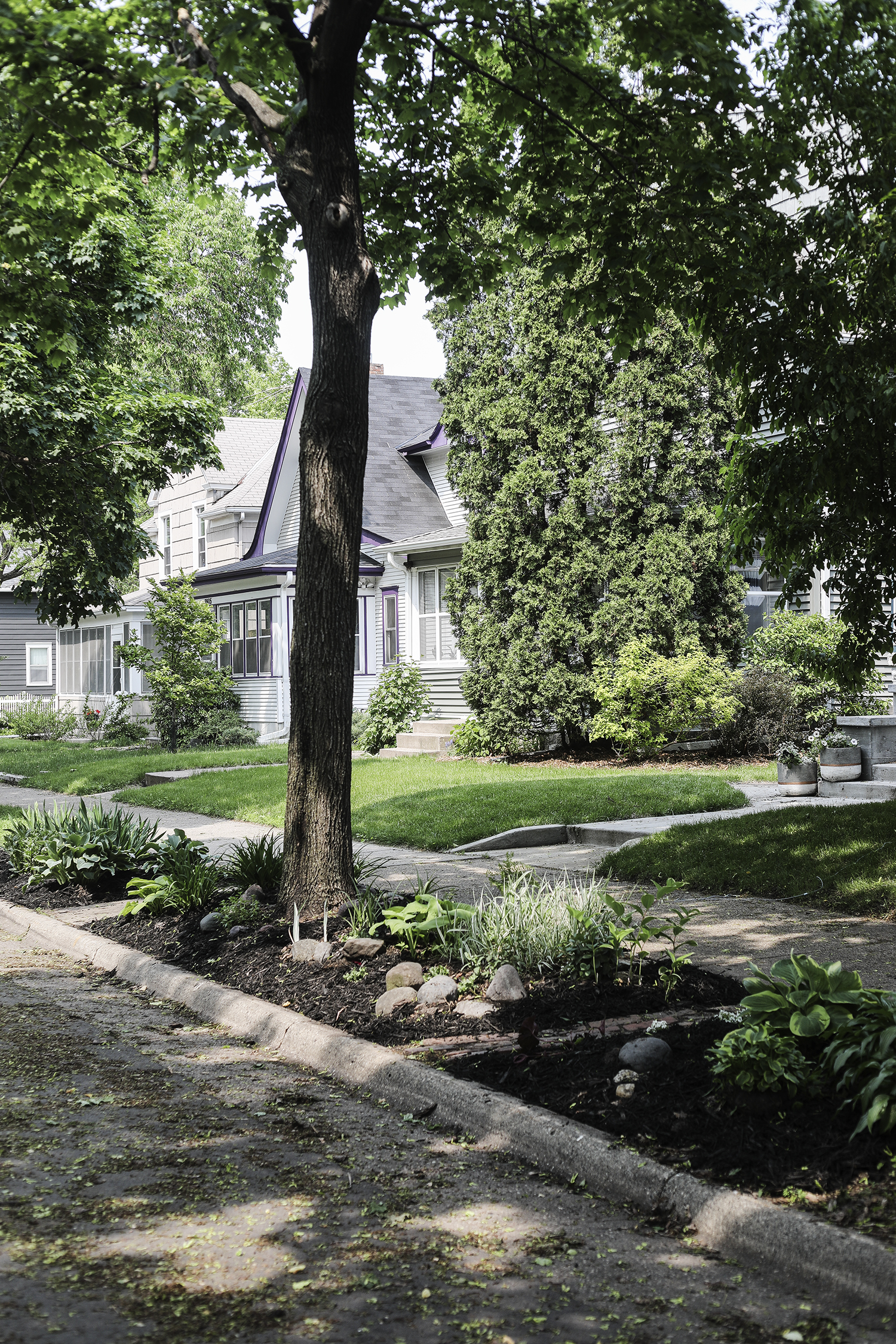 This is the year that the boulevard garden has finally become something to really feel proud of. It's been years in the making. This strip between the street and the sidewalk gets so much wear and tear that it's really been a struggle for plants to thrive. I think I'm finally hitting the right combination of plants for my area and they are all becoming mature enough that the space is really looking great.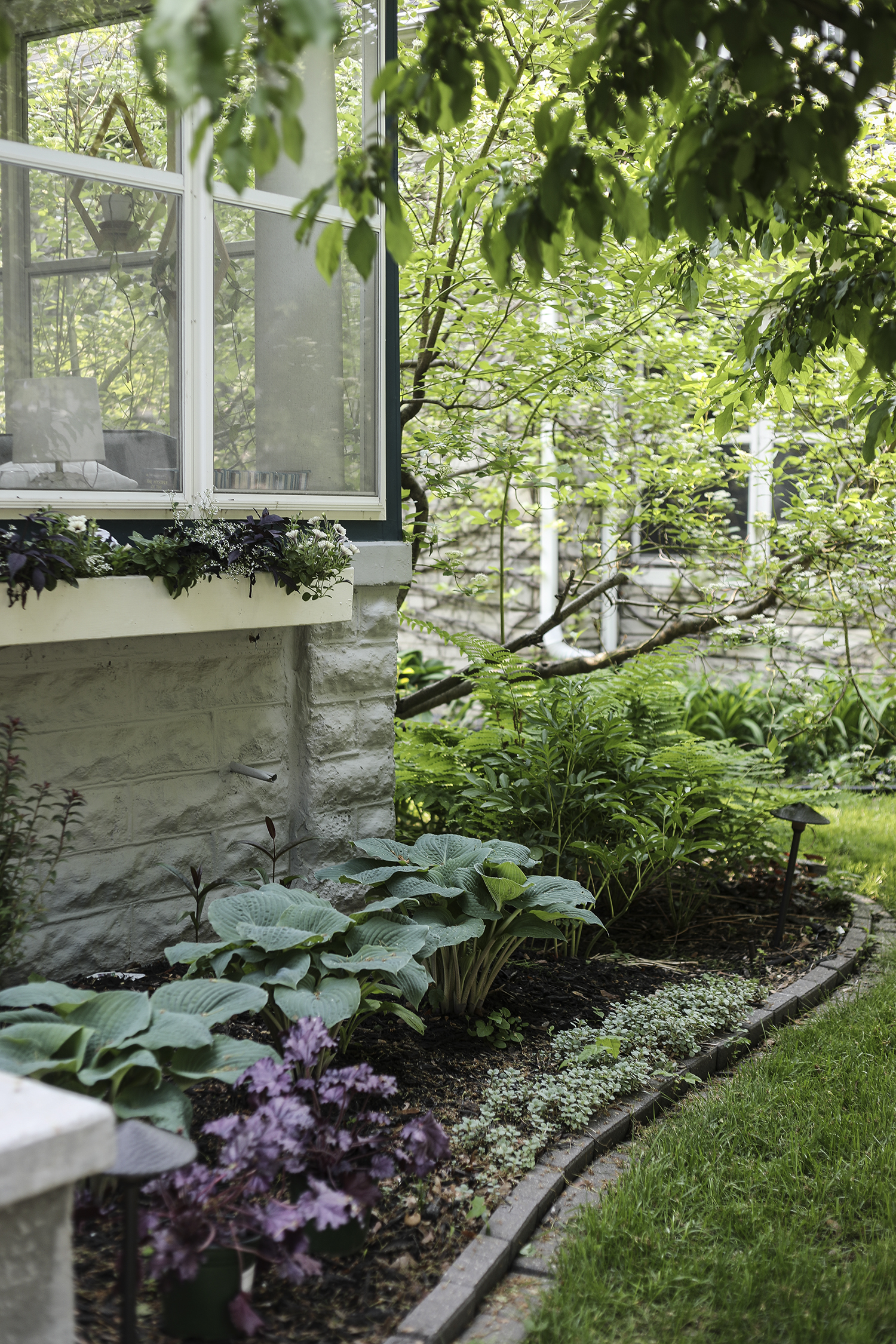 This is the foundation garden around the front of the house. I lost a few of the Heuchera (aka coral bells) this season, so I am replanting with two new purple coral bells. I also purchased my first shrub (you can kinda see it off to the left side of this pic), it's a small red-flowered Spirea. I'll get the proper name for it and share next time around.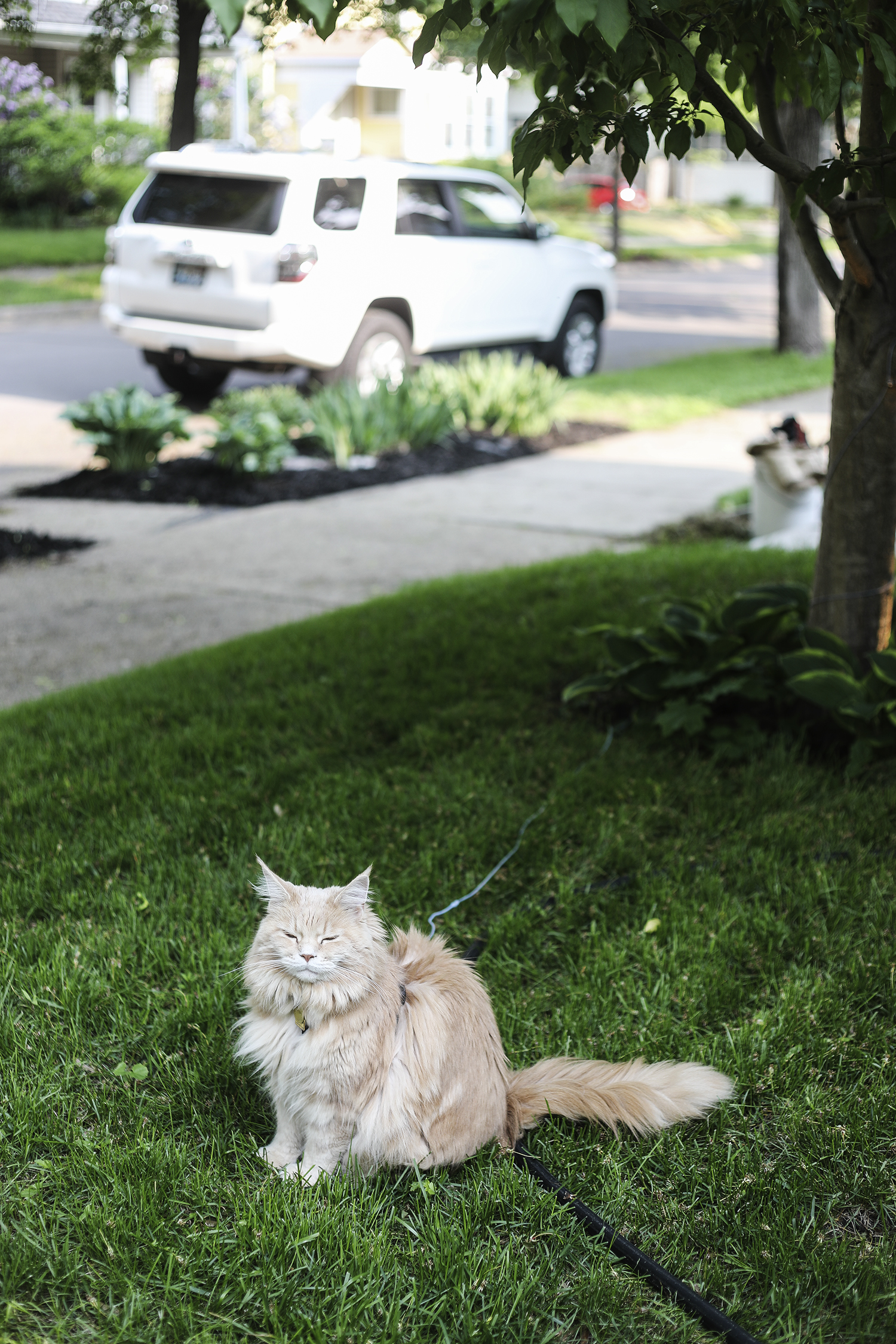 Birdie the cat and the manicured boulevard garden in the background.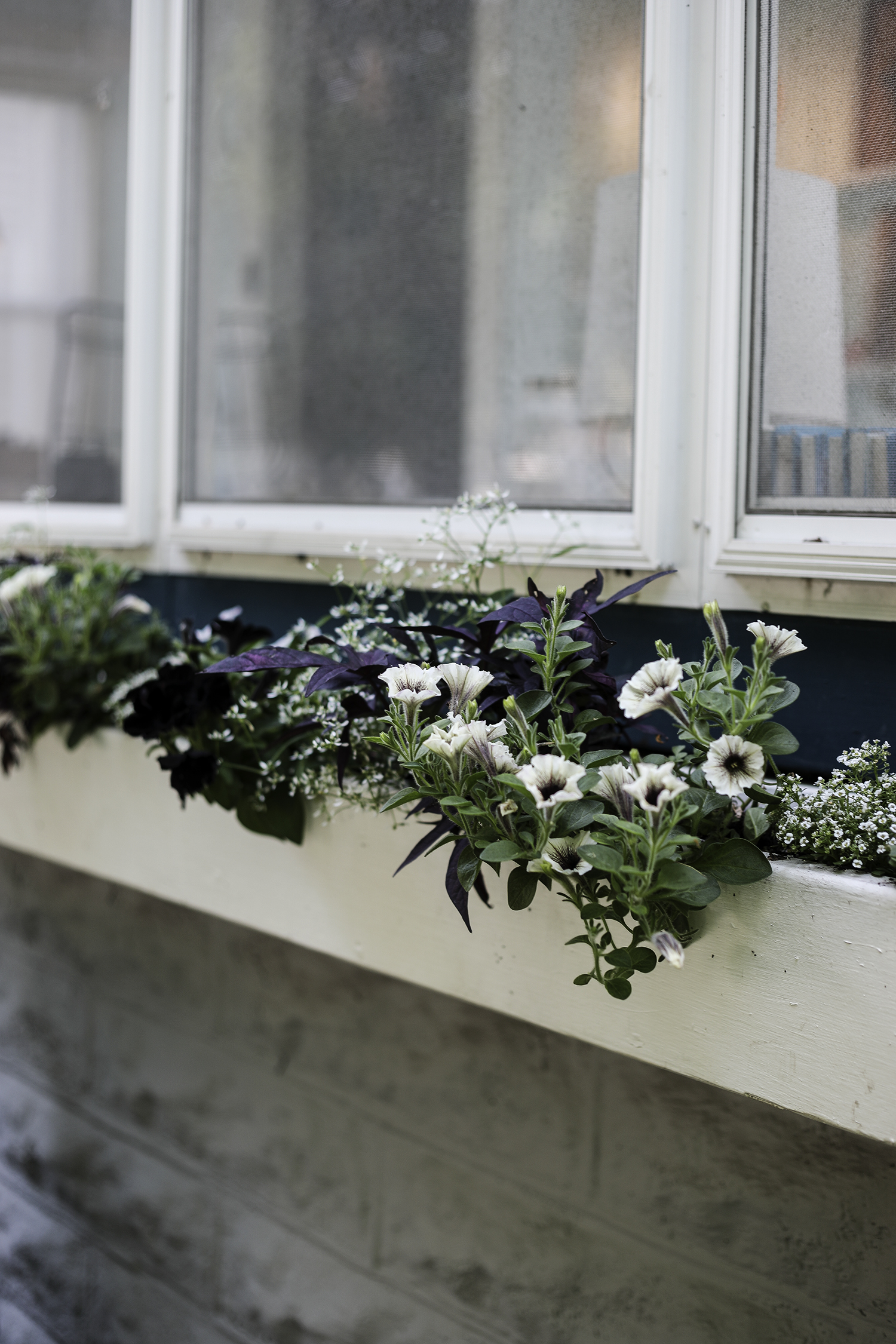 I love my window box this year! I found black petunias AND petunias with a black center and white outer. I am so in love with this look. I can't wait till it's overflowing. I'm going to order a new-to-me drip irrigation system and integrate it to my hose timer so that I can make sure the boxes are getting watered daily. I spent too much time looking for a smart timer for my hose and couldn't find anything that seemed worthy of buying. If any of you have recommendations, I'd love to hear them.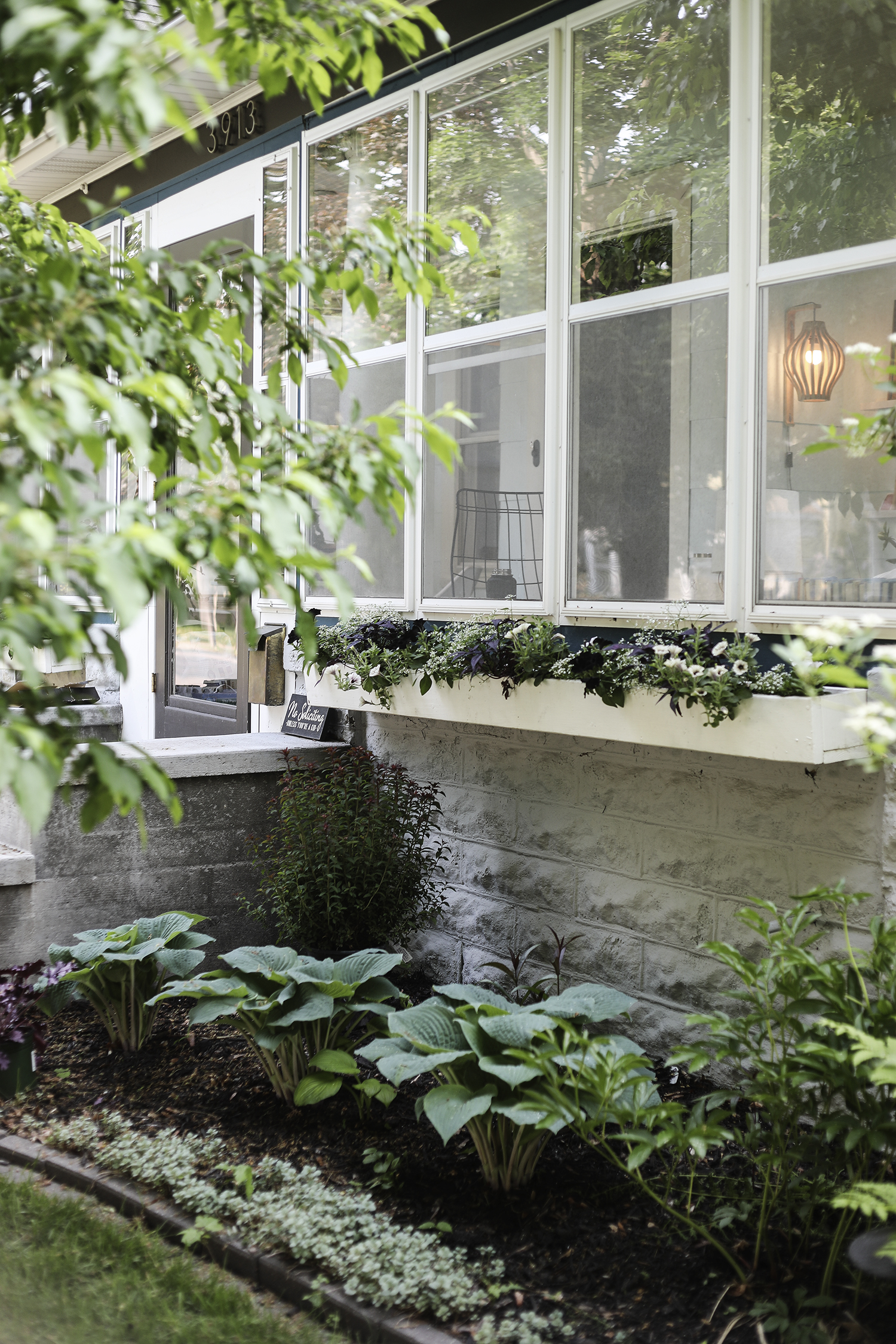 There's the new Spirea I was talking about.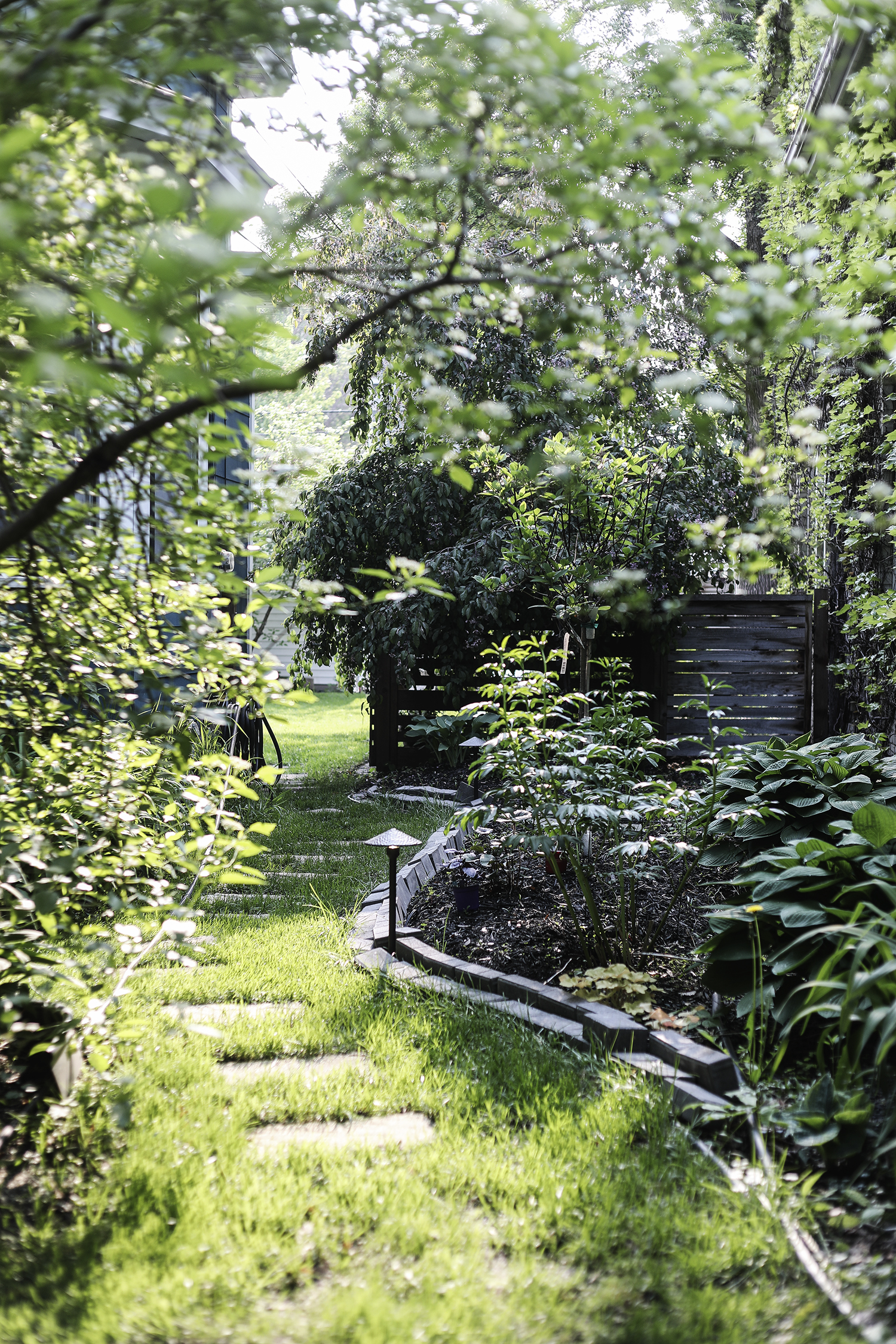 I never shared with you guys last year that I removed my raised beds. Since the cabin purchase, I haven't been able to give the veggie gardens the care they deserve so I removed the beds and added a new perennial side garden. I'm still installing the paver boarder, but you can see how this path leads to the back yard. I planted another Hydrangea tree, some Salvia and a few Phlox. I have a basil and tomato plant that are waiting to be put in the ground too – because a girl still needs to grow something.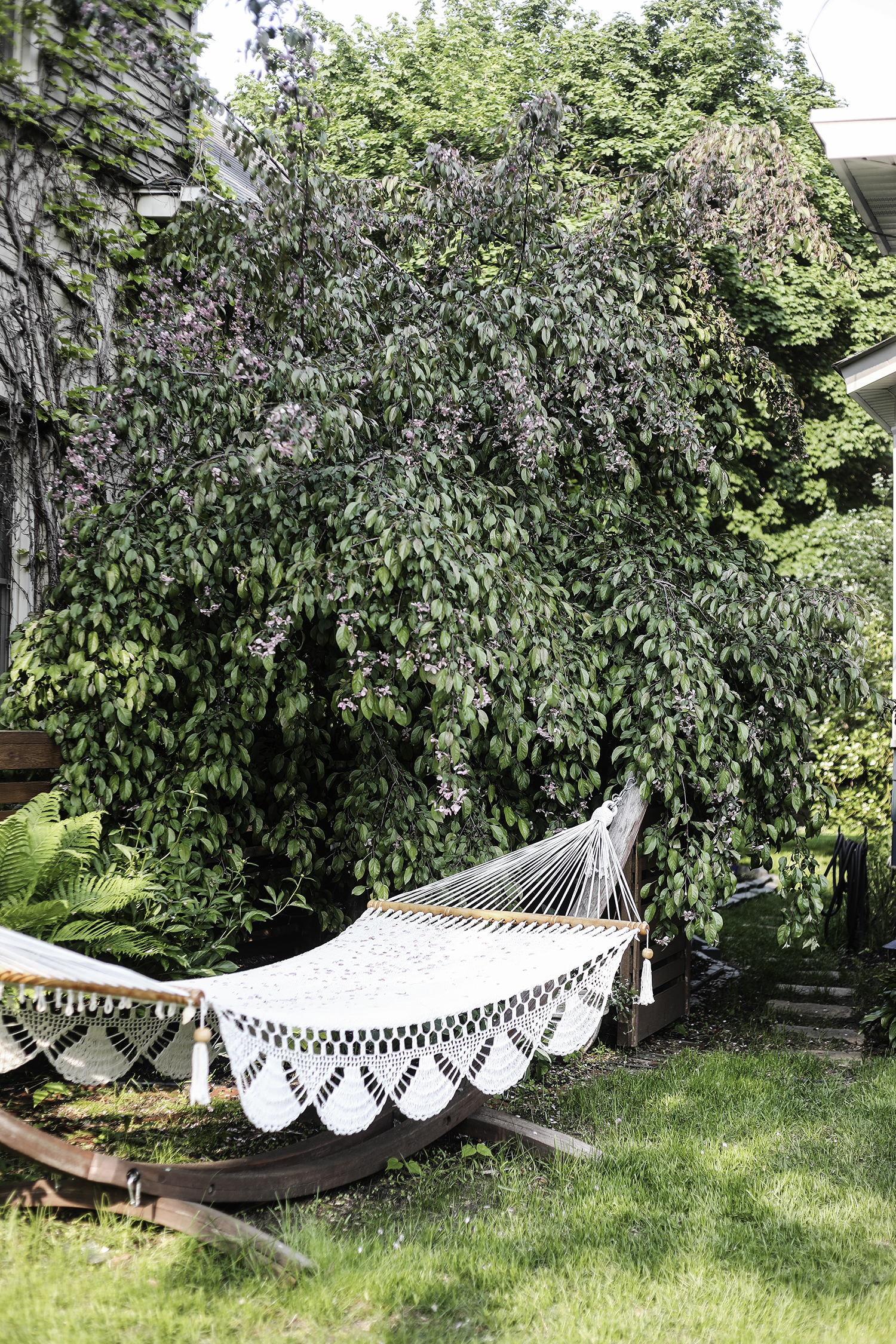 This is my ruby tears crab apple. It wasn't supposed to get this big but I love it, it's such a great back drop to our hammock (which the kids love to play on still).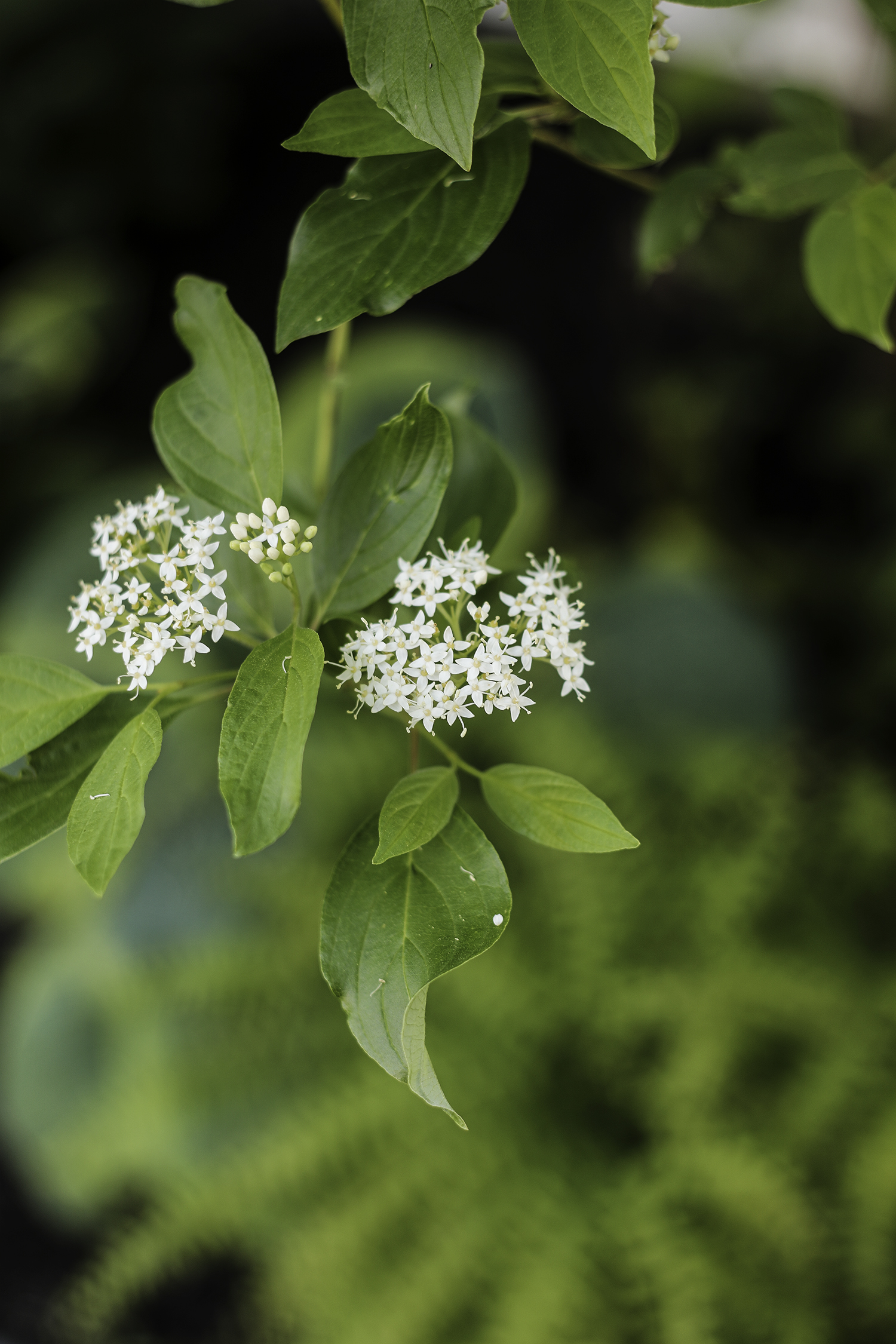 Dogwood flower (heart eyes emoji).