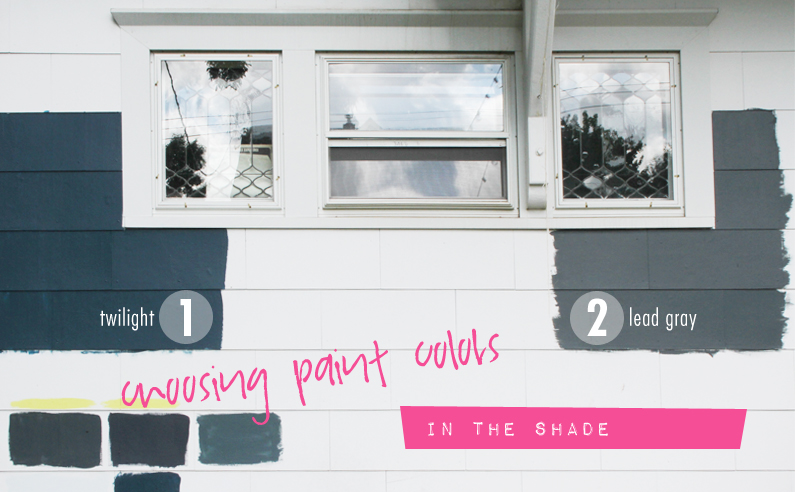 Cool Trick: Rollover the image to see what the paint looks like in the sunshine.
We are getting down to the wire here, I / we / mostly ME need to commit to a paint color for the house. I think I've got it narrowed down to two.
First, let me say, picking exterior paint colors totally blows! Interior colors are easy because they don't cost a million dollars to change, duh. If painting every interior space of your home cost a few G's per room, how easy would it be to pick a paint color? Blah blah blah, you get it, this is hard.
The painters are scheduled to come in a week or two, I need to decide on something soon and you guys gotta help me. I've painted around the trim on the back of the house. One of the shades is a very dark teal called "twilight" from Benjamin Moore, the other is called "lead gray" (also from b.moore aka B.M. (ha, gross!)) and is the paint color used on my inspiration house. I like both, but I think I am leaning towards the bluer "twilight" color. I am so scared that once the color is up on the house it will look like a big old fat blueberry. We have a crazy neighbor lady who just painted all of her trim Vikings purple and the neighborhood is talking! I don't want to be known as the "crazy lady with the blue house who lives next to the crazy lady with the purple house."
There are other color choices that need to be made as well, bah. Once we pick a exterior color I need to pick a color for the foundation, a trim color, and a color for the storm windows. I NEED HELP, like in a serious way.
Any exterior color pros out there? If you choose a dark color for the house do you paint the trim in a bright white, or an off white? If I want to paint the storm windows black do I choose a true black or a dark charcoal, and what's the deal with the foundation; do we go light or dark?
I am helpless and almost hopeless. H E L P, (but not in a Beatles sort of a way.)

◊◊◊◊ Thanks to Katrina over at puglypixel.com for some major blog inspiration. I've been digging on her post rollovers lately and had to give it a whirl.