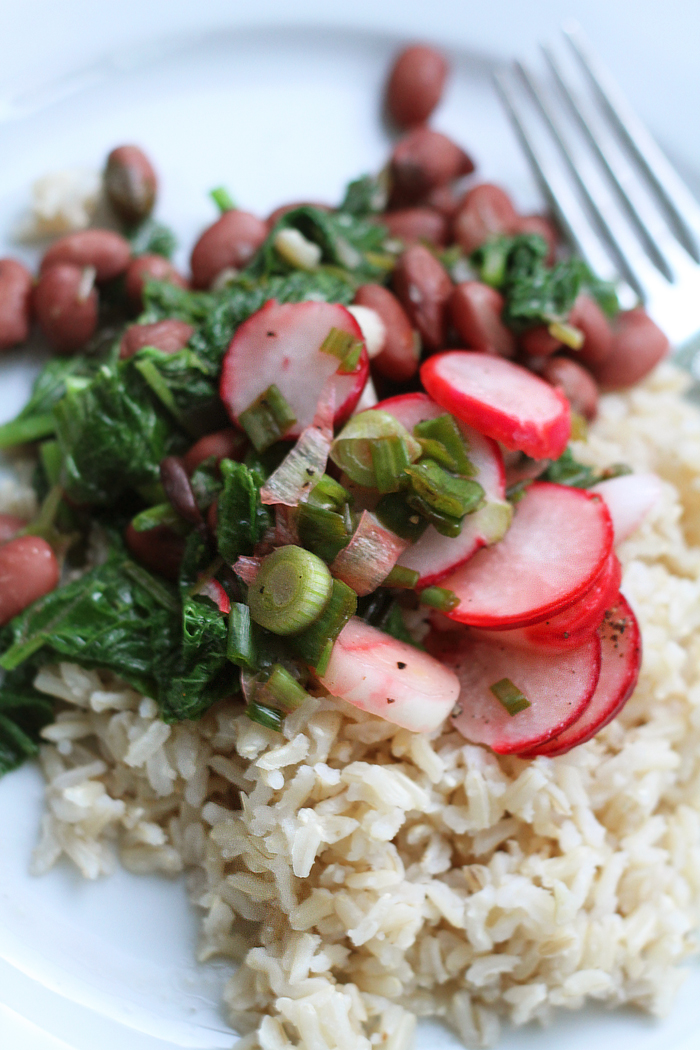 Last week we received our first CSA box of the season!! Are you familiar with or do you participate in a CSA (community supported agriculture)? We started last year as a way to be aware, really aware of where our produce was coming from. We also saw it as a way to get the kids, who have an aversion to veggies, to give one a try every once in awhile. For me, I was really excited about cozying up to things that I normally wouldn't cook with.
We love getting our CSA box, and usually will end up eating it all in the first few days. Sometimes there is an abundance of one particular item (this week it was spinach) and I run out of ways of trying to incorporate it into meals, but that's all part of the fun. You eat was the farmer gives you to eat! Overall though, we love participating in a CSA and are excited to dive into our second year.
We get our CSA box through a southwest Wisconsin farm called Driftless Organics. They have different types of programs to participate in; we are signed up for the every other week box throughout the summer. With our bi-weekly veggie box, Driftless Orgainics provide us with a newsletter containing recipes and storage tips for that weeks ingredients. It's my goal this summer to follow along with the recipes, learn a little something new, and in turn, share them with you. These recipes are for everyone, don't feel like you need to be a member of a CSA to participate. All of the ingredients are seasonal and can be found easily at any neighborhood farmers market, grocery store, or your garden.
This firsts weeks recipe, Beans with Herbs & Radish Relish, was super delish. The radish relish was especially good, don't worry, I'll be dumping radish relish over everything all summer long.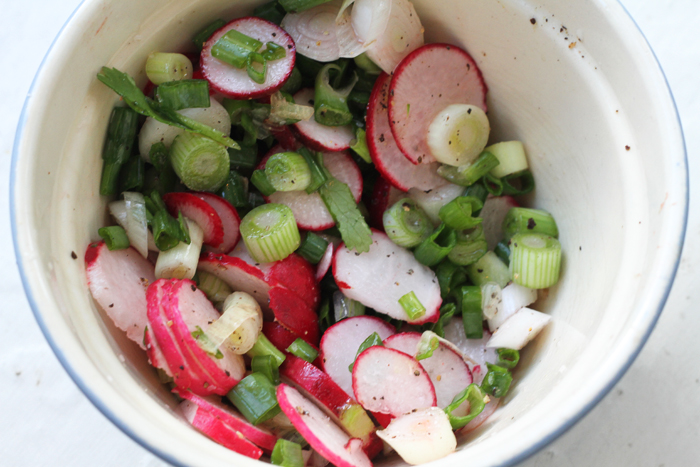 Beans with Fresh Herbs & Radish Relish Recipe from Driftless Organics


Beans
▼ 1/2 lb dry beans soaked over night and rinsed
▼ 1 tbsp olive oil>
▼ 1 green garlic stalk minced
▼ 1 spring onion, white parts minced, green parts reserved
▼ 1/2 bunch cilantro, stems chopped, leaves reserved
▼ 1 qt water or chicken/vegetable stock
▼ 1 bunch radish greens, coarsely chopped
▼ salt & pepper to taste


Radish Relish
▼ 1 bunch radish bulbs, thinly sliced
▼ 2 spring onions, chopped
▼ zest & juice of 1 lime
▼ salt & pepper to taste


In a heavy bottomed medium saucepan with lid, heat oil. Add minced green garlic and white part of spring onion and saute for a couple of minutes until the garlic and onion start to brown. Add cilantro stems, soaked and rinsed beans, and water/stock. Bring to a boil, reduce heat, cover, and simmer for 50-60 minutes, until beans are just tender, stirring occasionally. Meanwhile, trim and thinly slice radish bulbs and toss with chopped spring onion, lime juice/zest, add salt/pepper and let sit at room temperature while beans cook. When beans are tender add radish greens and salt and pepper to taste, and cook a few minutes more. Top with reserved spring onion greens and cilantro leaves, and serve with rice or quinoa, and radish relish. Serves 3-4.