Hey out there. I wanted to let you guys in on something that I've been working really hard at in my life: I'm trying to lose weight.
I feel like I'm always trying to lose weight, but this time I'm really, really seriously trying to lose weight. Let me back up a little bit.
Being pregnant and gaining weight while pregnant is something I'm really good at. Losing weight after I have my kids is something I'm not so good at, especially after my second was born. During both pregnancies my weight went up to 210, which is about 50 lbs more than my average weight. After Finn was born I counted all my calories and over the spring I was able to lose all the weight, plus some more. I got down to 153, which I was beyond thrilled about. Then I got pregnant with Gus in fall 2010. Throughout the pregnancy I tried harder than I did the first time to watch what I ate, but still was hitting that 210 mark right before giving birth.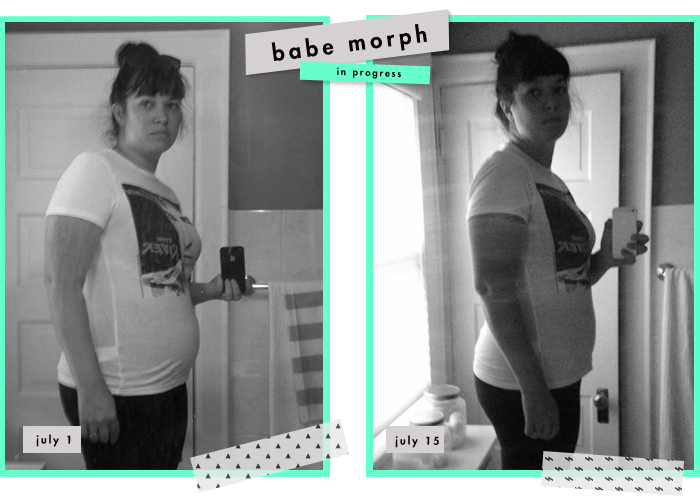 In the months after Gus was born I was able to drop down to the 170-175 range but have been floating there ever since (Gus is almost 2!). In September I started a walking routine and started to count my calories during the week. I stuck to the walking thing (even on the coldest days during the winter!), but the food thing I was not so good at. Us Midwesterners hibernate in the winter and surround ourselves with delicious high calorie food and beer to survive the harsh elements. This did not help me, and I was only able to lose a few pounds here and there and then would quickly gain it back. I needed to be dedicated.
Then I woke up the other day it just clicked in my head: I'm over it, and I need to make a change for the better starting now.
Beginning July 1st, I started getting up at 6am every morning to get a 3 mile walk in before the kids woke up. Throughout the day I prepare healthy low calorie meals for me and the fam. I am recording my daily calories and exercise with my fitbit. Having to be meticulous about recording everything I take in and all the calories going out is the most effective way for me to lose weight—perfect for the anxious, obsessive side of my personality. If my goal is not always present, it's easy for me to forget about, and return to old habits. I really like the fitbit analytics on their website and it gives me motivation to keep going and meet new goals.
Did I say "Goals"? I have a few goals, I would really like to hit 155 el-bees, and I think I can do this, I'm going to work my butt off until I get there. I would also to like to fit into a size 8 pair of pants or at the very least look totally comfortable in a size 10. I have a secret goal that I am almost too afraid to mention because I don't want to fail in reaching it, but I want to hit 145, something I haven't been in almost 10 years. I am horribly self conscious. Even when I was a teenager and in my early 20's (and pretty skinny) I never felt comfortable in my own skin. I want to get that out of my life! Seriously, this time we have in this world is too short to be spending it worried and feeling bad about how I look. This part comes from within but I am going to work really hard on keeping a PMA, guys. This is gonna be the year of the new me.
I also have barely lost any weight so far, but you can see from the pics that something is happening. If these super strange bathroom selfies weren't there to reassure me that I am improving, I would be beyond frustrated at this point. I gotta keep reminding myself that what the scale says doesn't mean everything and walking 102.64 miles in 16 days is nothing to sneeze at.
There are a few hurdles in my way. This weekend we are heading up to the cabin, which means feasts galore and drinks aplenty. I know that I won't be able to keep up with the calorie counting and don't expect myself to—I gotta enjoy the cabin—but I want to make sure that I don't pig out and can set reasonable limitations for myself when it comes to meals. When I get back, I'm going right back at it, and I hope by the fall I can share a post with you guys announcing the new happier (and totally babilicious) me.
Don't worry, this will not become a fitness blog. Just thought I would share this publicly and make myself accountable. I gotta do this.
P.S. If you're using the fitbit too we should be friends! You can find me here.