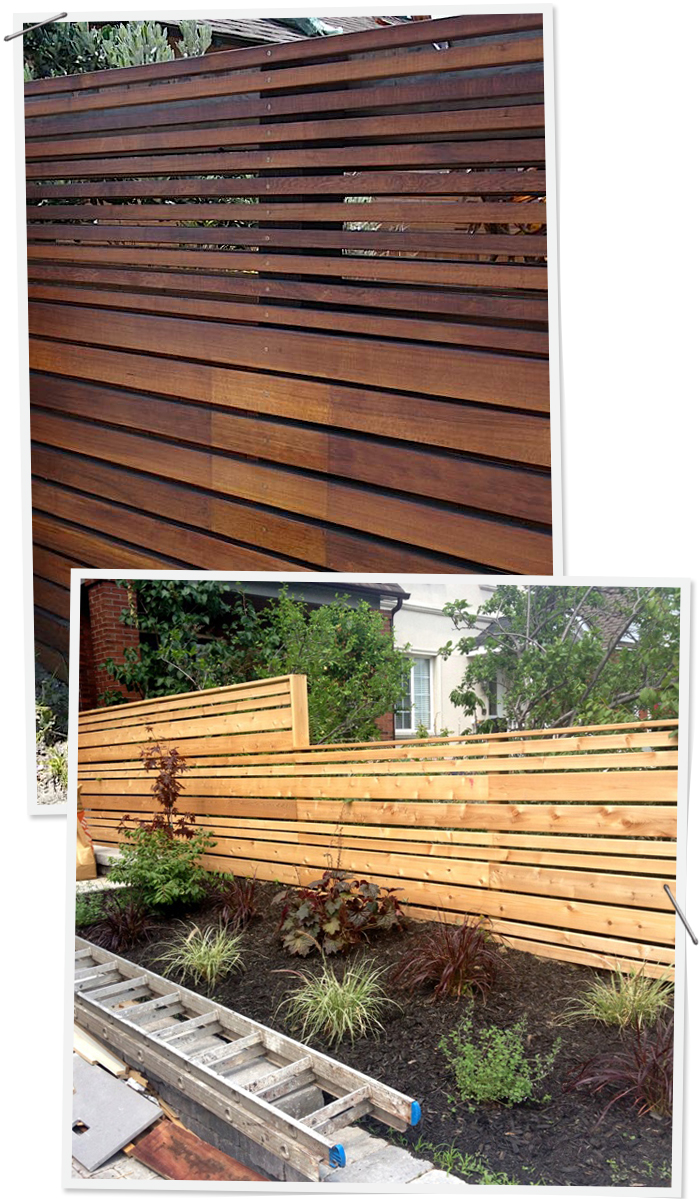 1 | 2
Hey, Guys! The old man (aka Jeff) and I have a house-to-do-list chocked full of big ideas, budgets and timelines. If all goes according to plan, we'll be getting a new backyard fence this summer. It's a big landscaping year and I am so excited!
I just recently started day dreaming about fencing options. Looking at fences, backyards and gardens has been a great cure for my winter hangover, I'm getting excited for spring and feel like I can confidently say that it will happen… someday!
A little background info:
We currently have a four foot fence around the backyard, and it's great, especially with the kids. The current fence isn't anything special though, it's a simple chain link fence with green plastic slats. Let's just say that I've been trying my hardest to ignore it for the past four years.
Our house is sandwiched in between two rental properties, not ideal, but we live in the city and it is what it is. One of the rental properties is owner occupied and we are lucky to have a fantastic relationship with that neighbor. Unfortunately, the full time rental property doesn't make for the best neighbors. Over the years we have had been lucky enough to have some super friendly neighbors as next-door-tenants, but there has also been some really awful ones. Since we have no control of our ever changing neighbors, we'd like to build a privacy fence on that side of the yard, maintaining the four foot fence around the rest of the backyard. I have concerns about building a six-foot privacy fence; mainly that it would make us feel like we are in a backyard jail and would be perceived as unwelcoming to the rest of the neighborhood. However, I feel confident that we can find a solution that is modern and airy while adding dimension and texture to the backyard.
There are other things to consider too. We are trying to decide whether or not we should expand the yard and fence in a parking space that sits next to our garage. We've never used the concrete slab for parking in the four years we've lived here. Fortunately the slab is only thirteen years old and in great condition. If we fenced in the parking space and incorporated it into our yard we could have a play space for the kids – they could ride bikes and tricycles and bounce balls. Further on down the road we'd have options; we could add a pergola over the slab and create an additional outdoor seating area, remove the concrete and replace it with sod to increase the size of the yard, or turn it back into a parking space for our future teen kids. "Future-teen-kids" sounds so highly cool, you guys.

3 | 4
Besides having the house painted, this is going to be our first big homeowner investment. I'm excited! We are planning on meeting with fence builders over the coming weeks – hopefully we can have the fence installed as soon as the ground thaws. I'd hate for my garden to get trampled if we waited too long, plus I want to be able to enjoy our new fence all summer long.
I'd love it if you guys had any recommendations or advice for me as who to contact locally in Minneapolis. I am also on the fence (can't resist a pun) on whether or not we should really go for horizontal fencing. I love the way it looks, but I am worried that it would warp and sag over time. Do any of you have a horizontal slatted fence? What do you think? Lastly, dark stain is awesome and I love the look of it against plants and the lawn, but wonder how it would wear over time. Any dark stained fence lovers out there that could add their two cents? Thanks in advance for any advice!