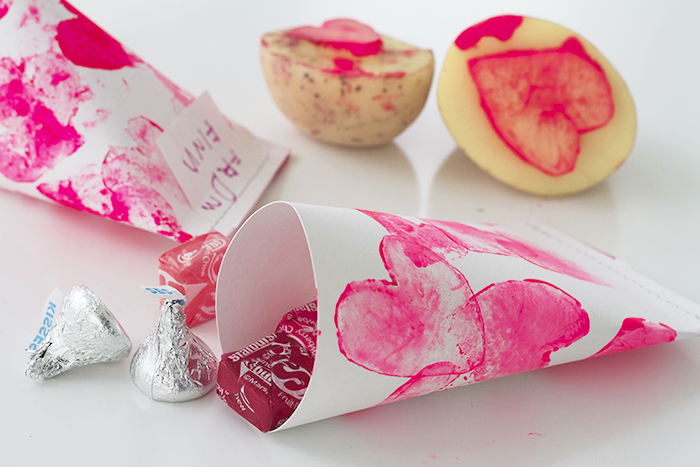 Finn and I spent the afternoon yesterday making Valentines for his classmates. This is our second year of really going all-out with the Valentine's Day crafts. This is strange for me for two reasons; one I normally don't do a lot of crafty projects, and two we aren't super into Valentine's day at our house. Finn however really enjoys taking the time to make a gift for his buddies, and I really enjoying helping him come up with cool ideas for his Valentines that he and I can do together.
This year we made these cute little candy pouches decorating them with hearts that we printed using our homemade potato stamps and sewing them up on the ends to seal them off. The whole project was pretty easy, we did it assembly-line-style. We started with printing, then took a lunch break while we waited for them to dry. Later on we finished the project by filling the pouches with goodies and sewing up the ends. The hardest part was getting the momentum to actually go dig my sewing machine out of storage – this is me trying to tell you that it was an easy project and I loved spending time with Finn making something together.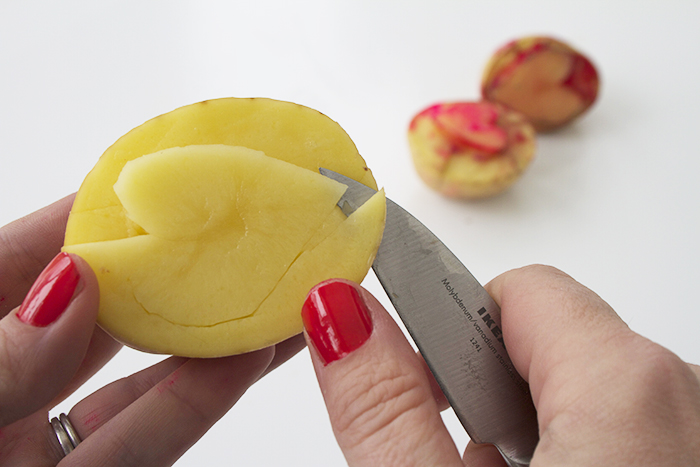 Have you ever made potato stamps? They are really fun and easy to do. All you need is a potato a knife and a little paint or ink. This is something an adult would have to help with of course. You don't need fancy knife skills either. Start by tracing your pattern, in this case a heart, you could easily cut out XOXO or arrows too, but I was just keeping it simple. Make sure your potato stamp has at least a 1/4″ relief, if you can swing it, I would shoot for a 1/2″. The more raised the stamp is, the clearer the print. This is my second time making potato stamps, the first time I attempted it was on Finn's first birthday when I was making flags for his cupcakes.
We used my favorite hot pink acrylic paint. I've used this same paint in the past for dipping the legs of our bed side table and for the West Elm DIY I participated with last spring. I buy this paint at the local Ace hardware store, but it's not so easy to find online, it's called "Homefront Neon Pink" paint. If you can't find it consider BioColor, in magenta – it's kid friendly and very neon.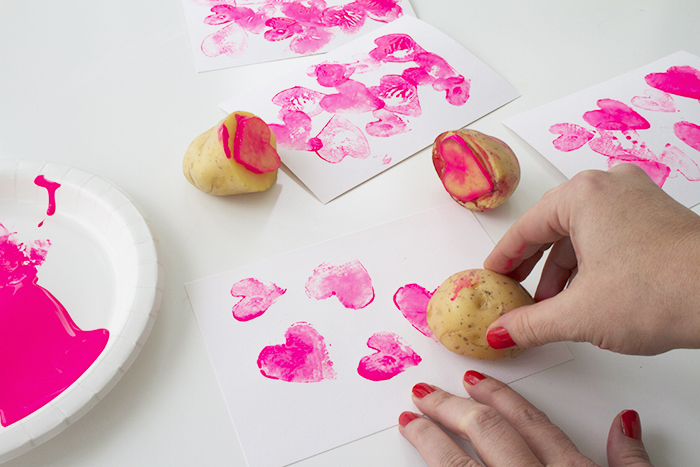 For paper we used A7 (5″ x 7″) size notecards that we had on hand. You could easily use any size cardstock and then cut to size later on. The great thing about this project is that it doesn't have to be perfect. We used a paper plate and spread our pink paint out on it. To use the stamp we lightly dabbed the ink, wiped off the excess on a paper towel and then started printing. We had lots of overlapping hearts and I really like the texture and look that it creates. Super easy for kids!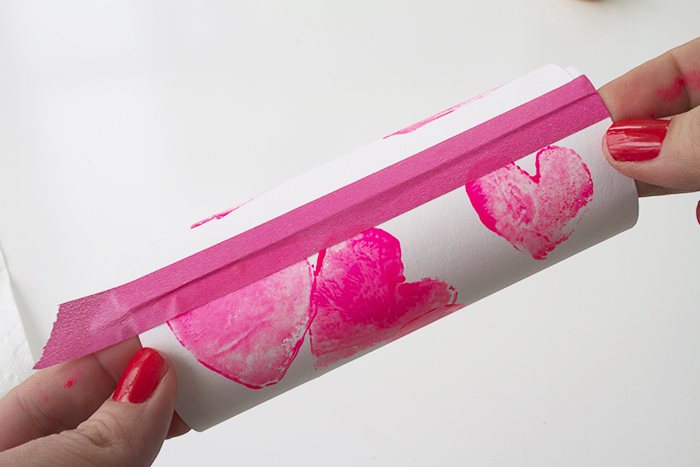 After your pouches dry you'll need to roll them into a tube shape and connect them with tape, glue or staples. I used hot pink washi tape to join our paper and create our rolls.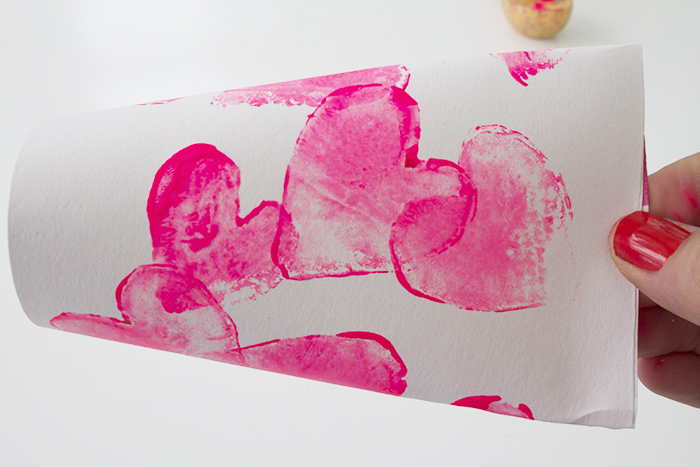 The shape of the pouch reminds me of these weird popsicles we used to get in Elementary school, maybe you remember them too? Just think of frozen orange syrupy icy stuff – do you remember now? Now with that vision in your head, pinch one side together to form the shape of the pouch.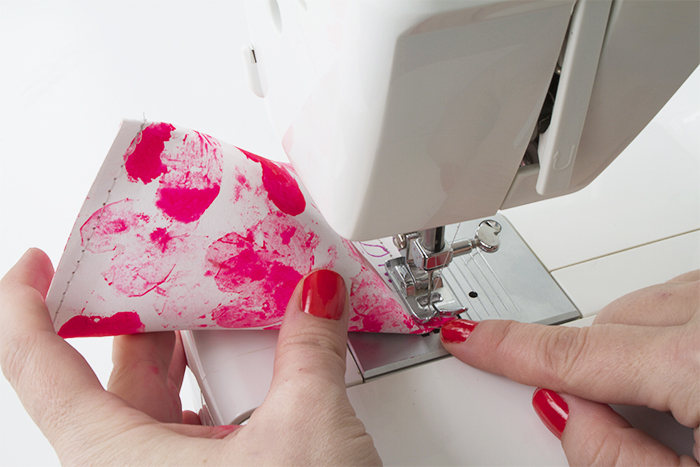 Send the end of the pouch through the sewing machine about 1/4″ in from the edge. Whoop, whoop! You're almost done! Fill your Valentine with goodies and pinch the other side together going the opposite direction of the first side. Then sew it shut. Woohoo you did it, you are a Valentine master!
We included a little tag on our ends that read "From Finn", you could do this too either adding both or either 'TO' and 'FROM' tags.