Hey guys! Whazzzzz up? Not much is going on over here, you know, just the same old hectic crazy time of year stuff that we all are getting through. My b-day is tomorrow, I'm totally stoked for that. I am probably the biggest fan of birthdays ever, so I will be basking in my birthday glory all day long.
About two weeks ago I finished up building and installing the corner bookshelf in our bedroom. I only have a few items left on my bedroom-makeover-to-do list now. The bookshelf turned out just the way I wanted to, which was a big IF when you're kind of winging a design and only slightly skilled in the art of carpentry.
Now the fun part starts – this is where I get to load it full of all of our favorite stuff and make it look awesome. In the old bedroom design we had some Ikea billy shelves lining the far wall, it was chock-full of books all organized in a rainbow color motif. I know that some people totally hate on this method of organizing books by color. How are you supposed to find what you're looking for when it's all color coordinated? Really, it's not that hard, as long as you don't have a fully functioning library in your home and need a card catalog and a dewey decimal system to keep it all organized. I think organizing your books by color can look cool, so there.
For these new shelfs we're (me/I) going monochromatic. That means, black and white spines and paperbacks turned around so only their yellowing pages are showing. I don't care if that makes them hard to find god damn-it! They will look super tyte. There's not that many books, and it's not like we're constantly referencing our book collection. I've put together a few of my favorite pics from the web so you can get a feel for what I'm talking about.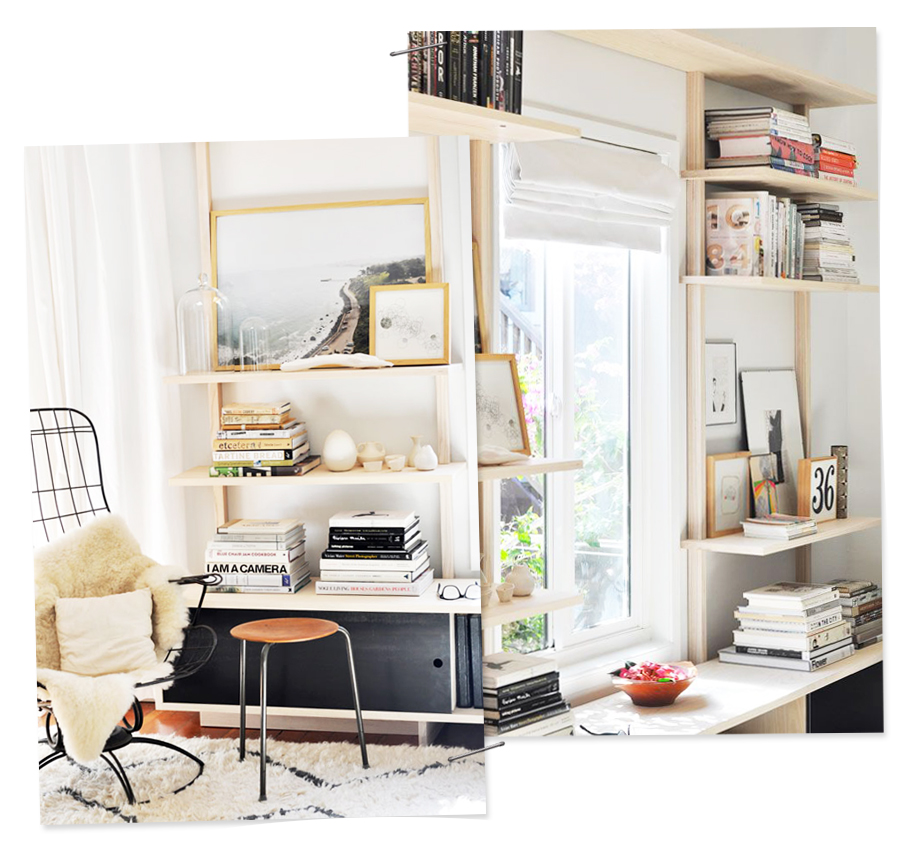 I didn't realized how much I love these shelves and how much I totally ripped them off until I just posted these pics. I always admired these bookshelves Victoria had installed in her home a few years ago. I guess they just really slipped into my subconscious. As of now, I've got my shelves pretty much styled up, if you follow me on instagram you saw me post a sneak peek, but I'm still doing some tweaking and need to photograph them in the coming days. I definitely made my own version of these beautiful shelves adding a nice little right angle configuration to the mix. I know, right? I really made them my own by having the shelves meet up in a corner, not. I didn't even notice until last night when I was searching for pics of this room that I went as far as adding a black wire chair and a white sheep skin too, geez. Oh well, what's that they say about imitation?