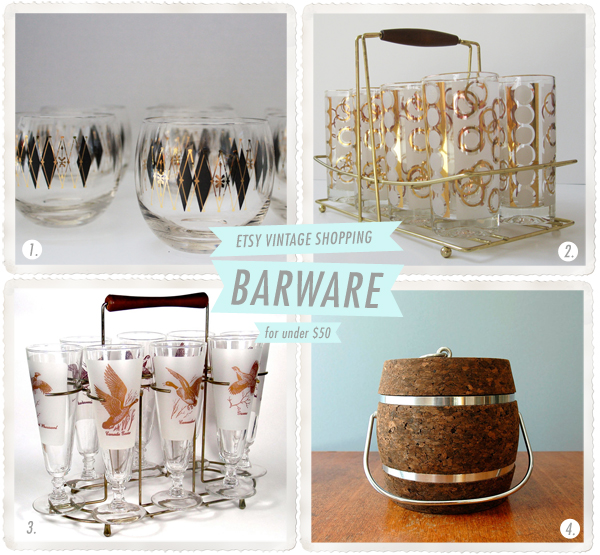 Guys! It's only 9 days till the Mad Men Season 5 premiere!!! Can you hardly stand it?
In honor of such a momentous occasion this week's Etsy Finds post is in honor of alcoholics, philanderers and hot-mod-ladies everywhere.
We will be celebrating the season 5 premiere by drinking fancy-ass-cocktails out of some vintage roly poly glassware while tuning in. What are you gonna do?
Here's some barware selections to turn your Mad Men party into a total swank fest:
1. Modern Black and Gold Diamond Roly Poly Set of Seven Glasses from VintMod – $34.00 ON SALE + $14.00 (for shipping) – I bought a set of two in this same pattern. They are the GREATEST.
2. Vintage Gold Cocktail Glasses and Caddy from The Vintage Resource – $42.00 + $18.00 (for shipping)
3. Game Bird Pilsner Glasses in Caddy Set of 8 from Old Green Canoe – $32.00 + $20.00 (for shipping)
4. Cork and Chrome Ice Bucket from luola – $19.00 + $14.89 (for shipping)