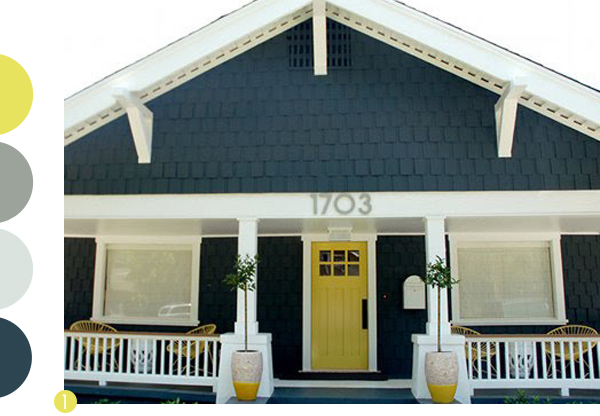 *Updated: from Tamara Kaye-Honey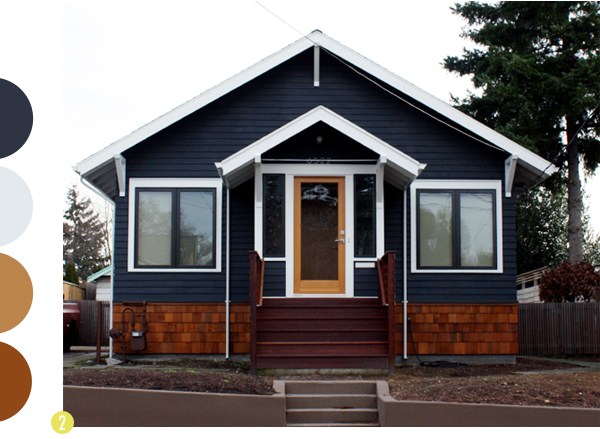 from chezerbey.com

After putting it off for the past few summers, I think we're going to finally paint the house this year!! <--- Those exclamation points are a serious understatement. A little background: The exterior of the house was the almost-deal-breaker for us when we bought our place. It's really, really dated and unfortunately somewhat permanent. At some point, someone decided it would be a good idea to cover the clapboard siding with 10 "x 20″ inches panels of asbestos-ridden grossness. Herein lies my problem: making that siding look good.
I've been pinning up a storm over over on pinterest these days to get some ideas for exterior paint colors. Featured above are a few of my fav examples. I'm head over heels for the first one, but not sure I can pull it off at our place. I'm putting together another post next week where I Photoshop colors on to my house (so suspenseful, right?).
All around, I am sucker for dark blues and grays and am helpless against a yellow door's powers.
I would love to know if anyone has experience with painting this age of house and, even better, does anyone have any experience with the aforementioned siding? Here's a link to a few pics of how the place looks as of last spring.
Thanks for your input in advance!