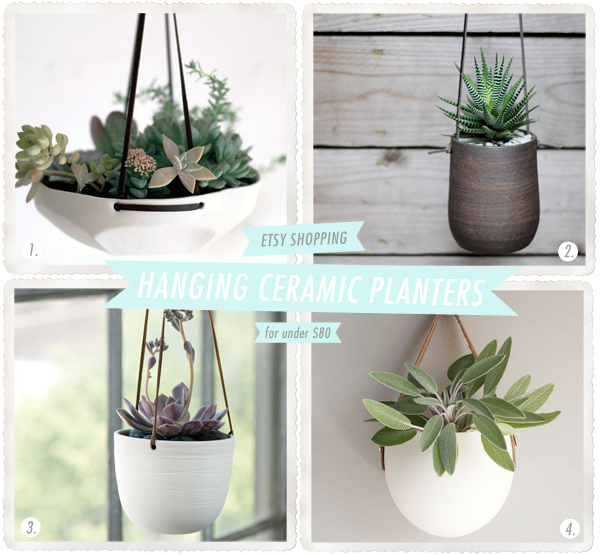 Happy almost memorial day weekend to ya! I have been anticipating this weekend for months. Our good friends, Joel and Katrina, are coming up from Chicago and we're gonna hang like nobody's business ALL weekend long. We're already booked solid with the three "B's"; BBQ's, Bruches, & Baseball Games.
Yes! This. Weekend. Will. Rule.
We're also planning on getting some good porch action in, cause that's what we're best at. I've been wanting to start a collection of hanging pots on the porch for awhile and I thought this week's Etsy Finds would make for good inspiration. I've come up with an assortment of beauties, and I want to buy all of them.
1. Faceted Hanging Tray from Pigeon Toe Ceramics – $76.00 + $14.00 (for shipping)
2. Modern Dark Brown Hanging Planter from PUTIKMADE – $60.00 + $14.00 (for shipping)
3. Scribbling Hanging Planter from Pigeon Toe Ceramics – $70.00 + $14.00 (for shipping)
4. Porcelain and Leather Hanging Planter from Fashioned By – $50.00 + $7.00 (for shipping) P.S. Lots of other great planter's here to fit any budget.
Hope you all enjoy a wonderful weekend too, I'll be seeing you back here next Tuesday. Party on guys!