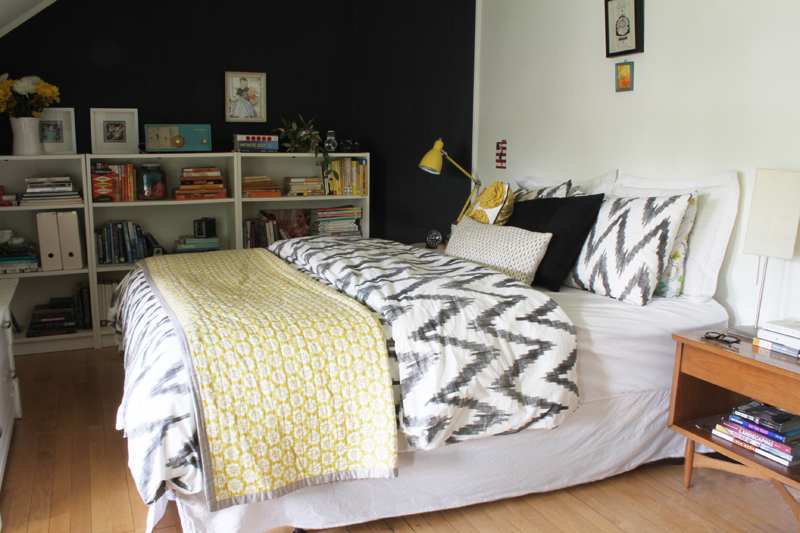 I had to post about this new bedding I bought, because it is awesome and you should know about it too.
I've had my eye on this chevron bedding from West Elm for awhile. I really liked the pattern and could easily see it looking great in our bedroom. Plus our current bedding was on it's 4th year and was starting to fade and get old.
The thing is, back in about 2006, I purchased some West Elm bedding on sale for less than $60 bucks. I was really excited about it, and when it showed up, I was really disappointed. It was scratchy and stiff and not anything I would want next to my skin at the end of the day. I was super bummed. Ever since then I've been nervous about purchasing bedding from West Elm.
I couldn't resist that pattern though, so last week when they were offering free shipping I did it. I ordered up my bedding. I was really unsure as to how it was going to pan out. First of all their bedding is fairly inexpensive as far as bedding goes. I was worried I was going to get what I paid for.
Not true!
This stuff is great, it's super comfy, it feels soft even though it's 200 thread count. Second, the bedding is generous in size! I hate it when things are advertised as full/queen and then they barely fit the width of your bed. This full/queen duvet hangs over a good foot on either side of my queen size bed. It also has attachment ties on the inside of the duvet, something that has been lacking in recent duvet covers I've purchased. The button closures were made from Abalone shell (super pretty), and the cotton is organic. West Elm did it right!
I totally love it and it was worth every penny of the $89 I spent on it.
So, now you know.