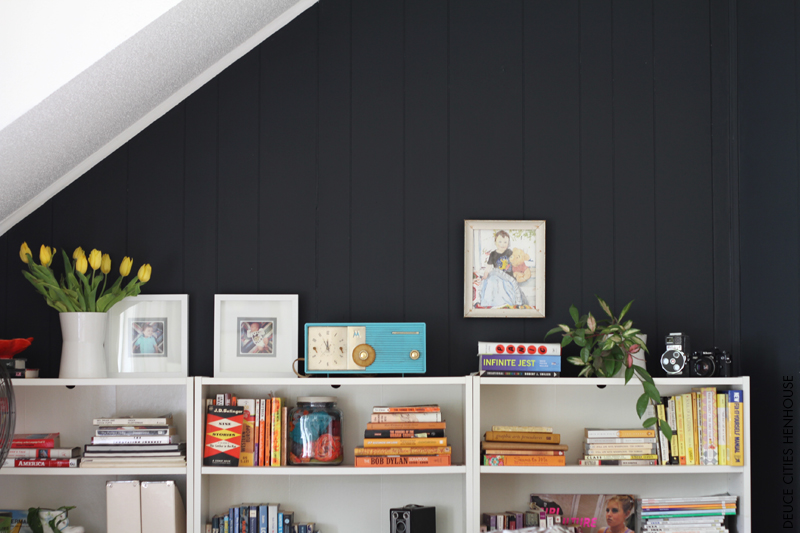 Okay, so it's been a few months in the making but I can finally call our bedroom done! Cue the confetti cannons!! That's how I feel about it, anyways.
My story goes like this: Jeff and I have never really put a nice bedroom together for ourselves. We suck, I know. I think the closest we ever got was back in 2003 at our first apartment together, when I painted some of my great grandma's furniture white and the walls yellow and got a comforter to match it all. That was the extent of our bedroom decorating career.
From there on out making the bedroom an awesome space has never really been something we focused on. At the loft our bedroom was practically in the living room so all we had to really do was make sure our duvet cover didn't suck and our bed was made. At our rental house we didn't really care because we knew we weren't going to be staying there long. By the time we moved into our own house, the years of not really caring about our bedroom became normal and continued until just a few months ago.
And honestly, the bedroom wasn't on my list of things to do at all this year until I won all that fancy-ass free paint. I had painted most of the house already and really didn't know what to do with it all, so naturally the bedroom became my target. After a few months of contemplating colors it finally came down to black and white, a color combination I had been admiring for awhile, but was nervous about incorporating into my house.
It didn't take long after the paint arrived to throw it on the walls. I loved with black and white from the get-go. Every Friday during the kids' nap time for the past few weeks I would make it my goal to paint a wall in the room. Then gradually I began painting the trim and doors too. I finally finished the whole project just this week. That's how you roll with a house full of kids.
I also stripped the paint off all the door knobs to got them back to their original black metal finish, and repaired the woodwork and trim where it had been nicked up. It was especially bad on the backside of the main bedroom door. Here's a before photo in case you're interested. I also replaced all the window hardware with new dark oiled bronze sash locks and handles – they used to be brass.
That all took a bunch of time too. Fer realz dawgs, my bedroom has looked like a tool shed for the last two months.
Lastly, I purchased a few new items. You all know about the ottoman but check out my new yellow lamp from West Elm. Total love fest up in here. I make out with it every night before bed, in case you were wondering. Everything else is the same old boring stuff, just moved around from different parts of the house. I'm still wanting that multi-colored striped pillow from Fine Little Day that is currently sold out, and I wouldn't mind adding this chevron duvet from West Elm to my duvet collection either. For now, I'm pretty pumped about our new fixed up space.
Oh and duh guys, I totally killed it with that closet redo too, I almost forgot. The closet rules now, and I've kept it clean, neat and tidy for the last 2 weeks!