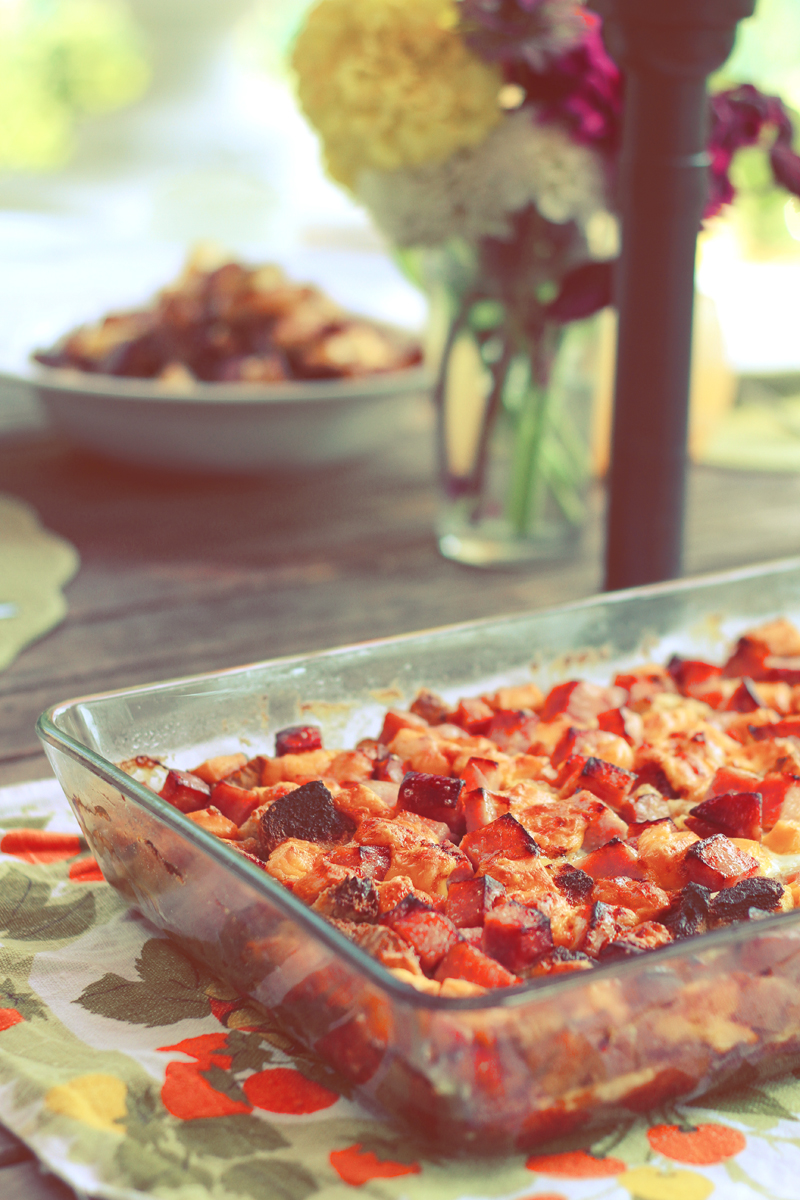 This egg bake represents one of the best breakfast recipes on record! It's so good, that I might regret even sharing it with you. It's world famous and I have all my friends convinced that I invented it, the truth is I embellished it, and my Aunt Fern invented it. You know us midwesterners excel at bakes and casseroles, it's in the genes and this proves it.
I baked up another batch over labor day weekend as we enjoyed a lazy Monday morning. It never fails. Gus had his first tastes too and is just as hooked as the rest of us.

It doesn't really make sense, but the extra sharp Cracker Barrel cheddar cheese is key to this recipe, don't use anything else or it won't be as delish, believe me, I've tried.
Aunt Fern's Egg Bake

Preheat oven to 325ºIn a greased 9 x 13 Pyrex baking pan layer in order

▼ 8 slices of sourdough bread cubed
▼ 1 lb pre-cooked ham cubed
▼ 1/2 lb Cracker Barrel sharp cheddar cubed

In a small bowl combine the following:
▼ 5 beaten eggs
▼ 1-1/2 cup milk
▼ 1 tsp dry mustard
▼ 1 tsp salt
Pour the egg mixture evenly over the bread, ham and cheese layers.
Melt 1 stick of butter and drizzle over the top.
You can make this in advance, freeze it or put it in the fridge overnight (covered).
Bake 1 hour (possibly slightly more, depending on your oven). Let set 10 – 15 minutes before cutting. Makes 12 pieces at Aunt Fern's house and 8 pieces at mine.