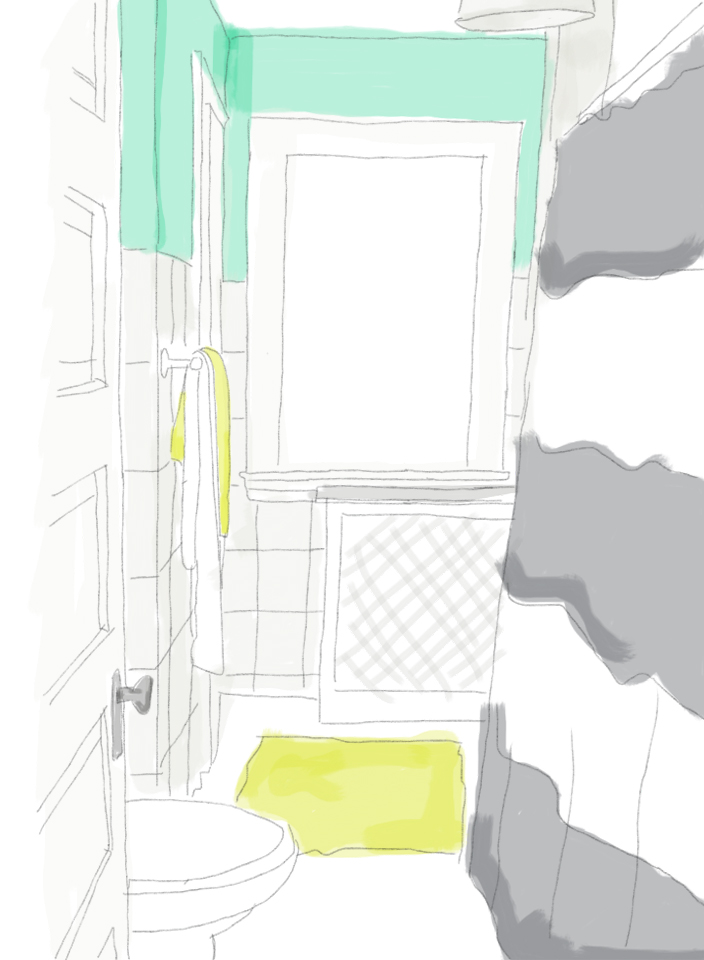 Alright, I'm diving right into my first fall project. One of my readers asked last March why I hadn't done any bathroom updates and that got me thinking… Why hadn't I?
Our house has two bathrooms, one is located on the 2nd floor, and is shared between all the bedrooms. The other in the basement, the scary, scary, spidery basement. It's reserved only for late night parties when we need to keep the upstairs quiet for the kids. The 2nd floor bathroom was updated by the previous owners within the last 10 years, unfortunately they used cheap tile, glass blocks and really awful light fixtures, I can barely stand the way it looks. The important thing is that it functions, and that has been enough for us over the last 2.5 years, until now.
So, it's official, the upstairs bathroom is next on my list of things to tackle this fall! Like I said, it is 100% functional and since we do not have tens of thousands of dollars to throw at it right now, I'll try chucking less than a grand at it (hopefully less than $500 if I'm a good shopper) and we'll see what happens.
There are a few things that I would like to incorporate into the room. First, I have been sitting on a gallon of paint from Farrow & Ball in Arsenic green, I love the color! Originally I thought I might use it for painting furniture but am now considering it in the bathroom. Two-thirds of our bathroom is tiled from the floor up, allowing the walls to handle a stronger color like Arsenic, I think it could work. Secondly, I picked up 6 striped cabinet drawer knobs at Anthropolgie last spring when they were on mega sale and I'd like to incorporate those too because I love them.
I started window shopping and have been playing around with textiles and accessories that I've found online. We also plan on updating the fixtures, replacing the towel bars and hardware, and adding a new round mirror. I'm really liking where it's headed and I think the accessories are starting to tie the green walls, and striped knobs together. As any project goes, nothing is set in stone but I've come up with a reasonable guide to follow.
What do you think? Check out my shopping guide below for more on the plan.