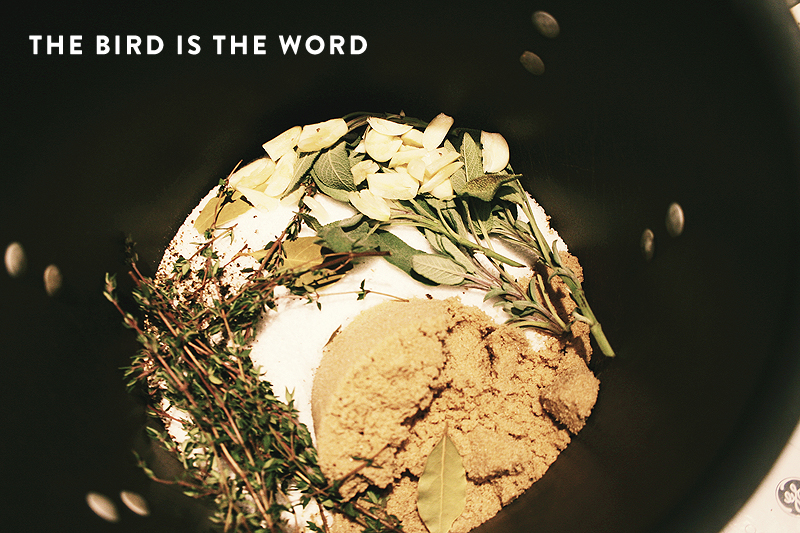 Guys! It's almost time for turkey! In case you haven't figured out how you're going to prepare your bird, may I make a suggestion and brine the crap out of it using the recipe I that I posted down below. You seriously can't screw this one up folks.
I posted this recipe back in 2009, and needed to tell you about it again since you probably don't know about it because no one read my blog back then. The recipe is originally from the MAKE blog and you can find even more detailed instructions on cookin' and flippin' yer bird over there. You better check it.
Turkey Brine

▼ 16 lb Turkey
▼ 3 cup Kosher salt
▼ 1 cup brown sugar
▼ 1/2 tsp black pepper
▼ 4 bay leaves
▼ 4 stems fresh thyme
▼ 3 stems fresh sage
▼ 1 Tbsp fresh minced garlic
▼ 1 gallon boiling water
▼ 8 lbs ice cubes
Stir dry ingredients and herbs together in a large stock pot. Add water to pot and bring the mixture to a boil. Turn off burner and allow mix to steep for 25 minutes. Stir in Ice. Place the turkey inside a large zip lock bag inside a cooler, pour the brine over the turkey and allow to sit in a cool place for 12-24 hours. If you don't live in a chilly state and can't leave your bird outside, pack the bag in ice and make sure the cooler stays chilled.

I'm not kidding, this recipe makes a seriously delish turkey.