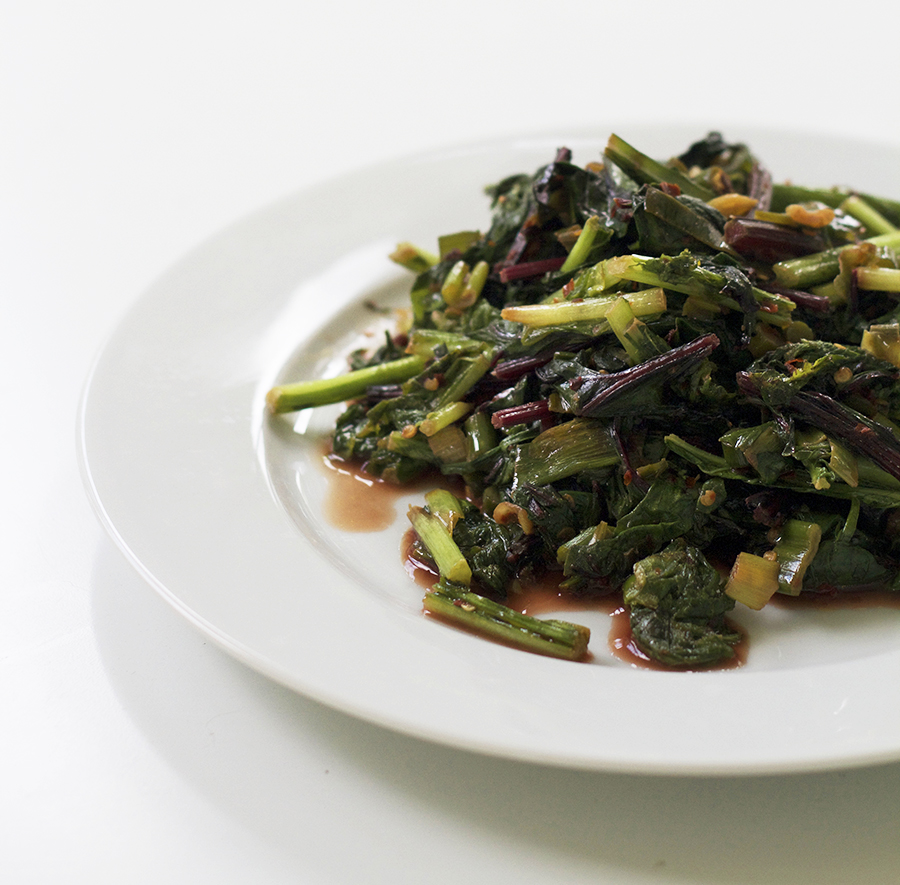 Hey Guys! Hope you all had a super great weekend. We had a great time hanging with buddies and seeing a show at the zoo – that's right – the zoo, we are getting old.
This recipe is a really great one if you're looking to use up your leftover turnip, beet or even radish greens. I had a lot of tops from the beets and turnips we received in this weeks CSA box. I didn't want to just throw them out, but looking at all those greens and thinking about eating them all seemed daunting. Wilting the greens and breaking them down was a good and delicious way to get them in my stomach!
If I made this again I'd probably go a bit lighter on the red chilis and oil, but that's just me. It might be perfectly peeñty for you. Here it is:
Spicy Braised Beet & Turnip GreensRecipe from Driftless Organics


Ingredients:
▼ 1 bunch beet greens, coarsely chopped
▼ 1 bunch turnip greens, coarsely chopped
▼ 4 scallions, diced
▼ 3 garlic scapes, diced
▼ 3 tbsp olive oil
▼ 1 tablespoon red chile flakes
▼ Salt to taste
▼ Pepper to taste


In a large sauce pan, saute scallions, garlic scapes, a sprinkle of salt, and chile flakes in oil over medium heat. After a few minutes, add all of the greens, toss to incorporate all ingredients, and cover pan with lid. Once greens are wilted, remove lid.

Cook greens until tender, about 8 minutes leaving the lid off for the last 2 minutes. Serve immediately, using tongs to transfer greens onto plates. Drizzle with more olive oil if you're into that sort of thing.