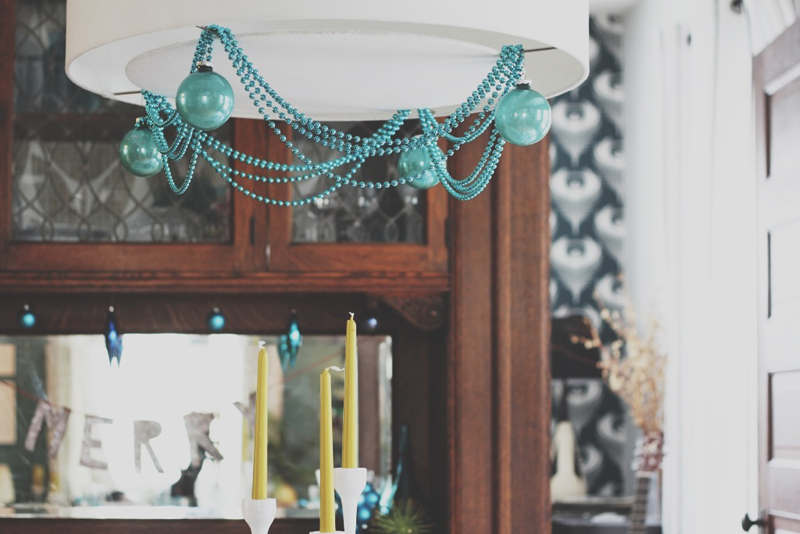 I've been trying to figure out how I was going to decorate for Christmas this year, I love a classic green, red and white Christmas, it's usually my default holiday color scheme. I have this weird aversion to all other christmas color combos, anything else so often seems too serious, fancy and traditional for me. Traditional? What? I know, I know, red and green are the most traditional Christmas colors, so what the heck am I talking about? For me, there is something more light hearted and casual about your classic red & green Christmas decor. Plus, I'm a total sucker for a vintage Christmas and those are its signature colors. I often think that a white or silver color scheme (for example) can sometimes come off as highbrow and stuffy and does not suggest fun and whimsy, part of the key elements to a cool Christmas celebraish. I'm not trying to say that using more modern christmas colors makes you a rich square, it just reminds me of the suburbs from when I was a kid, where everyone used white twinkle lights, always. You get me, guys? It's me, not you.
All that crazy rant being said, I just felt like I had to do something different this year, I guess I'm growing up, or getting bored, or something. So I went through ALL of my Christmas stuff and picked out all the ornaments and decorations that were blue, tealy blue, dark blue, yellow-y green and red. I also went through all my dinnerware and set out every piece that was white or blue. I then started the task of hanging, re-hanging, arranging, re-arranging, setting and re-setting the items before me. And guess what??? I'm really loving the results. The table is pretty, and well presented, my favorite part are the blue chargers, which I picked up at Michael's for $1.00 a piece. These colors look totally great in my house, it still is fun and whimsical but just a bit more grown up. Blue ornaments and decorations are scattered throughout the house and are offset by green & white flower arrangements and candles. I think it all works so well, I'm really glad I decided to try something new this year.
Now I need to figure out how to cut myself off from my love affair with teal blue but that's a conversation for another day.
We'll be hosting Christmas Eve this year, and I'm planning on making it a casual and cozy affair. I'll be serving a spread of aged meats and cheeses (you know us midwesterners love a good meat and cheese spread) followed by a white chili dinner. I love entertaining the fam in my home and I can't wait for the chance to do it again this year. I'm taking suggestions on white chili recipes as I don't have a go-to. Let me know if there's something that I NEED to try, I'd love to hear what you have to suggest.