I just got this year's holiday cards back from Minted!! This is the 3rd time I've used minted.com to make our cards, and I totally LOVE them. Let me give you some perspective, I am chronic non-holiday-card-sender-outer. Out of the 13 holiday's I've had since splitting* with my folks (aka moving out), 9 of which I've spent married, and 5 of those with kids, I've only sent out holiday cards 3 times. I know, I totally suck and I am the worst.
Not only do I fail at sending out cards, I am also very opinionated about the cards that I don't send out. Herein lies the problem. I could never buy stationery off the shelf, I just couldn't. I need a well designed holiday card on lush paper, (I'm such a total snob, right?). I guess I might as well just make my own. "Oh what's that you say internet?, try minted you'll like it?" No way! And then it happened, minted came around and made it easy for me to make super cool holiday cards.
With an assortment of stationery to suit all types of styles it becomes hard to choose your favorite. Not only do they have the best designed stationery in town, they have the best paper stock to boot. Even the standard introductory level paper is totally thick and luxe and the inks are top notch and rich in color. I've got a total paper boner guys (eeew)! I'm gonna keep going here cause I'm on a roll, can we talk about customizing? You can customize the bejesus out of these things, from typefaces to envelope liners, folded note cards or flat, even skinny wrap address labels and free address printing. The cards just look amazing! Minted transforms your run of the mill holiday photo cards from flimsy print outs to tactile artifacts to share with your friends and fam at the holiday's. What could be better, right?
And if you need just one more reason to give minted a try how about this… Besides just making awesome stationery they also support independent graphic designers who make commission on the designs they submit. So great! Love this place forever.
*Totally love my folks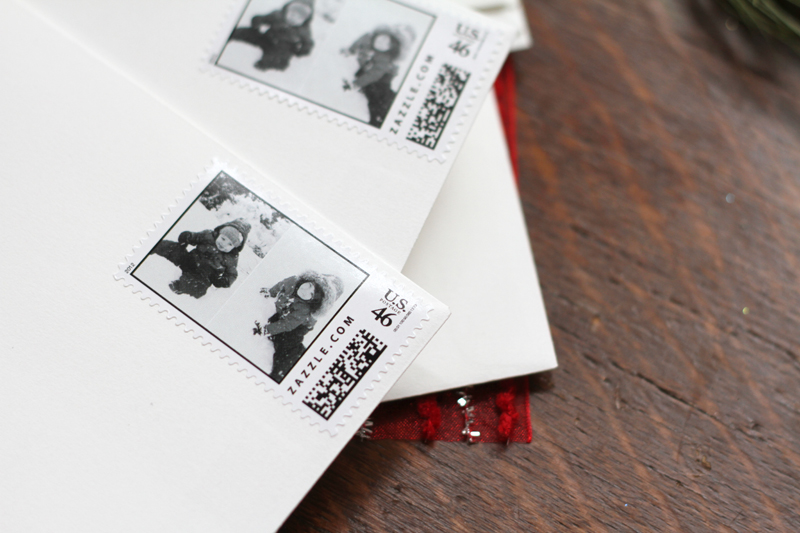 P.S. Got these tyte personalized kid stamps over at zazzle.com to top it off, if they didn't cost almost twice as much as regular stamps I'd have all my stamps be kid stamps, all the time!