Hello friends! I know in the past I've shown you how to make Ikea curtain panels into grommet top curtains, and I shared with you the curtains I made for Gus' nursery, but I never got down to business and showed you how to make your own grommet curtain panels. I was in the market for a new curtain panel for the window at the top of my staircase, and I wanted to make it from this awesome triangle fabric (Stamped By Ellen Luckett) I picked up at the fabric store a few weeks ago. I figured "what they hey, man" this would be a good opportunity to put together a tutorial for anyone out there who is considering trying the same.
I don't do a ton about sewing, but I know my basics, and I can find my way around a sewing machine. I also know enough about making curtain panels to offer a few pointers from what I've learned in the past.
First things first, you need to get your shiz together! Let's start with your supply list: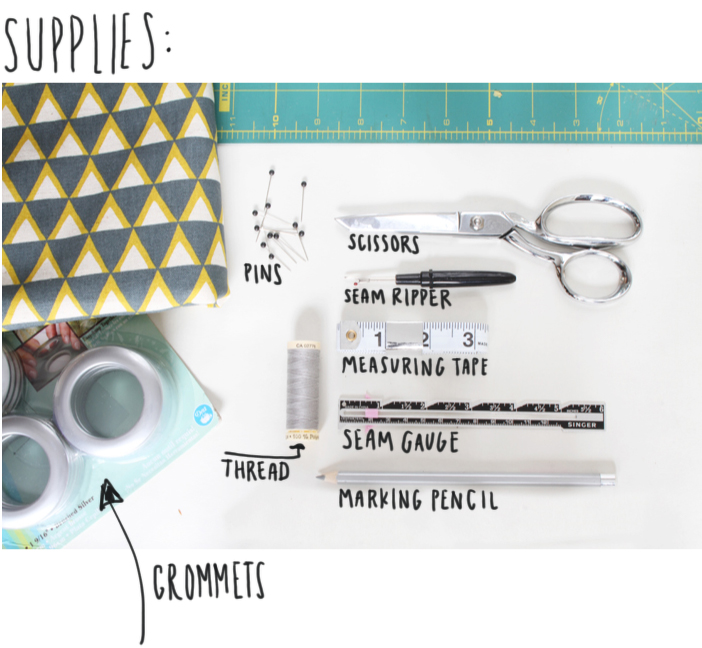 Next let's talk logistics. The thing you need to know is the distance between your curtain rod and how long you would like the curtain to hang. I needed my curtains to hang 90″ from the curtain rood to the floor. I've already done the math for you figuring in seams and allowance for the fabric above the grommets. Add 10.5″ to your total and you have your curtain length.
DISTANCE FROM ROD TO FLOOR + 10.5 = TOTAL AMOUNT OF FABRIC
Curtain width isn't as important. Most standard fabrics come between widths of 44″ and 56″. Any width of fabric within this range will work just fine with the style of grommets we are using.
The tutorial continues after the jump, click on "read more" for the whole enchilada!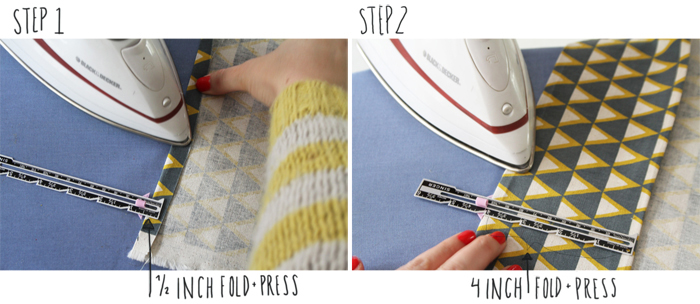 Step 1:
Now you've cut your fabric and you're ready to start the real deal serious stuff. Okay you ready? Let's measure fold and iron, over and over again. So tough, right? Nah, this is easy.
At the top of your curtain panel (the part of your fabric that will hang from the rod), use your seam gauge to measure a 1/2″, fold over and press. You did it!
It should be noted, I'm just making one panel, because that's all I need for my small window. If you're making two panels, it's important to do the same steps to both panels at the same time. That way you can lay them out next to each other and make sure that your folds are symmetrical and that your panels are the same length. I made sure to make the nursery curtains side by side, step after step. It was tedious but also super worth it to have curtains that hung perfectly, even the patterns matched up. Also, don't forget to pick up two packs of grommets, for two panels, duh!
You may have noticed, my fabric has a geometric pattern, this makes it much easier to keep your fold straight and square. Try and make your folds as square as possible, it will make for pristine looking curtains in the end.
Psst: PLEASE VOTE FOR ME AT THE HOMIES IF YOU HAVEN'T ALREADY – THANKS!
Step 2:
On the same end of your fabric (the top side) fold your fabric over another 4″ and press again, use your seam gauge as a guide.

Step 3:
This is an easy step guys… Pin the top hem, spacing your pins about 5″ a part.
Step 4:
There's no pics for this part, but that's because step 4, 5 & 6 are identical to 1, 2 & 3, just on the bottom of your curtain. So, fold and press the bottom of your fabric a 1/2″ up.
Step 5:
Fold and press the bottom of your curtain at the 4″ mark, use your seam gauge! Remember to keep your folds straight and square!
Step 6:
Pin the bottom of your panel!, Yay!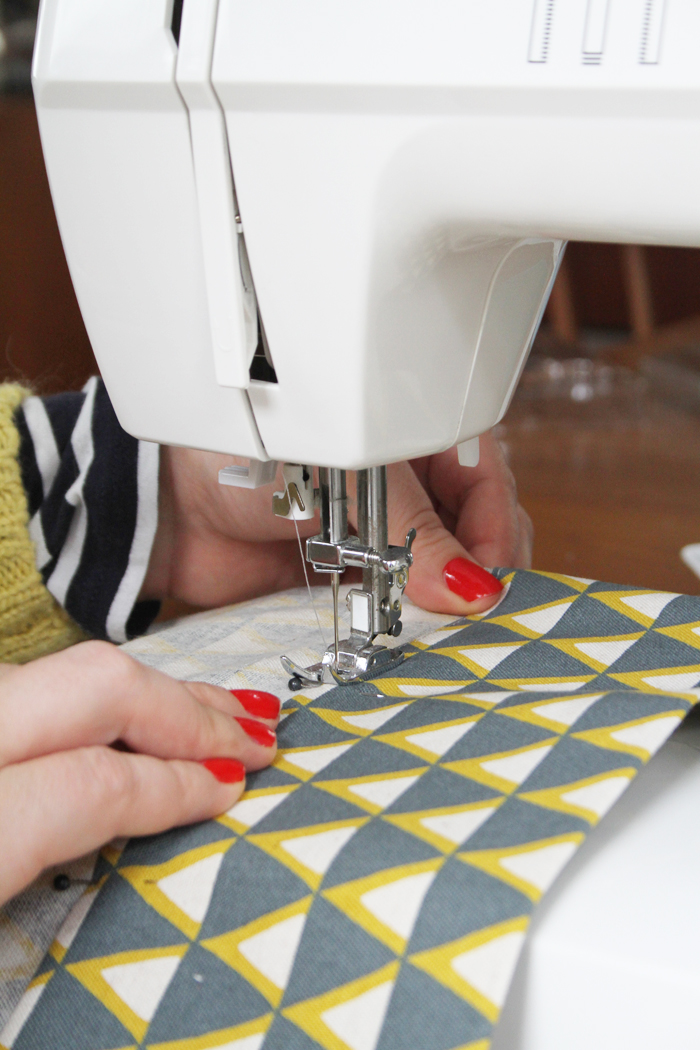 Step 7:
Okay now for the sewing, you ready for this? Alright, take the top of your fabric panel and sew a straight stitch as pictured above. Not too scary, right?

Step 8:
This is where it gets a little tricky, at least for me it does. I discovered when I made Gus' Grommet curtains that using a "blind hem stitch" along the bottom hem of a curtain allows the curtain to hang so nicely. I've made curtains before with a straight stitch along the bottom hem and the curtains gets puckered and don't lay straight. This is because a standard straight stich is too rigid and doesn't allow the fabric to be flexible and drape properly. You can always say eff it and do a straight stich here, but I recommend trying this new fancy stitch out.
In case you're scared there's lots of good you tube vids on this. FYI: your sewing machine may, or may not come with a blind hem presser foot. I don't have one for my sewing machine so I just use the zigzag setting and combo that with the longest stitch setting and it works with an almost identical result. Your user manual should have info to help you with this.
P.S. If you're gonna try that blind hem stitch, check the photo above for how I have to fold the fabric over. They'll teach you this on that you tube video too, so make sure to watch it if you don't have any experience with the blind hem stitch.
Here's what that cool stitch looks like: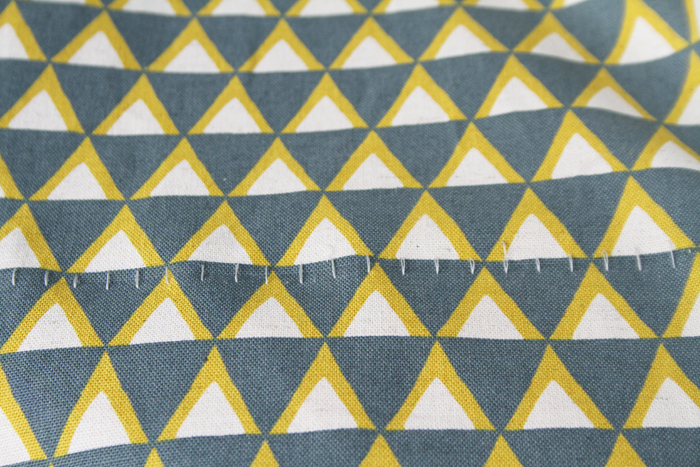 Step 9 – 13:
Well, you've done it, you've sewn the top and bottom hems of your curtain, yay you! Feel good about it.
Now that you're done doing that, you need to do exactly what you did before; fold and press, and fold and press again. Do this on both sides of your panel folding over 1/2″ for the first fold and a 1″ for the second. If you get stuck use the diagram up top for help. Pin both sides once you're done with all that folding and pressing. I could give you more instruction on this, but you're a old pro at this game, so I'm not worried.
Step 14:
Using a straight stitch with the stitch length set to the longest setting, sew both sides of your panel just like you did to the top.
You done with that? You are so awesome! You now officially have a panel, this is great!

Guess what?? It's grommet time! I've always used Dritz grommets and this is what they look like. I know they are plastic, and that is not fancy, but seriously, once they are 7+ feet in the air and hanging from a rod, you won't be able to tell the difference. They come in different colors and finishes as well. I always go with the pewter, but that's just because it's what I always do. You do what you do.
As you can see, they have one side with a groove and another with some little pokey things, that is how they fit together. You don't even need much pressure, they just snap. And in case you screw up they come apart easy too :)
So now you ask yourself, how do I get these GD plastic loops onto this beautiful panel that I have made? Well my friend, I will tell you…

Step 15:
This part involves a little math, something that's not my strong suit, it might not be yours either, in that case I've figured it out for you.
Measure the width of your new curtain paenls.
((Curtain Width in Inches) – 5) / 7 = The Distance between each of your grommets.
For example this is what my math looked like: (40 – 5) / 7 = 5
Now this works only if you start the center of your first grommet 2.5″ from both sides. Then you space your grommets X inches apart measuring from the center of one, to the center of the next. I'll give you a little tip here. You don't need to be super duper precise on spacing, just very close. It's more important to make sure that all your grommets are the same distance from the top of your panel.
Now you might be asking yourself "but how far do I place the grommet template from the top of my panel,?" And the answer is 2″. Your top panel has a hem of 4″ on it and we want your grommets to fit perfectly in the center of that. Double check and make sure your grommets are all centered evenly 2″ from the top. You wouldn't want to mis-measure one, then your curtains won't hang flat. This is where a quilter's ruler becomes a very useful tool. You can lay the ruler right over your panel helping to keep your grommets equal distances from the top.

I recommend using a water soluble pencil for all your markings, if you're anything like me, you'll screw up a few times and having a pencil that erases with water comes in handy.

Step 16:
Yeah! You got all your grommets marked out and you've double checked? You my friend, are ready to start cutting holes in your beautiful panel. I know it's a little scary, but you can do it!
Do you have a sharp scissors? If you don't you should consider getting a pair, it makes cutting out these circles so much easier and will come in handy on your future sewing projects. Cut out all the circles you've marked, be careful to cut right on your markings and not to go over.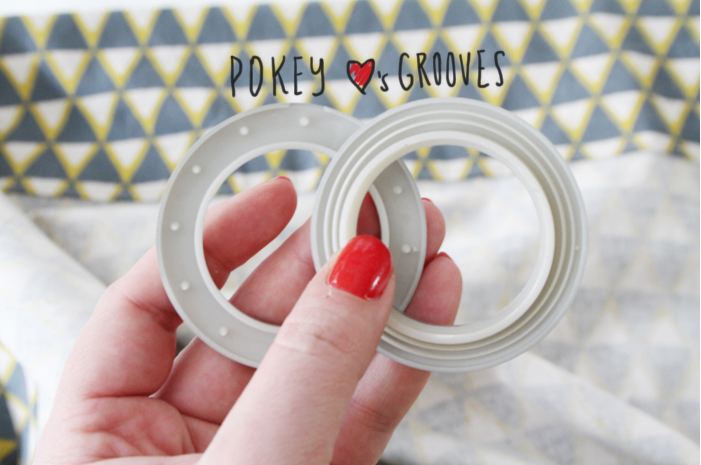 Step 17:
Almost done! It's time to start joining up Mr & Mrs PokeyGrooves. Putting together the grommets is as easy as finding these two grommet mates and then putting one on either side of your hole.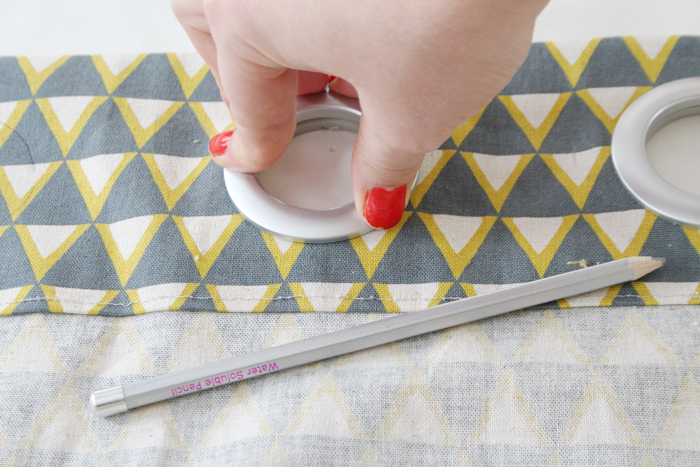 Step 18:
I would recommend using a cutting board as something to press against when you're joining your grommets. You wouldn't want to leave marks in your work surface. Connect the remaining 7 of your grommets and you're done! Can you believe it?
Hang that bad boy up and admire your handy work!
In case I totally forgot to mention something or made an egregious error, let me know. Hope this helps you on a future sewing project!
Love,
Scoops