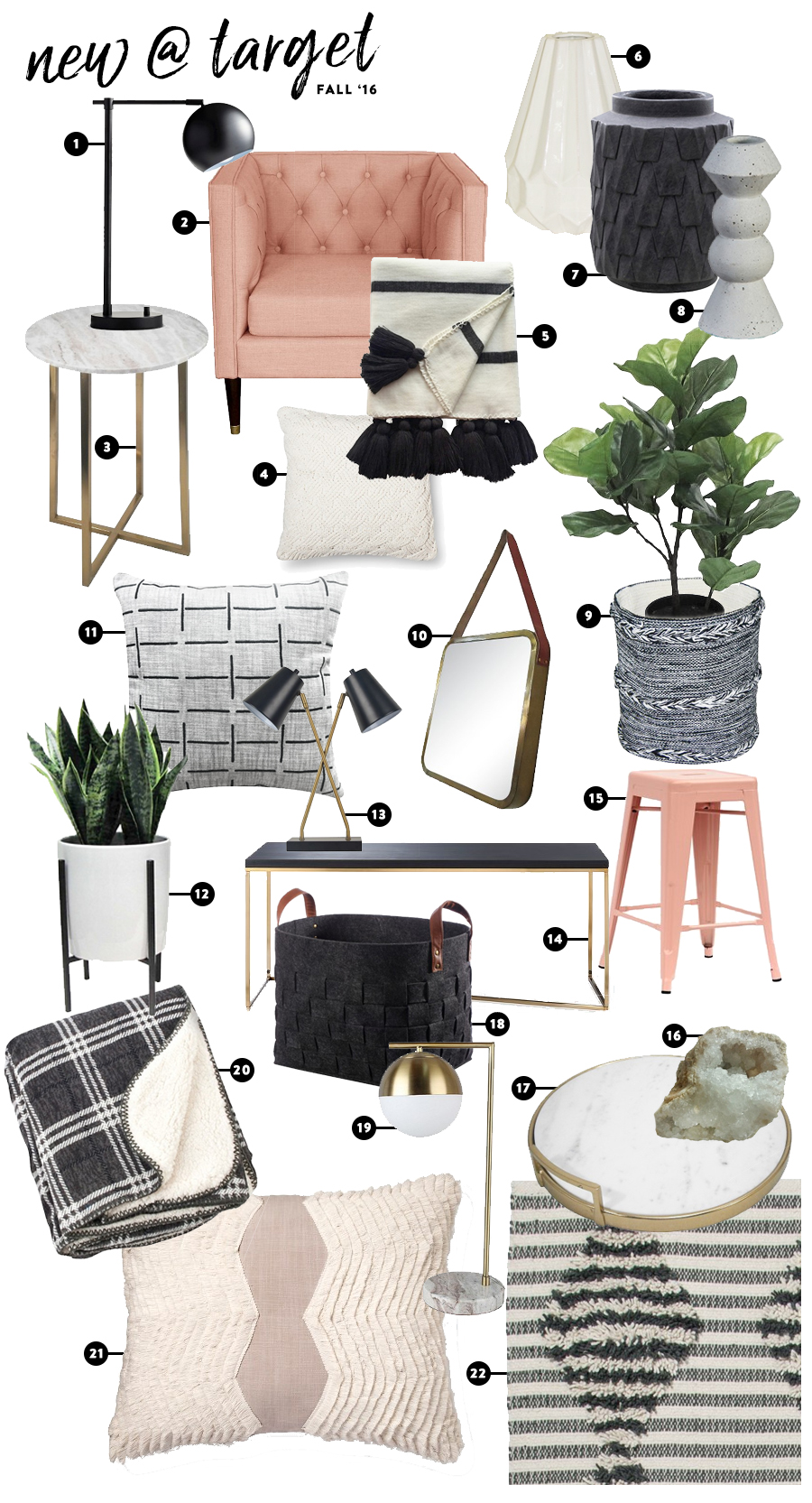 Hey Pals! Can we talk for a sec about how Target is ruling this shit right now! Holy smokes, this new stuff that's coming out this fall is on point. You make Minneapolis look good, Target.
So I thought I'd share a few of the items I've had my eyeballs on as of late. First of all, that pink chair! I'll take two for the living room, please and thank ya. Actually, scratch that, I'll take that whole upper left hand section for my living room. I love it all! That black and white striped throw with the tassels would make my B&W obsessch a little more refined and grown up. They've got tons of good vessels, I've nearly bought that black vase (in the middle) 10 times, I might wait it out and see if it makes it to clearance. I grabbed the braided Nate Berkus bucket (num 9) last week, and I put my fiddle leaf fig in it. The fig was one that I had adopted from my mom, it came with a green ceramic planter that wasn't cutting the mustard, so I plopped it in that woven tote — I'm sure also good for storing throws and other cozy items. For anyone who wants the look of a mid century planter, but doesn't want to pay all the bucks for it, Target has come up with an affordable options, just half a benjamin and you can take this one home. Uh, those rose colored barstools are the best, if only I had a need. They also have that same color in their other metal chairs (arm and reg), and I am kinda thinking they would be great for a patio, or something like that. Look! Another soft vessel for putting things in (num 18)! I bought the ivory version of the felt bucket last year and I kinda want to get this dark charcoal one this year. The kids kinda destroyed the other one, they used it as a boat(?) and drug each other around the basement in it. Anyways, still a good buy if your kids aren't crazy animals. Totally getting that plaid sherpa throw (num 20), we bought two last winter they were in the buffalo check (which I totally prefer) but they were the coziest things ever, we seriously fought over them.
Yeah guys, do yourself a favor and check this stuff out, and someone get me two of those pink arm chairs, I'm not kidding (Jeff)!