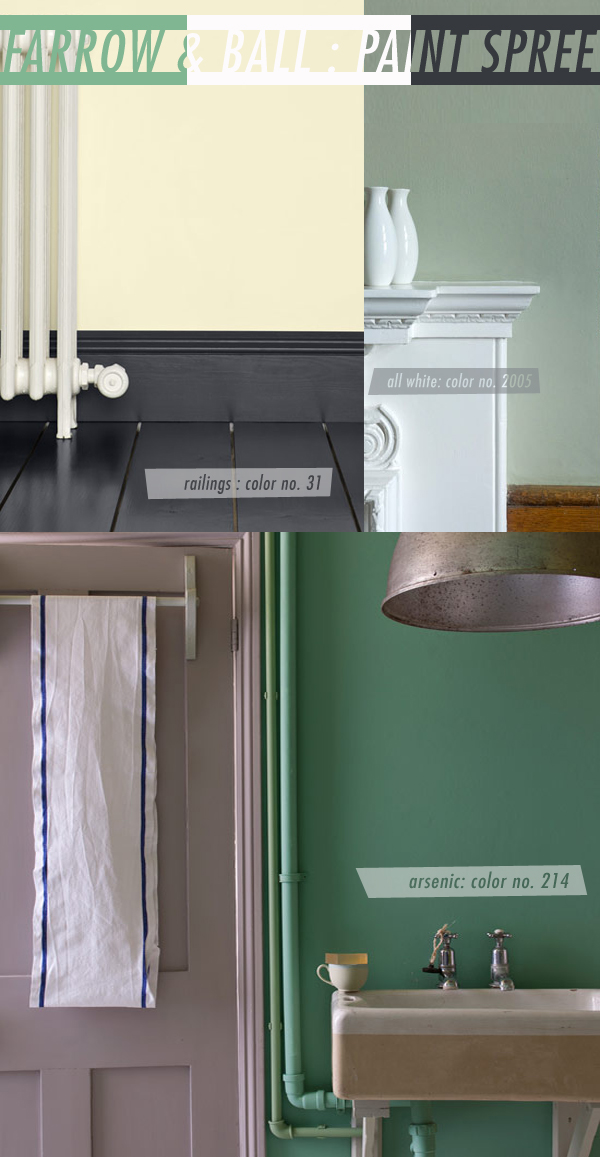 Well, I finally think I've decided what I am going to get with my $1000 in Farrow & Ball gift vouchers (vouchers instead of Gift-Cer-T's cause they're brit-esh) that I won way back in November via Apartment Therapy. Here's the verdict (duhn duhn dun) I'm gonna get paint, shocking! Seriously though folks, considering I've painted every room in my house except my bedroom over the last two years, I thought I should go for it and paint the damn thing. So, I'm trying something new: white walls. Also shocking, but in a real sincere shocking sort of way.
I've actually been enjoying other people's white walls for quite some time and decided to have my hand at it using the All-White No. 2005. Especially with such high quality fancy paint, like this Farrow & Ball shiz. Duh, obviously the $100-a-gallon paint will do the walls more justice than the regular gallon of paint I would've typically picked up at ye olde big box store.
I'm also going to paint the far wall in the bedroom black (Railings No. 31), and I'm stoked about it! I think it's gonna be really great and I can't wait. You already knew I had my eyes on black though so that is neither sarcastically nor sincerely shocking.
Alright, so I'm about $200 down with $800 to go. This is how I blow through the rest: I'm going to order 3 gallons of All-White paint for all the trim and moldings upstairs. All the trim on the second level hasn't been painted in at least 10 years. It's pretty gouged up and needs some lovin' and TLC.
This is when it gets exciting; I'm ordering up a gallon of Arsenic No. 214 because I love it. From the first second I saw it I had a crush on it and needed it in my life. I still don't know what I'm going to paint with it, maybe a stray piece of furniture, or maybe the white wood paneling in the upstairs porch, I don't know. This might sound crazy, but it totally reminds me of that polish stuff at the dentist office that they use to clean your teeth with (you know what I'm talking about, right?) and I've always thought it was just the greatest green color ever invented. Anyways, since I'm such a baller now, I just figured what the hey.
I still am left with a few hundred dollars and I don't know how I'll spend it… rollers, paint brushes, trays? Maybe, I love that stuff too. Or maybe I should pick up a gallon of Middelton Pink (named after Kate?), just in case that girl baby I've been waiting for ever shows up. I'm not sure I should hold out for that one though.