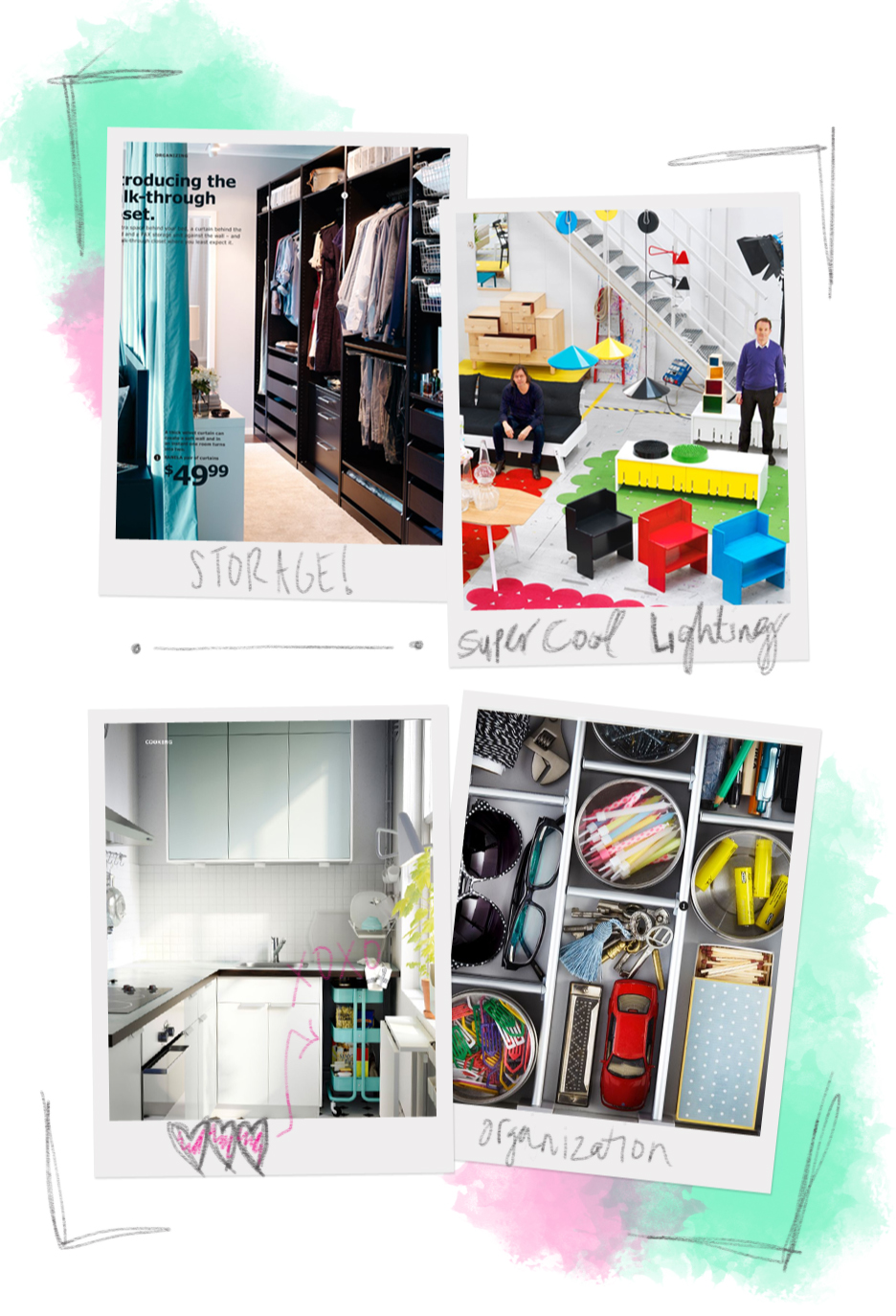 Unless you live under a rock, or don't care much about swedish furniture, then you know that the new Ikea catalog is out. I know, I know, it's been out for a few weeks and I'm late to the blog party on this one but I thought I'd throw my two cents in. I am a nerd and get excited for the new catalog every year!! I'm still waiting for my copy to arrive in the mail but in the mean time I have discovered and download the Ikea 2013 catalog app and thumbed through the pages. I gotta say, the app is pretty cool and it comes bundled with a bunch of extra morsels of Ikea goodness.
I put together a few of my fav bits from the new catalog. Numero uno is always I-N-S-P-I-R-A-T-I-O-N. This time the catalog is chalked full of storage and organization solutions. There's nothing like an Ikea catalog to get you in the purging and organizing mood. It can make you feel like cleaning out your closet and re-organizing your entry way all in the same day. With fall around the corner I am feeling the urge to get tidy, organized and cozy. It's like nesting but without the baby.
I also have a crush on this little Råskog kitchen cart in turquoise for no ther reason than the fact that it's the best shade of blue-green ever, I'm not even sure where I would use it, I just love it.
Ikea is hitting the nail on the head with a brand new line of colorful LED lighting too, the PS Collection is colorful and exciting and I like a good chunk of it's offerings. In the above right photo you can see featured both the pendants and the wall sconce, I'm thinking perfect for a kid room.
Okay, onto real business :) You may have noticed that I drew all over the Ikea collage above. I got my bamboo stylus in the mail this weekend, and I love it. What I really wanted to achieve with it was being able to mark up posts and pictures. It took a little trial and error (and I'm sure there will even be more in my future) but after testing out many different apps and a few different methods I finally got the hang of it.
I took a little from everyone's comment suggestions and downloaded 4 different drawing apps for the ipad over the weekend. Here are my favs. Coming in at first place without a doubt the "procreate" app! Not only does it offer a variety of brushes, pencils, pens, markers and colors it also allows layering and the ability to export to your drop box account as a photoshop doc. For $4.99 you can't go wrong. Seriously, try it out.
The other app that I really like was not meant for drawing, but it works, and it's called "Air Display." It's main function is to make your ipad operate as an additional display for your computer. I installed it on both my ipad and my macbook pro. I can now use the ipad as a second display and tablet thus allowing me to draw with my stylus in photoshop using all my PS brushes! It's on the high side at $9.99 but I think it offers a lot of functionality and will make it's self very useful in the long run.