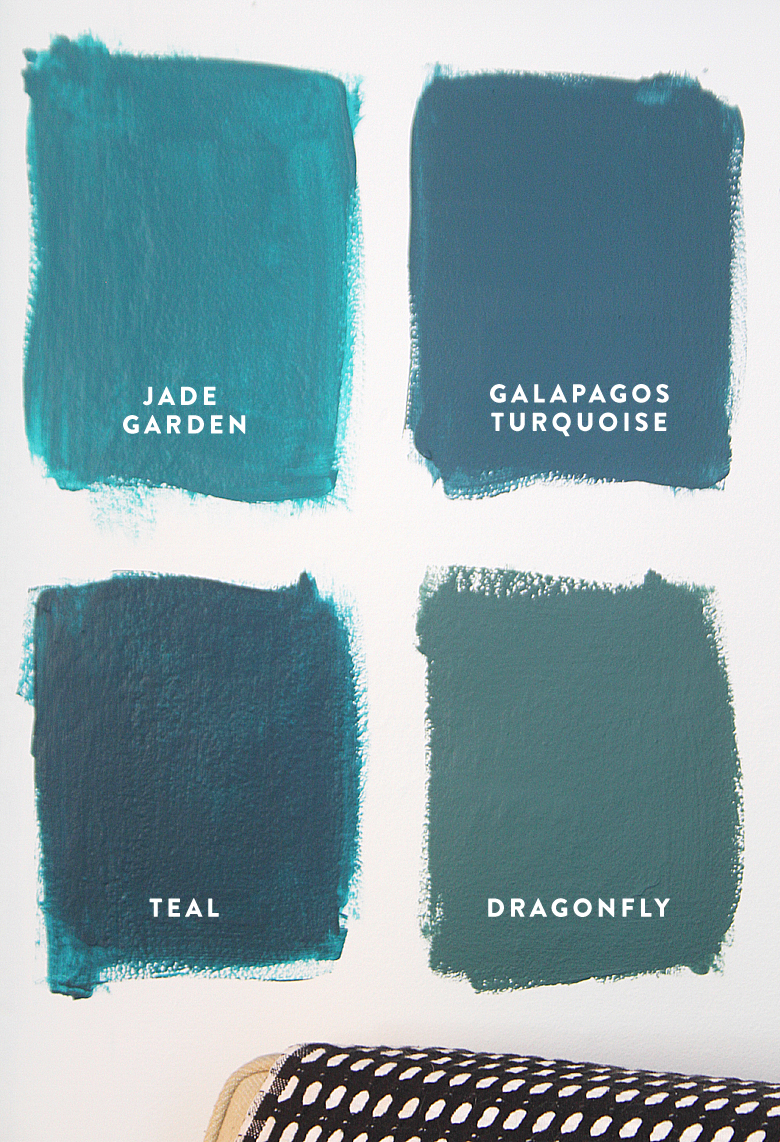 I can't kick the feeling that the new white walls against the dark wood trim remind me of every apartment that I've ever rented. Yes, I have enjoyed the light and bright airiness of the white during the days, and it looks especially pretty with with all my other white accents, but I'm still not 100% feeling it. After the daylight disappears and our lamps are turned on it looks very bland and unexciting.
Before I ever even painted the room white I had already ordered dark teal samples from Benjamin Moore to try on the walls. I was looking for something slightly more saturated and a little bit darker than the Behr 'Hallowed Hush' that we had painted our living room walls prior to last week's white attack. I was, and still am desperately seeking something fresh and new.
Of the four teal swatches above, I'm most drawn to the two on the right, 'Galapagos Turquoise' and 'Dragonfly'. I'm planning on painting bigger swatches on the walls later today and then beginning to weigh all the options before officially deciding on a color.
I really like the darkness of the 'Galapagos Turquoise', this is exactly what I had envisioned for the walls, but I also love the familiarity of the dragonfly which is only slightly darker then the 'Hallowed Hush' we had on the walls prior.
I'll be posting more tomorrow so you can see my progress. I know I probably over analyze these sorts of things, but it's the only way my brain works when making such big decisions!
P.S. Thanks so much for all your comments and feedback on the last post about the white walls, I really appreciate it and it got me thinking about my options in new ways. Appreciate you!