Well, I think we're making progress in our decision making. I really wish the white would work for us because I really do adore it in so many others' homes, we're just not feeling it in the living room. I gotta remember that I have my white bedroom, and I get my white, bright and airy fix waking up every morning (dur, except for these lame winter months).
That's the one decision we've made. Now that white is out, blue is in. Out of the four color selections that I posted about yesterday I picked two to paint bigger swatches (aka corners) in the living room. We're giving 'Galapagos Turquoise' and 'Dragonfly' a test drive. There's pro's and con's to both and thus the decision making continues…
*Please feel free to tune me out at this point because I am just a crazy lady who can't stop thinking, dreaming, and talking about paint colors. I'm sure it's getting a little obsessive, I know my husband thinks so.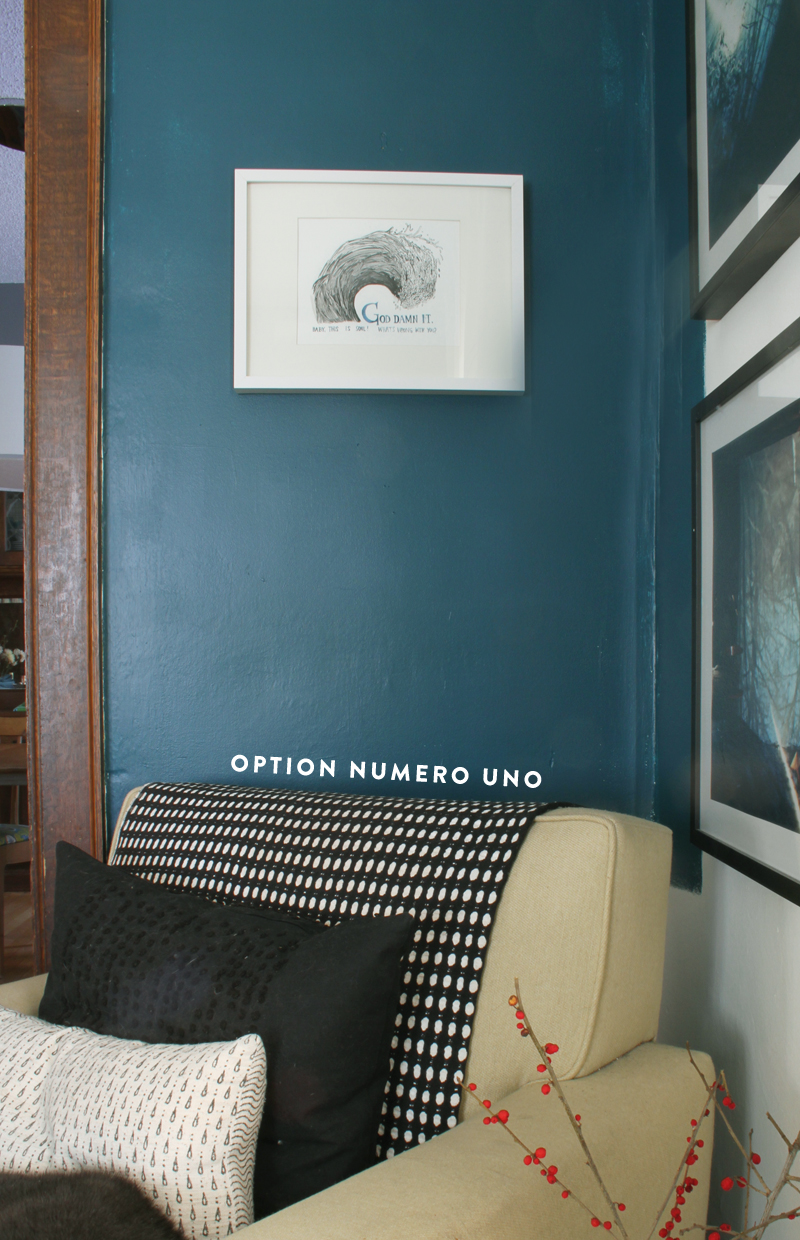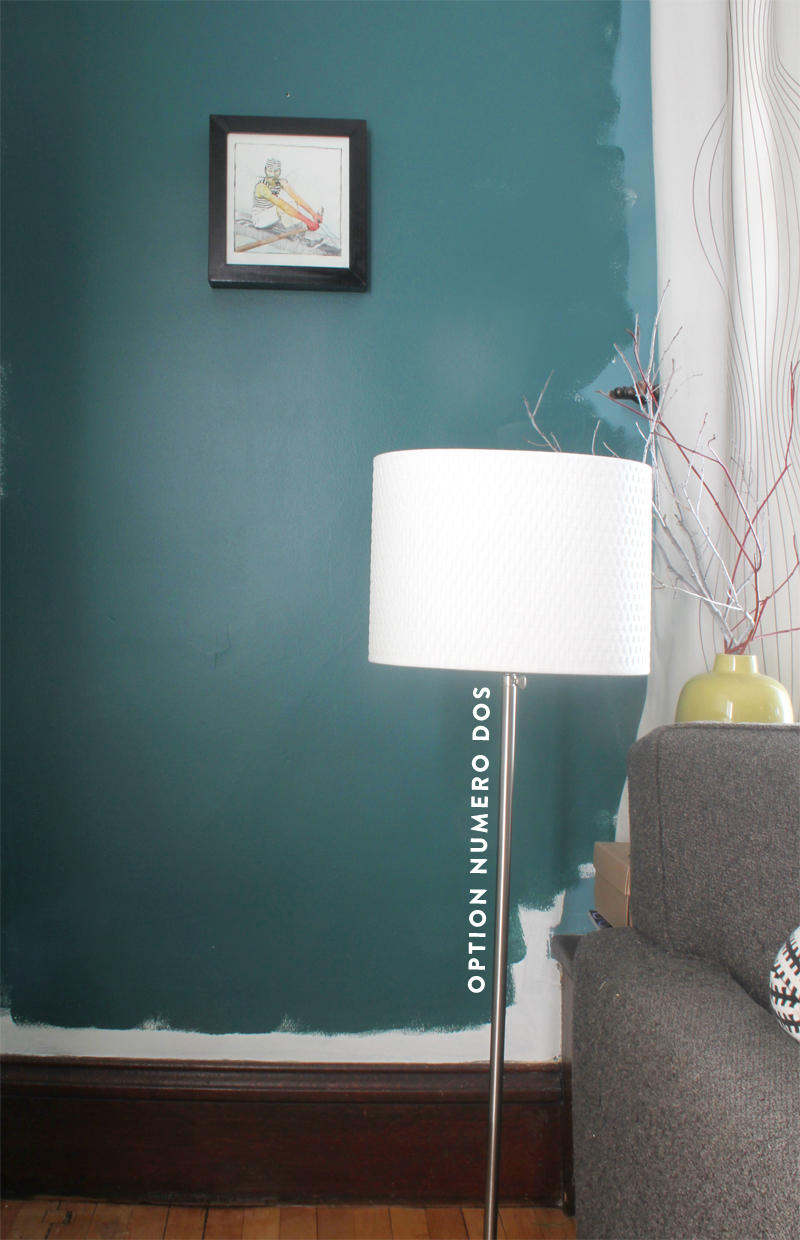 Seriously why do they send paint samples in a semi-gloss?
The 'Galapagos Turquoise' is very blue and dark, (this is what I had envisioned the color being) but, now that it's on the wall I'm just not sure. For one, the dark blue brings out the red in the wood trim, something the old blue complimented and toned down. Secondly it's pretty dark. I know I wanted it to be really dark, but I'm not sure if I can go that dark. At night it's almost black. I am however aware of the fact that I might just not be used to this color and that's why I'm having such an extreme aversion. I mean, I did think in my head that it would be perfect.
The 'Dragonfly' on the other hand is beautiful. It's way more green than I thought that I wanted, but the second I started putting it up on the wall I started digging it in a major way. It's reminiscent of the 'Hallowed Hush' (from before) but, it's slightly greener and much darker and almost the same tone. There is something about a color like this that almost reads as a neutral color would. Whereas the 'Galapagos Turqoise' corner only reads as dark blue and will have to be complimented with very specific colors because it is just so blue. The 'Dragonfly' wall could go with so many different hues and tones including any shade of yellow, pink, melon and coral. It's a color that would sit in the background and wouldn't scream a color, yet at the sametime it's very colorful and dynamic. The downside of choosing this color is being lame. I would not be stepping out of my comfort zone when what I really wanted is something new and fresh (oh, and absolutely perfect).
After doing some more internet research I discovered that 'Newburg Green' (also a Ben Moore paint color) might be a good combination of the two, and guess what? I have a sample of it in my garage from when we painted the exterior of the house back in May. I'm gonna let that defrost for a bit, (get it, it's cold here) and then throw up a swatch of 'Newburg Green' to increase our decision making options even more!! Baah!
I understand that this might not be the best way to make a decision about paint colors, but I don't care. I just want to get it right and be happy with it. I trust my gut and I know that I will make the right choice in the end, it's just the process that's tedious.
Those of you who took the time to read all that… Thank you!, and hang in there, a decision is right around the corner :)