This seems to happen to me every year, the holiday's end and I get this overwhelming urge to work on a project. The first year I wallpapered my entry way, the second year I de-wallpapered and then re-wallpapered the music room and this year the target is my living room.
Here are my reasons/guidelines for the living room redo: Firstly, if you read the blog you know that I've been day dreaming about living room furniture. We're in the market to order a new sofa and chair this spring and to be honest, making the right choice has been stressing me out. In order to make the right decision I needed to investigate all the furniture layout options our living room has to offer. Secondly, being that we just shelled all the money in the world for Christmasy costs we're feeling a little light in the pockets. Since I obviously can't resist the urge to jump into a project I have to do it with little to no money. I've convinced Jeff that we can afford a gallon of paint. That's all I'm working with, $50 bucks and nothing else.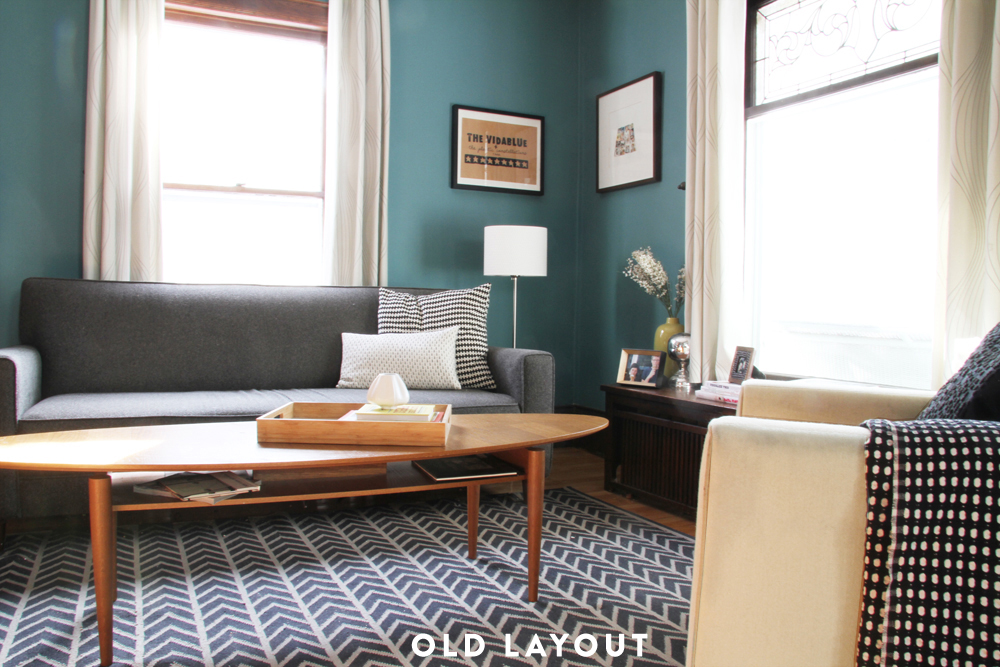 So like any good thrifty gal you have to work with what you've got. I took all of my furniture out of the living room and then started placing it back very slowly. I started by rotating the rug, then putting the sofa on in front of the west facing window, allowing the south facing window to hang out in all it's sunny glory. I moved the chair from one corner of the room to the opposite corner and then placed the coffee table back in front of the couch. Now behind the couch is our radiator with built in radiator cover. I decided to use that like a sofa table bringing height to the candles and vases behind the ouch by stacking books below them.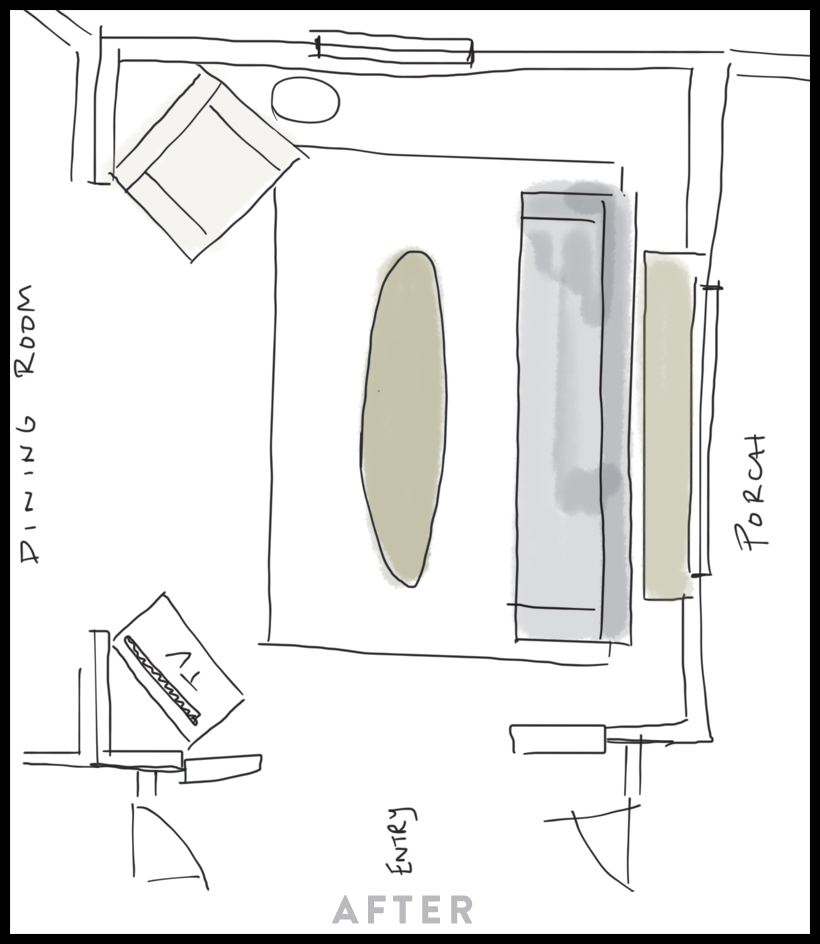 So there's the no-cost furniture rearrangement. It looks great! This is the way that it should always have been. The space feels so much bigger, and this new layout could actually allow for a small chaise sectional if we wanted!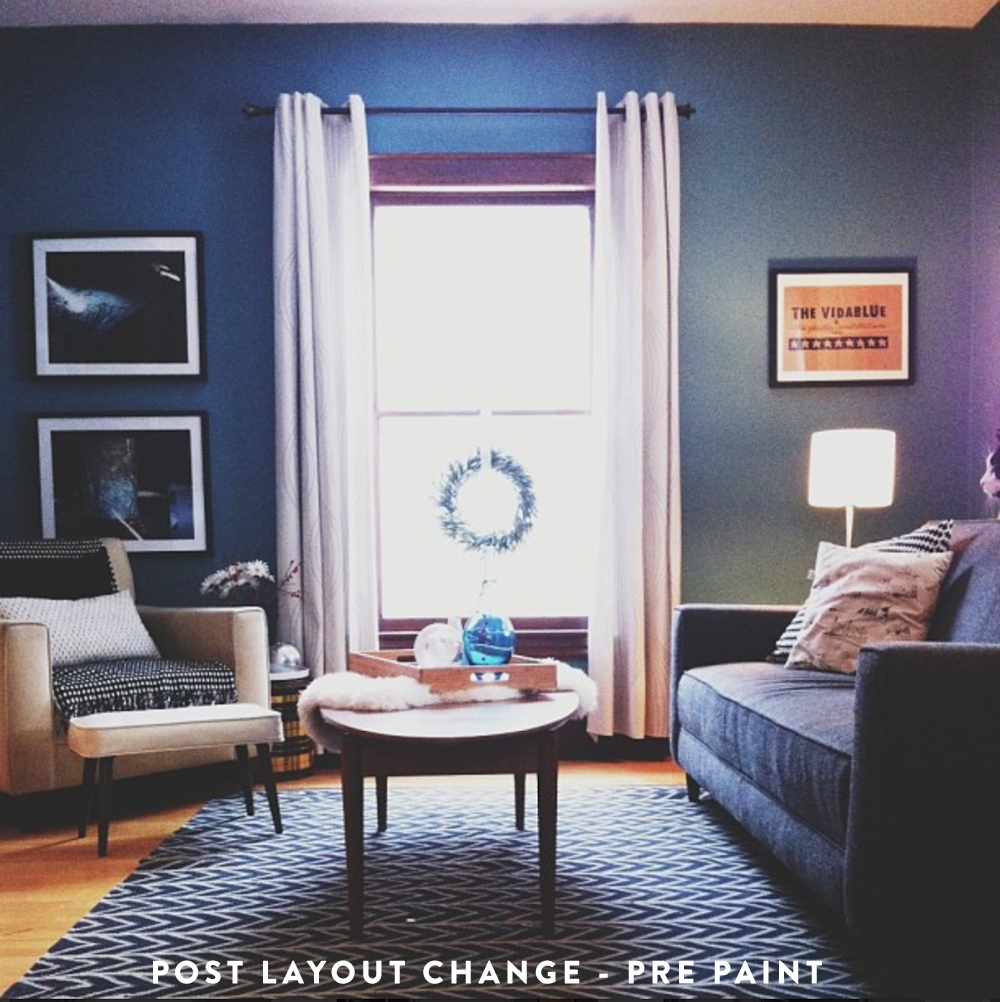 Next problem of course is the walls. Although I love my teal blue 'Hallowed Hush' walls, they are overstaying their welcome. I've been living with them for 5 years spanning 3 different houses and apartments, I just feel like it's time for a change. I ADORE all my favorite bloggers and their white living rooms, I wish I could join the white club too. I probably would've painted years ago if I only had one thing… white molding. Sometimes this is the one thing I regret about our house.
"So Shut up and paint them Scoops!"
Well, this house has really nice beautiful wood molding. That pretty wood molding is the number one reason I was okay with buying a house whose main floor was covered in wood paneling. It's wonderful quarter sawn oak with the perfect patina. I'm almost certain I couldn't live with myself for painting it. I mean it hasn't been painted in 100 years!
"Hey Scoops, just shut up about it already!"
Okay, okay, so now that you know that whole story, you know I need to figure out a way to coexist with wood trim and baseboard moldings in my living room.
I figure, just paint the god damn walls white, and don't be a pussy, there's no harm in trying it out, duh. I have a gallon of nice white paint leftover from when I painted the bedroom last spring just waiting to be used. It seemed obvious. I dive right in and partially paint (wuss out and paint only a wall and two corners) the living room, and here it is: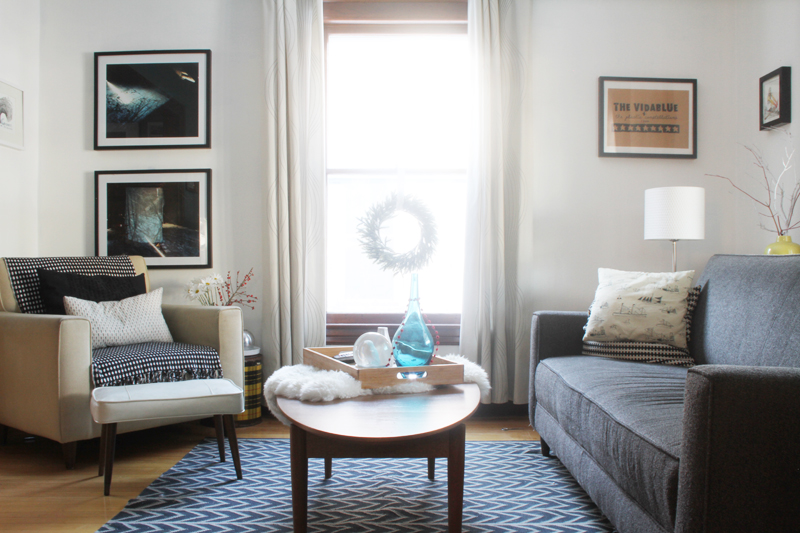 I need suggestions on a new canon lens to photograph interiors!!, but that's another story
I'm going to live with it for a few days and see how I feel, right now I am not really loving it, and I miss my blue. I'm chalking this up to living with the same blue walls for years and going into shock upon seeing a sudden and drastic change. I'm going to give myself the weekend to decide if this stays or if this goes.
If I can't live with the white, the walls are going blue again, only this time darker and tealier. Think Navy on the greeny side. I ordered samples earlier this week from Benjamin Moore in Teal, Galapagos Turquoise, Jade Garden & Dragonfly as a back up.
So tell me what you think? Can I pull off white walls with dark wood molding, or should I return to my beloved blue? I need advice like nobody's business!