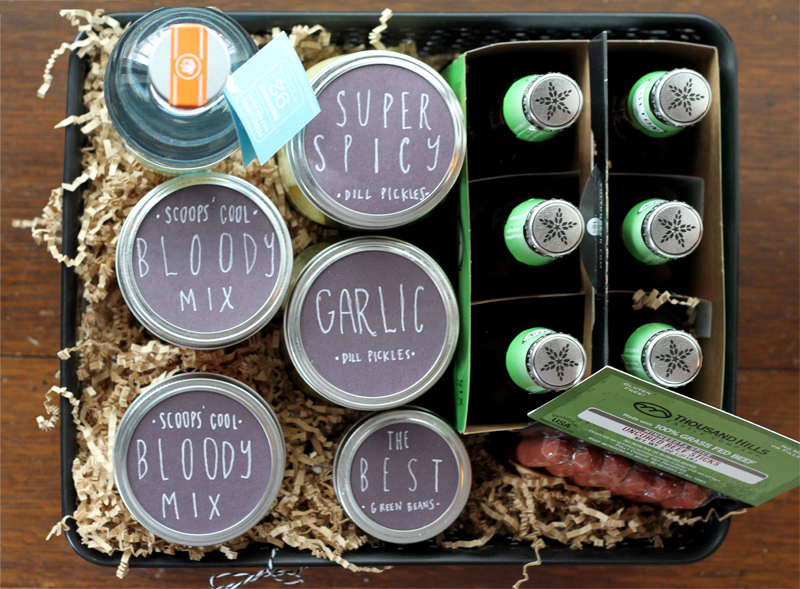 I wish I would've had more time to post this before now, but… the holiday season got a little crazy busy and I'm just getting the chance to tell you about it. I suck, I know.
I was busy canning veggies and perfecting pickle and Bloody Mary recipes all fall and I finally have something to show for it. I always had the vision of combining all my jarred goodies and presenting them together as "Scoops' Twin Cities Bloody Kit" to share during the holidays. The kit includes homemade Bloody Mary mix, spicy pickles, dill pickles, and pickled green beans. Since I have no clue how to make Vodka or Beer (or interest for that matter) I supplimented those boozy ingredients by using locally made Prarie vodka and Fulton Beer. I also threw some Beef Sticks in there too for good measure.
Although I made the majority of this by hand there is no reason you couldn't do the same thing with store bought ingredients for your next hostess, house warming, birthday gift or whatever. It would be super easy to grab ingredients like McClure's Bloody Mary Mix and Dill Pickles and combine them with local beers or vodkas from your neck of the woods. All it takes is a basket, some baskety fluffy stuff (aka kraft paper krinkles) and some tags or labels made with love by you.
I think it turned out pretty cool.