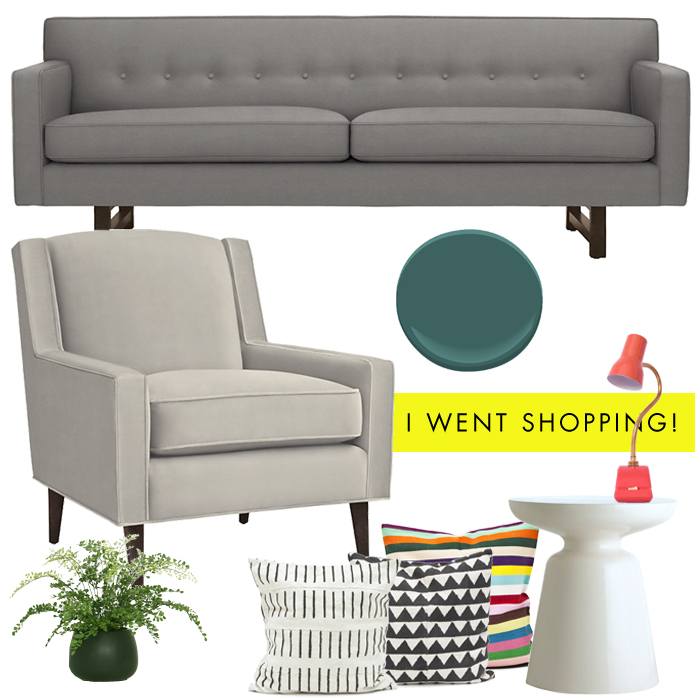 Yo buddies! I ordered living room furniture, can you hardly believe it? My folks took the kids on Saturday and me and Jeff got to go out and try on all the sofas. It was pretty fun, and scary, and overwhelming, and brain scrambling. After thinking I had it narrowed down to a few sofas we had last minute self doubt and considered this Sabine sofa for a bit. Although it's beautiful (and super comfy), it's not really what I had in mind with all this planning and after a lunch break, we decided to go with our gut and choose the Andre! Then we had to pick the chair, it was between the Cole and the Murray chairs. Although I think I like the Murray a bit better, it was time for a change and to minimize the size of the chair in the corner. The Murray was similar in size and shape to what we have now and I think the living room would really benefit from something a bit more petite, which the Cole provides with the low profile arms, and a mid century look.
Don't even get me started on fabric selecting. Another thing that I thought would be fairly easy, was pretty difficult. We went with a medium gray the sofa and a off white/light gray for the chair. I was hoping for something a bit more adventurous, but this is what worked.
We still need to settle on this rug thing, and I think our decision might be being made for us. It appears that Ikea's online site no longer is showing the Stockholm rug. Did they finally discontinue it? Wouldn't that be perfect timing? We might just have to go with Souk in that case. Decisions will be made on that soon too, as this Sofa and Chair will be arriving in about 8 weeks.
Totally can't wait.
In other news, my kids are terribly sick, like in a seriously bad way. Gus (the little guy) has Pneumonia, double ear infection, and pink eye. I'm gonna try and keep the posts coming but there is a chance that you may not see me much this week. Heads up.