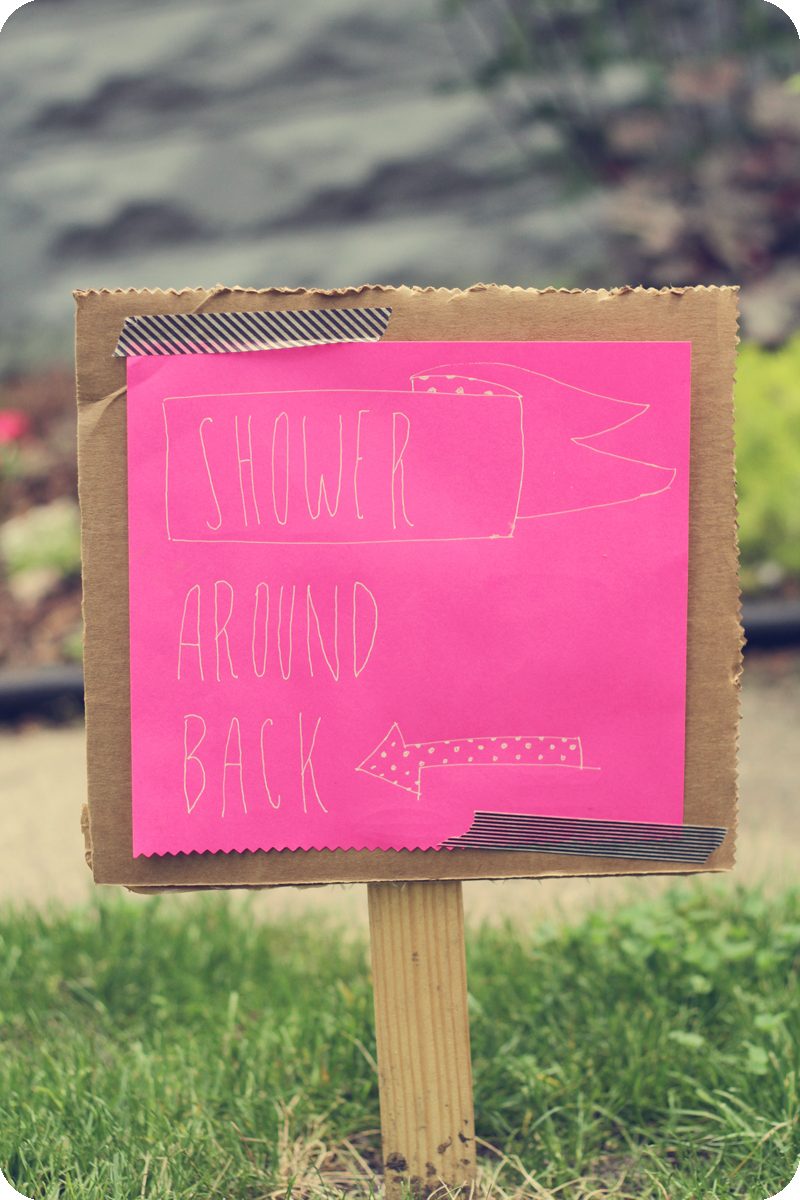 We spent a wonderful day this weekend celebrating my good friend Cam (and by association Beak) and her soon to be baby girl. I am so honored to have been able to throw a shower for these two (plus one). They are some fine people and a few of my dearest friends. I am thrilled beyond words for them to soon be parents.
Enough with the mushy stuff though: check out the party.

There are not going to be many chances for me to throw a girl party, since it's all boys around here 24/7. So, I went all out with the girl vibes. I am the stereotypical tomboy; pink has never been my thing. But for some crazy reason that I can't explain I've been really digging it lately. Trust me, it's weird. I let pink be my guide and it took me to all sorts of frilly and girly places.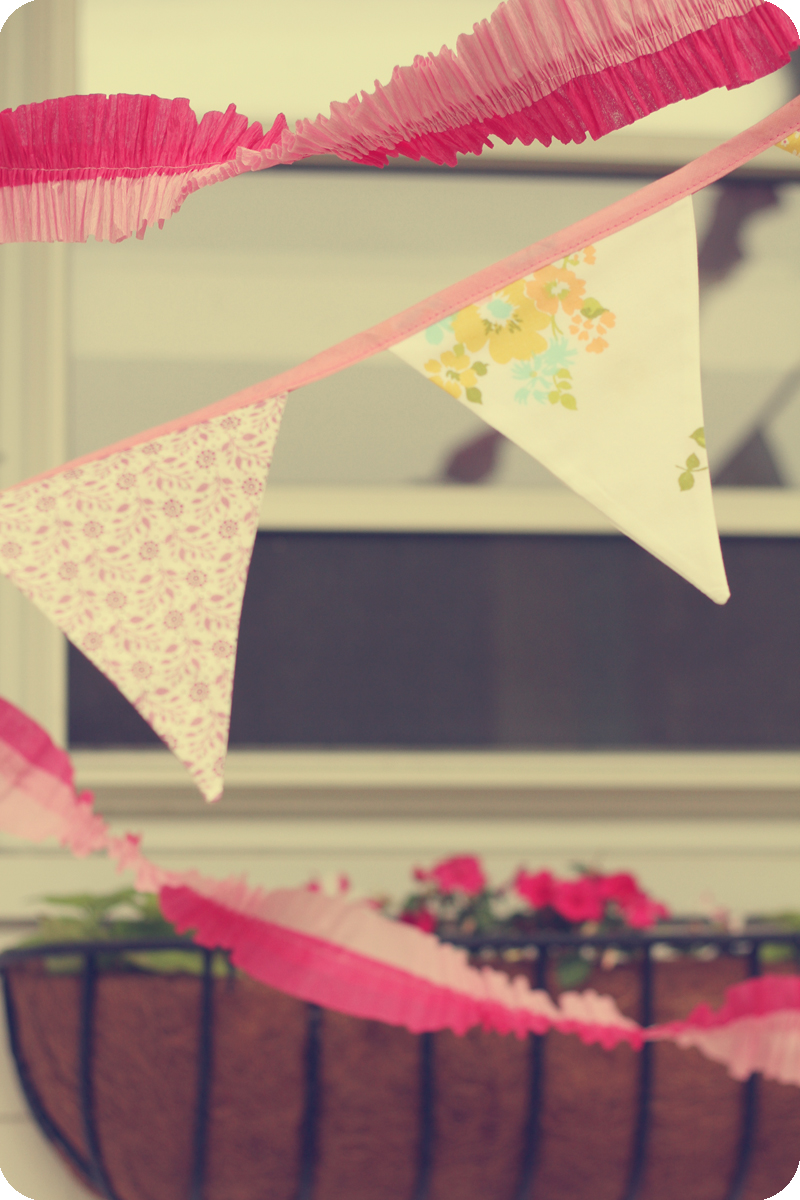 I went decoration crazy! I bought this super cool pennant banner on etsy, handmade from vintage sheets. Totally love it, AND, I am going to re-gift it to Cam. I think it would look awesome in her baby girl's nursery. I quickly threw together the crepe paper ruffle streamers too. It was so easy! I'm gonna be posting more on that tomorrow.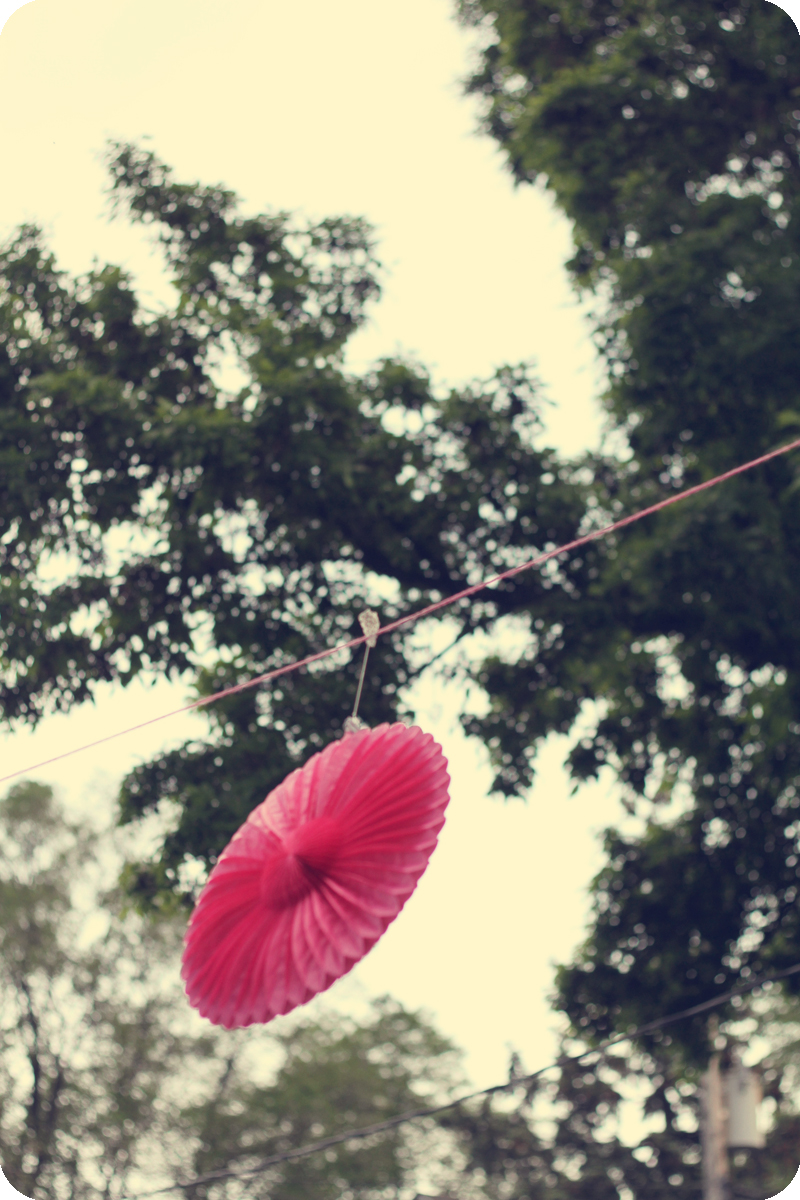 There were rice paper daisies hanging from overhead—a perfectly sweet backdrop for the girly garden vibes.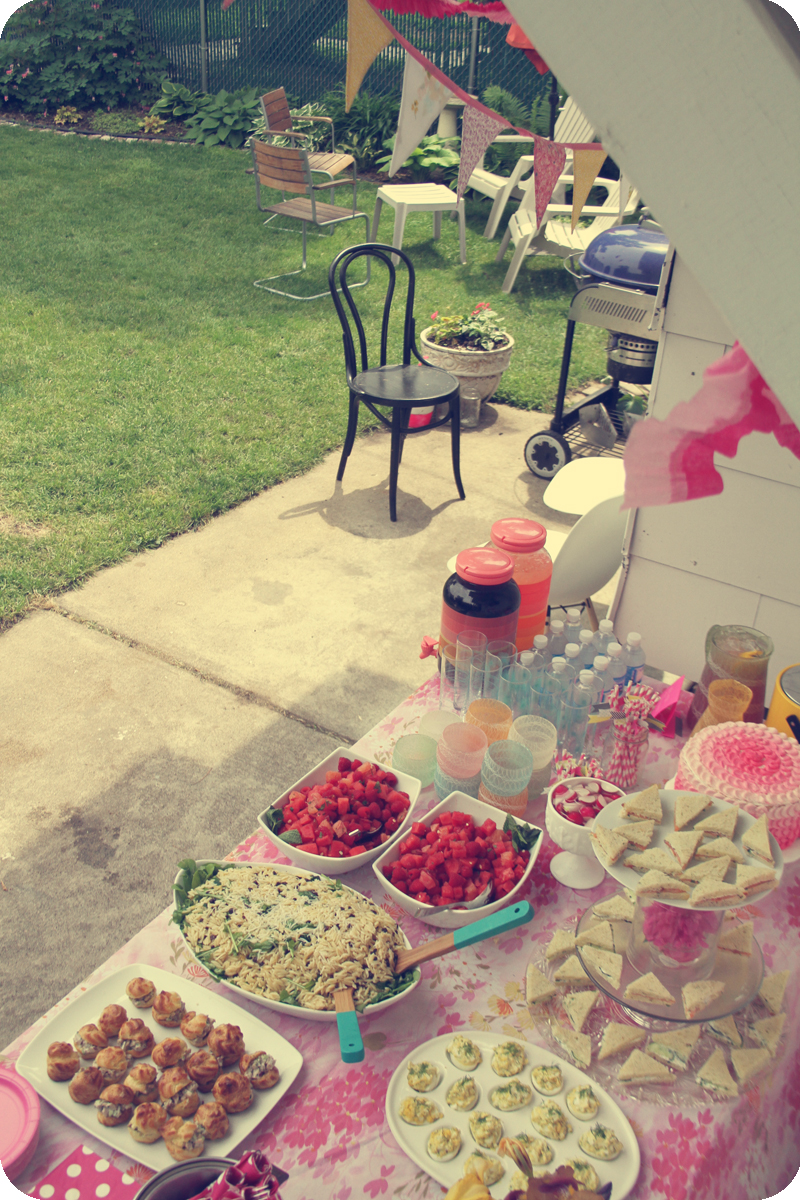 Look! There is two different kinds of sangria! Our afternoon garden party ended at midnight thanks to this stuff.

There's that cake. SO EASY, make it for your next party! DO IT!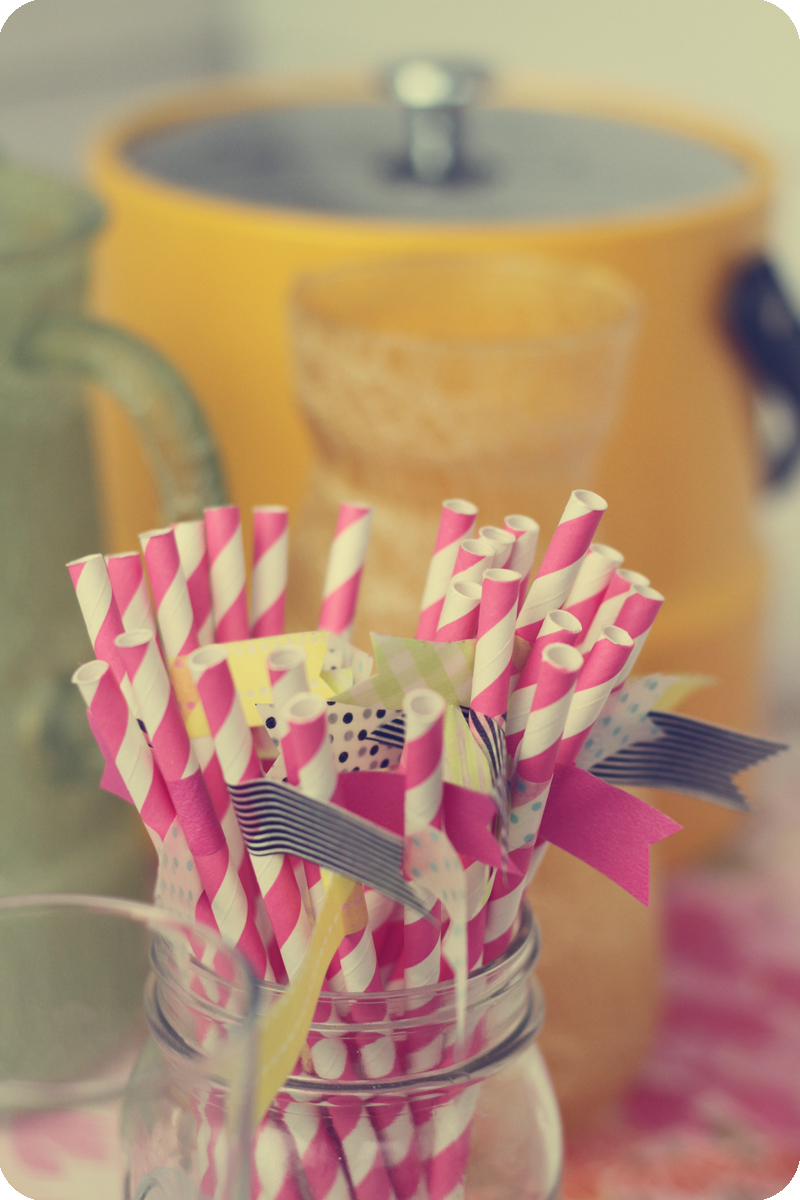 Paper straws with washi tape flags.
The Menu
Tea Sandwiches:
&#9660 Cucumber Dill with Cream Cheese
&#9660 Salmon with Crème Fraiche
Salads:
&#9660 Orzo Salad with Arugula
&#9660 Pink Fruit with watermelon, raspberries, strawberries and grapefruit
Bites:
&#9660 Profiteroles with tarragon chicken salad
&#9660 Curried Deviled Eggs
&#9660 Dill Deviled Eggs
&#9660 Radishes with awesome butter and salt
Drinks:
&#9660 Lemonade infused with Basil & Mint
&#9660 Red & White Sangria
All of these wonderful things were prepared by a fantastic dude who was a huge help in getting all this together: Mr. Matt Scharenbroich. It pays to have chef friends. You should get some.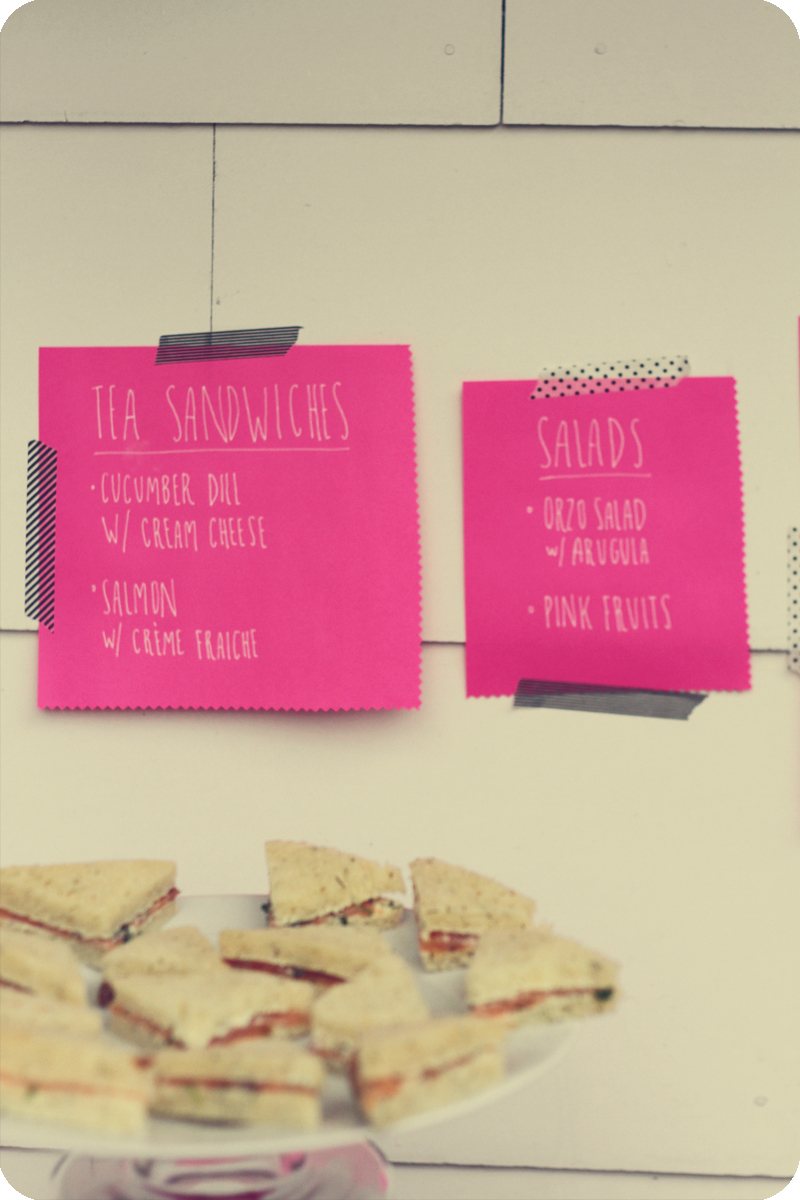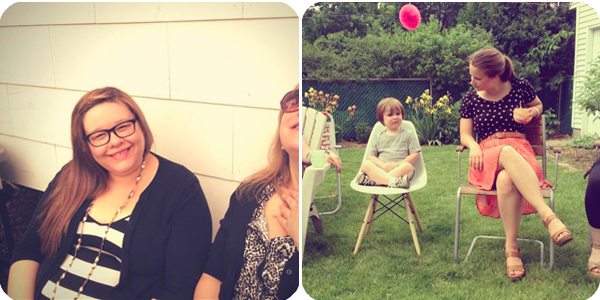 On the left, the beautiful momma to be. Totally lovin' her in stripes. On the right, Finn and his Auntie Katie.