Okay, Week 4, phew.
This ORC business is is no joke. I think this is the week that will read most boring-est on the internet. Because, basically all I have been doing is painting. I'm so sick of painting. I used to like painting, but for some reason, I'm just over it this time around. I think it's because I really want to get to the part where I transform that basic Ikea bed of mine into a blue tufted dream. That'll be when it gets good.
Also it's spring and my internet BFF, Ashley (psst, The Gold Hive) dared me to call this post : "It just turned spring here, so fuck the ORC, let's go outside"
I would venture a guess that the change in weather over the last week (aka thank god it's finally spring) is the other reason I'm not really feeling all this painting and being inside business.
I do have a piece of valuable information to share anyone who might attempt stripping anything one day, it' a little nugget that I personally taught the internet when I was repainting our kitchen cabinets a few years back. Always use an oil based primer when painting anything in an old house! In addition, I also made a video a long time ago outlining how to perfectly paint anything old and paneled.
Have you ever painted over oil with latex? The paint immediately gets gummed up or doesn't "stick" to the surface you are trying to paint.
I was an impatient dummy and decided to paint my newly stripped door straight with no primer. Can I remind you that I had toiled over stripping paint off this door over the last week. Ugh, why am I so dumb? The paint immediately became thick, sticky, and sludgy as soon as I brushed it on. It totally ruined my perfect pristine virgin wood. I even tried sanding it off, but it's so thick that it just gums up my sander. I was convinced this mess was the strippers fault, I thought that there must be some stripper residue that didn't come off, and never would come off. I didn't know what to do, except to go visit my buds at the hardware store, and was soon reminded that it was probably actually oil residue from a old paint. Duh.
The best thing to do in this predicament is use an oil based primer to adhere to the surface, then lightly sand it before applying a latex paint.
Lesson learned, I have one side of a door that has some stupid looking brush strokes and messed up panels, and then I have the other side of the door that is basically perfect. At least it's just a closet door, right?



As I mentioned in the vid, another lesson I learned, is that it's really easy to paint a radiator with one of those small 6″ rollers. Also, they make radiator brushes for all the really hard to get to spots! They are just think enough to get back in all the grooves of the radiator. Two times in the past I have painted radiators in my home with spray paint. It's such a huge mess! Using the roller and brush was soooo easy.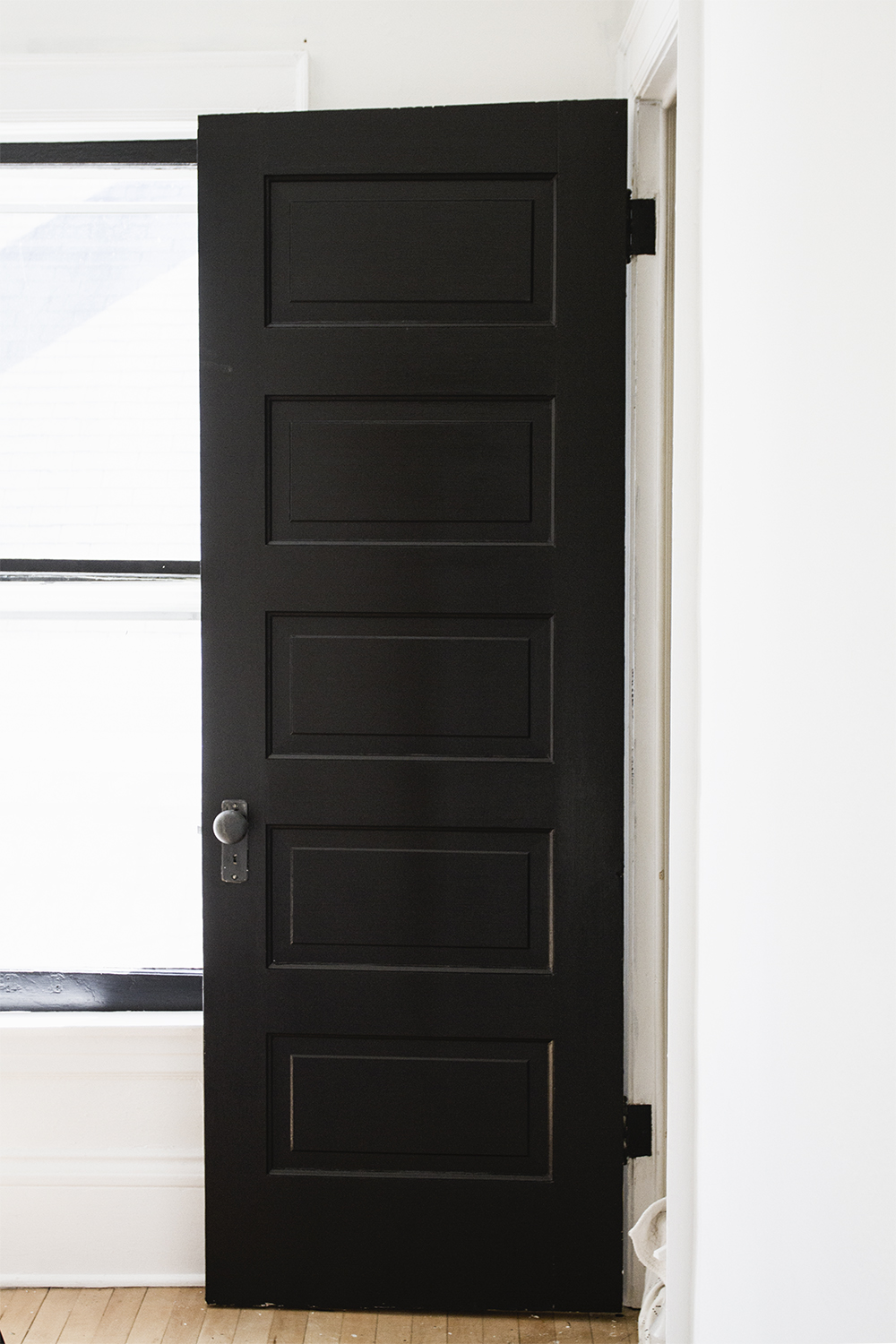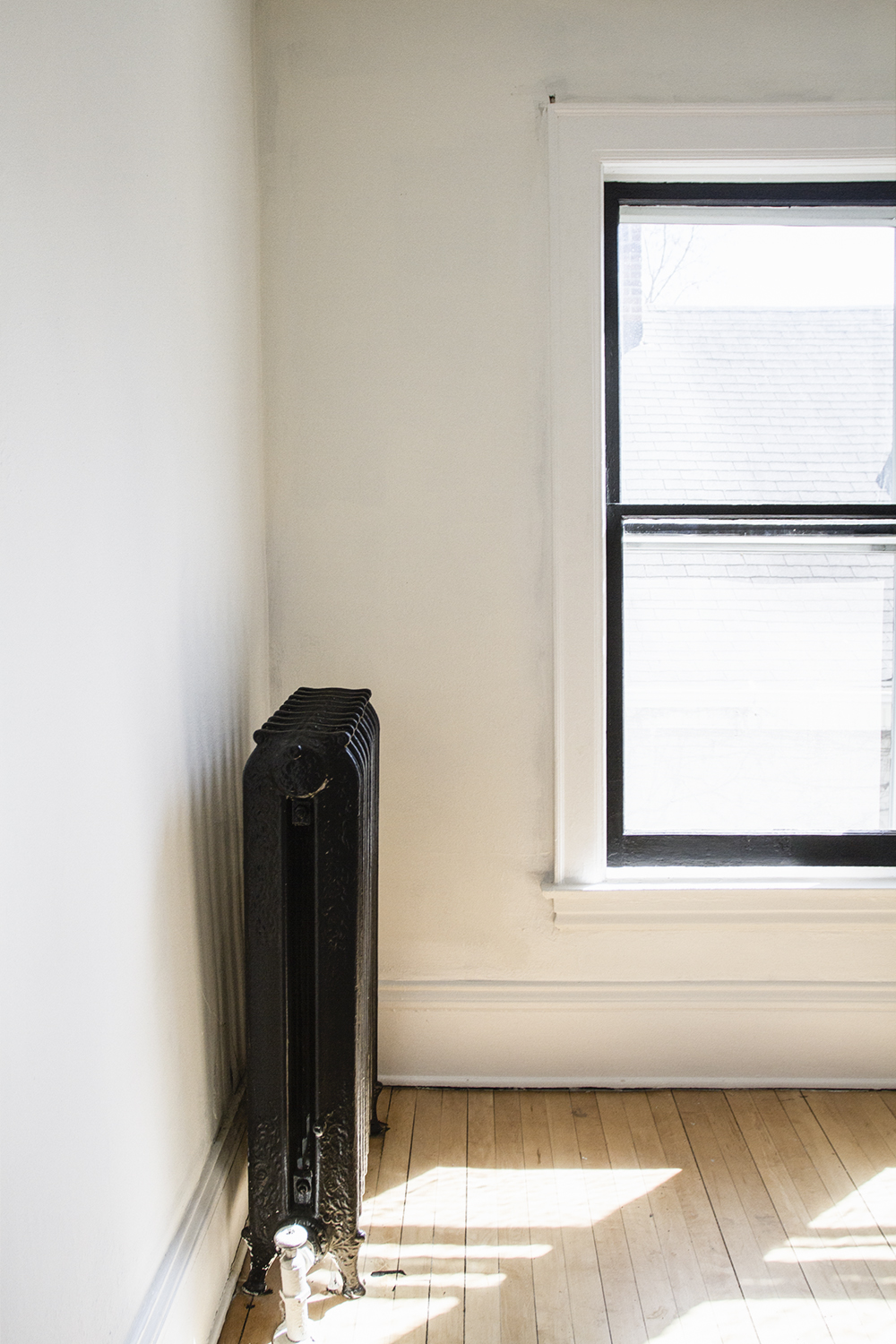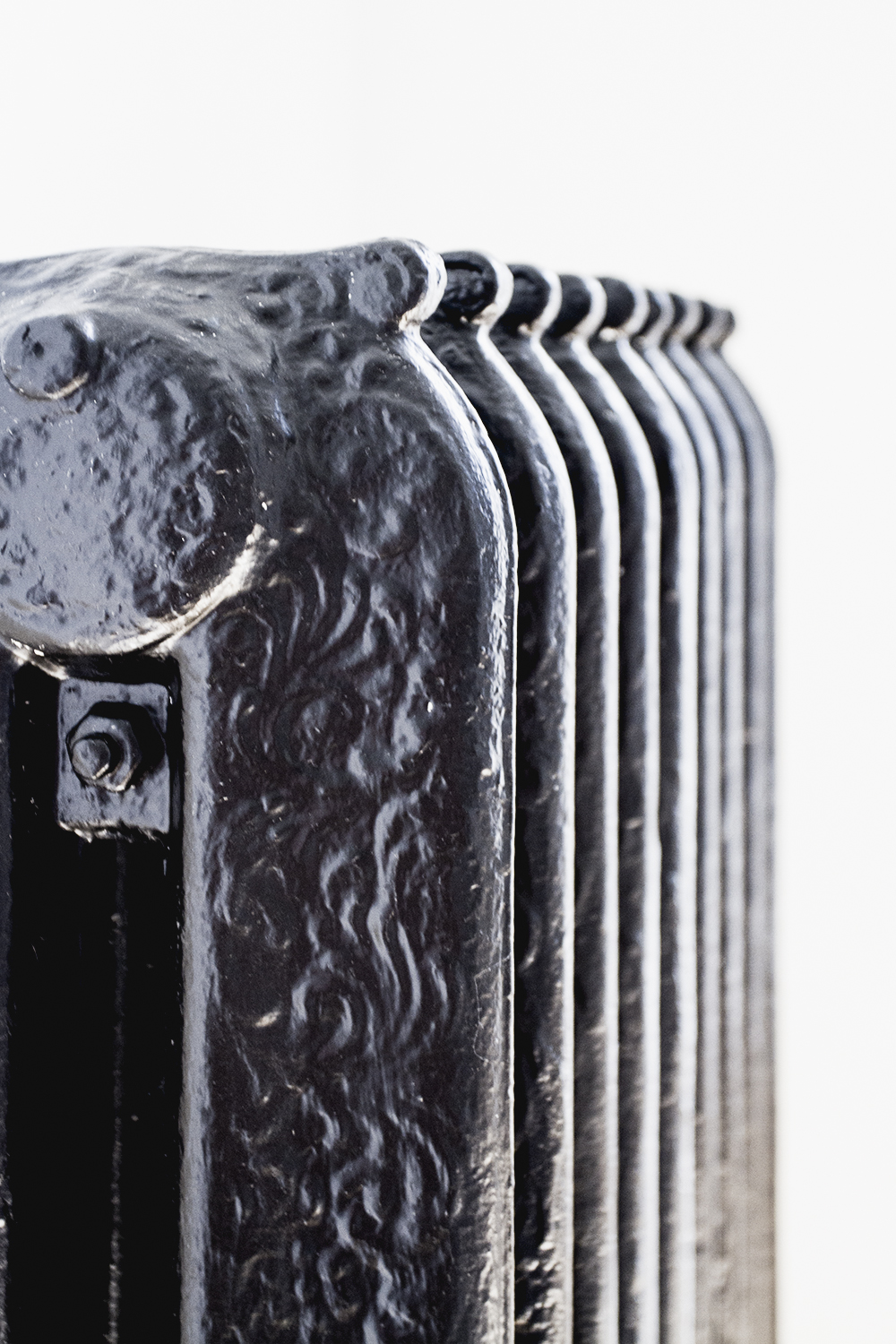 Next week is when the fun really starts. I am so excited to get at upholstering the new bed. It's going to look so great in the space. I'm really excited to see if I can make my brass wall trellis a reality too. The real fun is about to begin, people!
If you happen to be visiting this site because you are coming from the ORC, whazzzup? My name is Alison, and this blog is where I've been hanging out for the last 9 (!) years. Here is where I share my design inspiration, DIY adventures, and tips I learn from my feet-first approach to home improvement. As a bonus I've been able to meet a lot of cool people along the way. My fam and I live in a 108-year-old Minneapolis four-square craftsman home. You can check out a
quick house-tour right here
. Last summer, my husband I purchased an
A-frame style cabin
in need of a little TLC in the heart of Western Wisconsin (aka West Wisco). After six months of elbow grease, our cabin is on the verge of relative stardom – it recently hosted a photoshoot with Better Homes & Gardens, oh and the fam and I got to be in it too ;) You can check the feature in the upcoming December 2018 issue!
I'm super stoked to get started and can't wait to share more. Make sure to
check in on the other guest participants
, and all of the super talented
featured designers
. I am especially into
the artwork Emily painted for her guest bedroom,
I can't wait to see how
Stacy's old porch comes together
– fingers crossed she has good enough weather to see it through, and I always love seeing an old home well loved and
Cathy knows how to love them – Daphne's nursery is going to be nuts
, I know it.
Week 1 : The Design Plan
Week 2 : The Restoration Begins
Week 3 : Window and Door Restoration